Calais migrant crisis: 15 arrested over Channel tragedy
By Tiffany Wertheimer
BBC News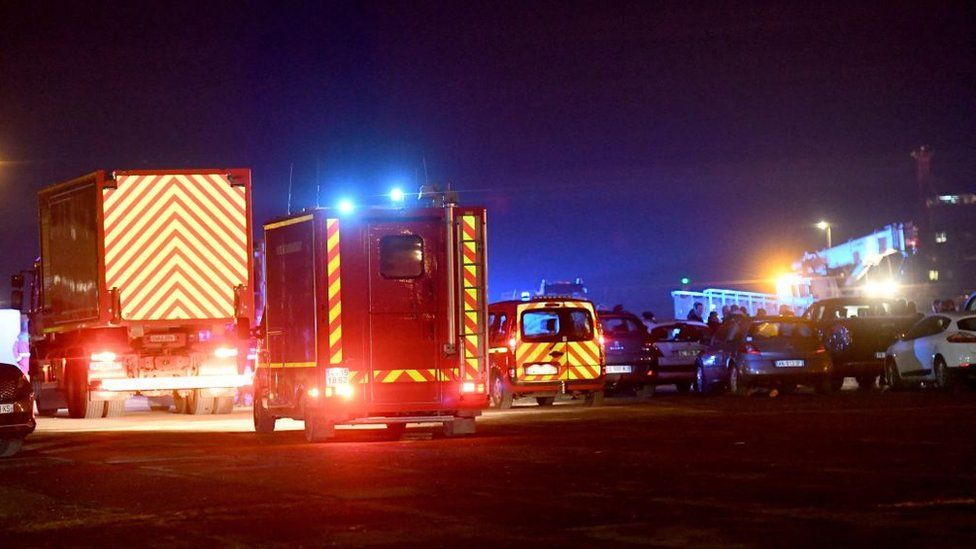 Fifteen people have been arrested in France on suspicion of being part of a people-smuggling ring that was involved in one of the deadliest incidents seen in the English Channel.
In November, 27 people died when their flimsy boat sank near Calais as they tried to make the dangerous journey across the Channel to reach the UK.
Seven months on, French police have now indicted 13 men and two women.
Some could face charges of involuntary manslaughter and people smuggling.
According to French media, the arrests were made at the start of this week in northern and eastern regions of France, as well as various locations across Paris.
Five people have already been released without charge at this stage.
One person has been placed under formal investigation and nine will face a judge at some point on Thursday to determine if they will also be placed under formal investigation.
According to French newspaper Le Parisien, the majority of those arrested are of Afghan and Pakistani nationality. Other media are also reporting that at least two are French.
French media is reporting that the smuggling network was set up to provide passage for Afghans fleeing the Taliban take-over there. But most of those who died on 24 November were of other nationalities - mainly Kurds from Iraq.
Among the dead were 17 men, seven women - one of whom was pregnant - and three children.
The International Organization for Migration said it was the biggest single loss of life in the Channel since it began collecting data in 2014.
Only two men survived - a Iraqi and a Somali.
Thousands of people make the risky journey across the the English Channel every year, in hope of a better life in the UK.
Often using small, dinghy-style boats that are overcrowded, people-smugglers try to sail migrants from France to England across the English Channel, which is one of the busiest shipping lanes in the world and has treacherous seas on even the calmest of days.
Since the disaster, and despite the danger, migrants have continued to try to cross the Channel.
So far this month, some 2,595 people have crossed from France, bringing the total this year to about 12,159 - more than double what it was during the same period last year.