Snake Island: Why Russia couldn't hold on to strategic Black Sea outcrop
By Yaroslav Lukov & Paul Kirby
BBC News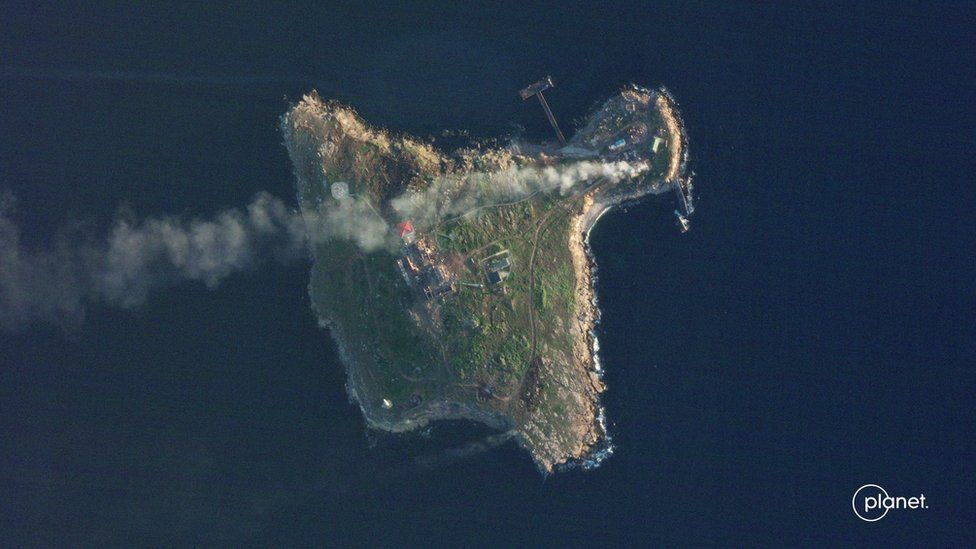 This tiny, rocky outcrop in the north-west of the Black Sea was seized by Russia on the first day of its invasion of Ukraine, and it has played an outsized role in the war ever since.
After more than four months of repeated Ukrainian bombardment, Russian forces have abandoned Snake or Zmiinyi Island, as it is known in Ukraine.
Russia says it has withdrawn its garrison as a "gesture of goodwill" to prove it was not obstructing grain exports, but Ukraine dismissed that claim, as Moscow continued to shell its grain stores.
The island is exposed to attacks from all directions from air and sea, and the small garrison tasked with defending it - first Ukrainians and later Russians - has been described as "sitting ducks" by military experts.
Seized by the Russians on 24 February, Snake Island is located just 35km (22 miles) off Ukraine's coast - well within the range of missile, artillery and drone strikes from the shore.
And Ukraine's armed forces have done exactly that, claiming a series of devastating attacks on the island itself and any vessel bringing troop deployments and heavy weaponry.
Різнорідні сили оборони продовжують операцію на Зміїному, наносять нові ураження противнику. https://youtu.be/QGssKbxgFRM Зафіксовано понад 10 влучань, одне з них по черговому зенітному гарматно-ракетному комплексу «Панцир-С1», решта результатів дорозвідується.

Posted by Оперативне командування "Південь"/Operational Command "South" on Monday, June 27, 2022
That explains why the Kremlin was so desperate to bring in anti-aircraft systems and radio-electronic warfare to Snake Island. But it became a logistical nightmare for Russia to defend because it was so far from its main naval bases in the Black Sea.
For all its attacks, Ukraine has very limited naval capacity, so has been unable to land its own force on the island.
Ukrainian military analyst Oleh Zhdanov argues that stationing troops on Snake Island makes no sense for either side as they would become an easy target. Instead, Mr Zhdanov advocates creating "fire control" - maintaining the capability to strike any target approaching the island.
That would also give greater security to Ukraine's biggest Black Sea port of Odesa, and the whole north-western sector of the Black Sea.
Russia already controls a large stretch of Ukraine's Black Sea coast, plus the Crimean Peninsula and the entire Sea of Azov. Holding Snake Island completed an effective blockade of Odesa, and meant exports of the vast majority of Ukrainian grain were impossible.
It also meant the Black Sea coast became vulnerable to attack too, and military experts in Kyiv voiced fears that Russia could install long-range air defences, such as an S-400 air missile system.
A look at the map also shows that Russian control of the island represented a threat to Nato member Romania - both its key port of Constanta and traffic in the mouth of the River Danube.
It is not just strategically significant - this area is also rich in reserves of petroleum and gas.
Moscow's version of the story
We've grown accustomed to this: Russia putting out a version of events that is wildly different from that presented by Ukraine or by Western governments.
Moscow wants us to believe that there was no Russian retreat from Snake Island.
The statement issued by the Russian Defence Ministry claims that Russian troops there had simply completed "assigned tasks" and left. It also called the departure "a goodwill gesture", to show that Russia wasn't hampering food exports from Ukraine.
Considering the strategic importance of Snake Island, which has been fought over for months, and considering, too, the lack of "goodwill gestures" by the Russian armed forces in Ukraine since the invasion, this version of events will convince few outside Russia.
Then again, this may be directed more at a domestic audience. The Kremlin wants the Russian public to believe that:
In this conflict, the Russians are the good guys
The Kremlin's so-called "Special Military Operation" in Ukraine is going according to plan.
This is not just a symbolic victory for Ukraine, it is a strategic success. For Russia this is both a setback and an embarrassing defeat.
But it will not substantially change the course of the war. Russia's focus is on conquering the whole of the eastern Donbas and holding on to other areas of the south that it seized at the start of the war.
Snake Island may be in a highly strategic part of the Black Sea and in an ideal spot for installing sophisticated missile systems, but ultimately it is still a very small rock.
The key question is whether, by forcing the Russians out, the Ukrainians could consider resuming grain exports to reboot their war-ravaged economy. Without an effective navy, there is little chance of that yet, and Russian warships maintain their dominance over the Black Sea.
"Practically, you need 10 things to happen before you can safely export grain and this is only one," says Andrew Wilson, professor of Ukrainian studies at University College London.
Ukraine has rejected Russian offers to escort grain convoys from Odesa as they would require removing mines from outside the port.
Turkey is actively involved in trying to negotiate an agreement with both Russia and Ukraine but the prospect of that happening appear remote at this stage.
The next few weeks are seen as pivotal to Ukraine's exports - because the next harvest begins in July.
War in Ukraine: More coverage