Russia's attack on Mariupol theatre a clear war crime, Amnesty says
By Hugo Bachega
BBC News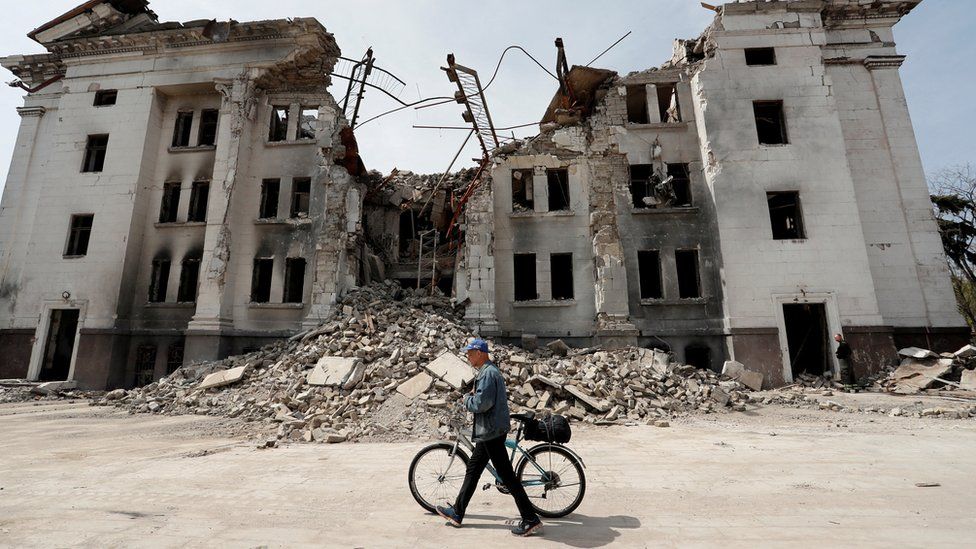 A Russian air strike on a theatre in the Ukrainian city of Mariupol where hundreds of civilians had been sheltering in March was a "clear war crime" that killed at least a dozen people, human rights group Amnesty International said.
In a report, Amnesty said Russian forces "most likely intentionally targeted" the building knowing it was a civilian site, "most likely" using two 500kg bombs that struck close to one another and detonated simultaneously.
Amnesty also said its investigation found no convincing evidence to support other possible explanations, including a claim by the Russian defence ministry that the attack had been carried out from within the building, as part of a "false flag" operation.
"[W]e concluded that the strike was a clear war crime committed by Russian forces," Agnès Callamard, Amnesty International's secretary general, said. "Many people were injured and killed in this merciless attack. Their deaths were likely caused by Russian forces deliberately targeting Ukrainian civilians."
The theatre, a huge Soviet-era building in a park in the city centre, had become a refuge for residents fleeing other parts of Mariupol which had been surrounded by Russian forces and left with no electricity, running water or communication. The site was also a gathering point for people seeking information on how to leave the city in humanitarian convoys.
Hundreds of civilians were in and near the theatre when the attack happened at about 10:00 local time on 16 March, according to Amnesty, although an exact number of people could not be established. Figures given by witnesses and survivors varied from 300 or 400 to 1,000, the majority of them women, children and elderly people.
Amnesty estimated that at least a dozen people had died while "many additional fatalities" remain unreported. However, it said it was likely the true number of dead was "much smaller" than previously thought. Days after the attack, the Mariupol city council estimated it had caused 300 deaths, saying the figure had been based on a record of who was in the theatre and immediate interviews with survivors.
The damage in the building was "consistent with the detonation of two, but plausibly one, large aerial bombs, dropped at the same time, that struck close to one another," the report said. "The simultaneous [or near simultaneous] detonation of two weapons within a structure would look and sound to witnesses like a single blast."
Grigoriy Golovniov, one of the witnesses interviewed by Amnesty, said he was about 200m (650ft) from the theatre when the attack happened. He said he "could hear the noise of a plane" but that he did not "really pay attention because [planes] were constantly flying around".
"Then I saw the roof of the building explode... it jumped 20m (65ft) and then collapsed," he was quoted in the report as saying. "I saw a lot of smoke and rubble... I couldn't believe my eyes because the theatre was a sanctuary."
Images showed the Russian word for "children" had been marked on the ground in large letters in two locations outside the theatre at least two days before it was hit. Amnesty said the building "was not a valid military objective" and that there "was no legitimate military objective" nearby.
Russia denied it had attacked the theatre, and a statement by the defence ministry claimed the attack had been carried out by the Azov Regiment, a unit of the Ukrainian army that started as a militia with links to the far right. The regiment is a frequent target of those defending the unfounded allegation by the Russian president, Vladimir Putin, that his war in Ukraine is an effort to "de-Nazify" the country.
Weeks of relentless attacks by Russia turned entire neighbourhoods of Mariupol into a wasteland, and the city council estimates the war has killed at least 20,000 people there - a number that cannot be independently verified.
The city fell to Russia in early May, after hundreds of Ukrainian fighters surrendered.