Ukraine war: Russian forces 'storming' besieged city of Lysychansk
By Patrick Jackson
BBC News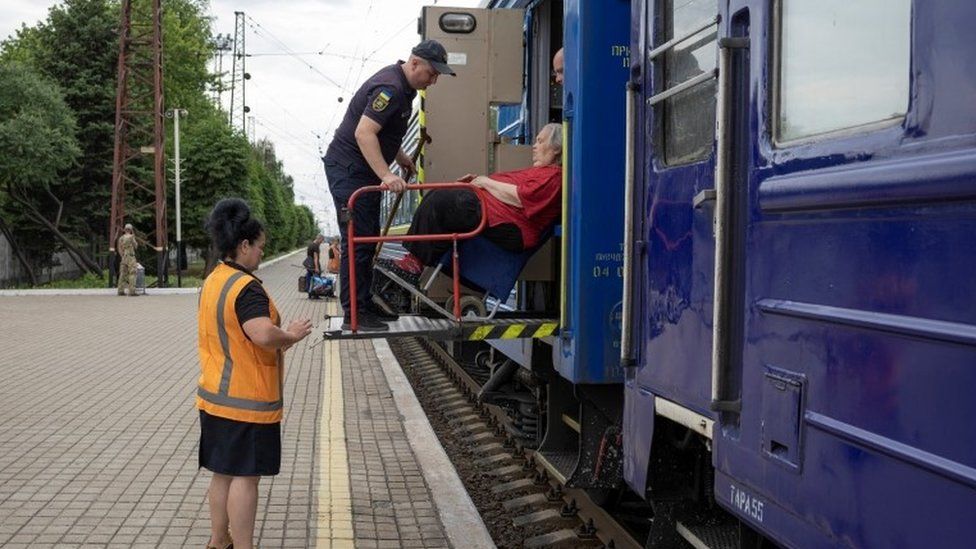 Russian forces are "storming" the east Ukrainian city of Lysychansk, the local governor says, with eight civilians killed by shelling.
Serhiy Haidai, governor of Luhansk region, said 21 other people had been injured in the attack, which came as they collected water from a tanker.
Earlier on Monday, he told people to evacuate immediately because of the "real threat to life and health".
The region is Russia's military focus four months after it invaded Ukraine.
Since withdrawing from the area around the capital Kyiv in early April, the Russian military and their separatist allies have been trying to drive Ukrainian government forces out of Luhansk and the neighbouring region of Donetsk, which together make up the Donbas industrial belt.
Weeks of ferocious artillery barrages have devastated urban and rural areas, leaving an unknown number of people dead and injured.
Lysychansk, a city similar in size to Severodonetsk on the other side of the Siversky Donets river, had a population of 95,000 before the current fighting.
Governor Haidai wrote on Telegram that the Ukrainian defenders of Lysychansk lacked long-range artillery and the Russians were using every sort of weapon to attack it.
"The situation in the city is very difficult," he said earlier. "Save yourself and your loved ones. Take care of the children."
The Russian military says it killed 14 "mercenaries" from Georgia and a "number of European states" 3km (1.8 miles) from Lysychansk on Sunday. The report could not be verified independently.
People remaining in Severodonetsk were struggling with the basic necessities such as food supplies, Mayor Oleksandr Striuk said.
"The Russian military is in the city," he said. "They are trying to establish the occupiers' authority."
Speaking to Reuters news agency after reaching safety in the town of Sloviansk, a Ukrainian soldier said to be one of the last to leave Severodonetsk described his feelings about having to retreat.
"It was a shame of course because a lot of effort was put into defending it - it went on for months," said Danylo, 24. "But... we're not too upset as we also want to live."
Since Russia invaded on 24 February, claiming it wanted to "demilitarise" and "de-Nazify" Ukraine after it moved closer to Nato, thousands of civilians and combatants have been killed or wounded, and at least 12 million people have fled their homes.
Western states have responded by arming Ukraine and placing unprecedented sanctions on Russia, a nuclear superpower and global energy supplier.
A spokesman for Russian-backed fighters claimed that the Ukrainian forces' attempt to defend Lysychansk and Severodonetsk was "pointless and futile". The key question is: what is Russia's endgame? Will they try to take the Donbas, attempting to force Ukraine to accept a ceasefire, annexing the Luhansk and Donetsk regions and redrawing the national boundaries?
This is plausible, especially if Russia's forces are as exhausted as many analysts say. It could be presented back home as a success. The "special military operation" had "liberated" the Donbas, or what is left of it.
Russia might hope that realpolitik would kick in, with Ukraine being pressured to accept the loss of territory in the name of peace and global stability. Ukraine would almost certainly reject this, with a frozen conflict the end result.
Alternatively, will President Vladimir Putin want to finish what he started, maybe taking all of the south, or even making another push for Kyiv?
War in Ukraine: More coverage