Sofia Sapega: Belarus Ryanair plane arrest student appeals for pardon
By Matt Murphy
BBC News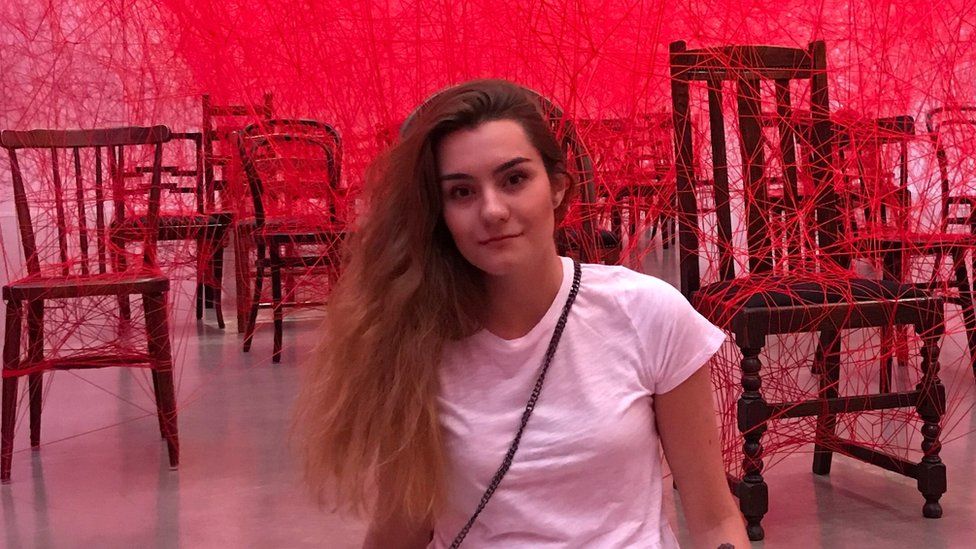 A Russian student detained by Belarus on board a diverted Ryanair flight last year has asked the country's leader, Alexander Lukashenko, for a pardon.
Sofia Sapega was arrested alongside her partner, dissident journalist Roman Protasevich, after their flight was forcibly diverted to Minsk in May 2021.
She was later sentenced to six years in jail for inciting discord, charges her family say are false.
But in comments issued by her lawyer, Ms Sapega apologised for her actions.
In a letter addressed to Mr Lukashenko, the 24-year-old said she had been motivated to commit "crimes" by her "youth and stupidity" and claimed that she had come under the influence of "a destructive group of people".
She appealed to the authoritarian Belarusian leader to be lenient and to offer her the opportunity "to be useful to society and be close to her mom and dad".
In May, Ms Sapega was found guilty of a raft of charges, including inciting social enmity and illegally collecting and disseminating information about the private life of an unnamed person without his consent.
She has spent more than a year at a detention facility run by the country's security services, the KGB, and critics have suggested that previous statements issued by Ms Sapega have been made under duress.
Earlier this month, Mr Lukashenko told reporters that she could be deported to Russia to complete her sentence.
"It's a pity for the girl. We need to resolve this issue," he told local media. "She's Russian. We have a practice. We can transfer a Russian citizen to Russia. Let her serve time there."
While Ms Sapega, a masters student at the European Humanities University in Vilnius at the time of her arrest, was born in the Russian city of Vladivostok, friends say she had lived in Belarus her entire life.
Mr Protasevich, 27, was the editor of the opposition Nexta channel on the Telegram messaging app and a prominent critic of the Belarusian leader. The outlet had published videos and information from the wave of giant street protests against President Lukashenko that began in the summer of 2020.
The mass protests were prompted by anger after Mr Lukashenko secured a sixth term in office in what the opposition said was a rigged presidential election.
Mr Protasevich himself fled Belarus in 2019 and had known Ms Sapega for about six months at the time of their arrest.
But family and friends has emphasised that Ms Sapega had no involvement with the opposition movement herself.
Where is Belarus? It has its ally Russia to the east and Ukraine to the south. To the north and west lie EU and Nato members Latvia, Lithuania and Poland.
Why does it matter? This nation of 9.5 million is caught in rivalry between the West and Russia. President Lukashenko has been nicknamed "Europe's last dictator" - he has been in power for 27 years.
Why were there protests? The opposition movement and Western governments say Mr Lukashenko rigged elections in August 2020. Officially he won by a landslide. A huge police crackdown curbed street protests and sent opposition leaders to prison or into exile.