Italy's Red Brigades: Ex-members face extradition from France
By Mark Lowen
BBC Italy correspondent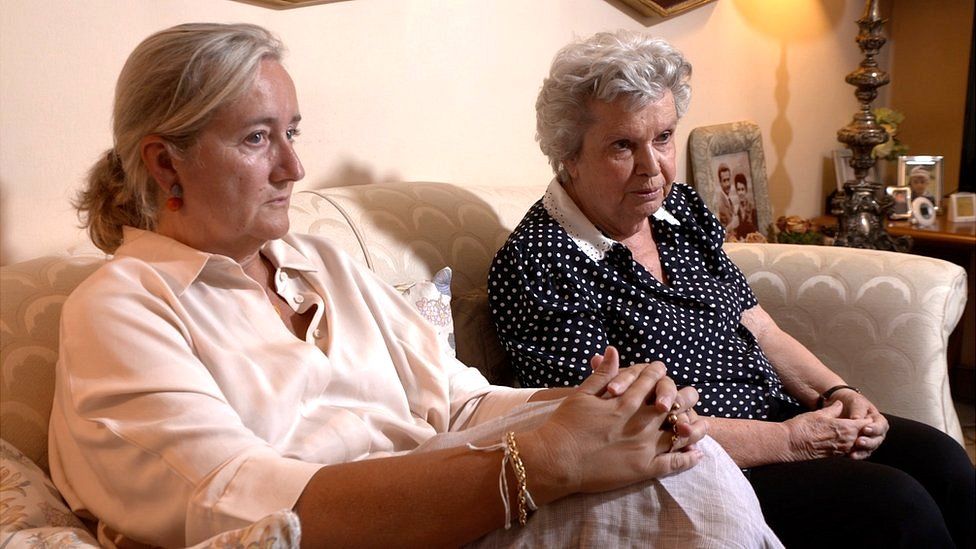 Italy's violent Red Brigades guerrilla group kidnapped and killed dozens of state officials in the 1970s and '80s. As a French court weighs whether to extradite ex members, victims' families wait to learn if they'll face justice, more than 40 years on.
Carefully, diligently, Vanna Marangoni dons her white gloves: a guardian of memory, ready to leaf through the archives of her husband's life.
"That was his car - and his blood on the driver's seat," she says, pointing to the front page of one of the newspapers she's kept from 17 February 1981: the day Luigi Marangoni, a 43-year-old doctor and head of a Milan hospital, was shot dead by Italy's Marxist guerrilla group, the Red Brigades.
Now, more than four decades on, a court in Paris is to decide whether to extradite to Italy several of its former members who had escaped to France.
For Vanna, 84, the years have been slow to heal. Her husband, whom she calls "a playful, optimistic man", was on his way to work when he was ambushed.
"At first, I thought the bangs were fireworks," she says. "But then I looked out and saw Luigi's car stuck. I ran out and kneeled beside him, holding his face to make him feel he wasn't alone. Then I closed his eyes."
By the time she'd reached the hospital, Luigi was pronounced dead.
"Later, we found messages that said: 'We've killed Luigi Marangoni, a slave of the state'", she adds. "We didn't understand it at the time, but they were at war with the state."
The Red Brigades grew out of socialist movements among workers and students, hardening into a violent Marxist militancy in the pursuit of revolution.
The group killed and kidnapped dozens of state officials in the 1970s and '80s - Italy's so-called Years of Lead, during which countless terror attacks by the far-left and far-right produced a bloodbath of instability. The widespread belief that elements of the Italian - and foreign - secret services were in cahoots with neo-fascist groups fuelled the climate of fear.
The highest-profile victim of the Red Brigades was former Prime Minister Aldo Moro, who was held captive for 55 days before his body was found, riddled with bullets.
A wave of arrests and life sentences eventually crushed the group - but about 300 members fled to France, given asylum by the government of President Francois Mitterrand if they renounced violence. It has remained an open wound for Italy ever since.
"French political leaders didn't believe that Italy in the '70s and '80s was really a democratic regime," says Giovanni Ceci, a professor of modern history at Rome University. "That was based on a sort of French superiority. The French perceived themselves as the beacon of democracy and human rights so believed they had to support people who fled from a country that they thought didn't respect the rule of law."
Decades on, France has arrested several former members of the group, who will now face an extradition hearing. It's thought that France's own recent experience of terror attacks, and a renewal of the Franco-Italian relationship under President Emmanuel Macron, may have motivated the change of tack.
Italy needs to find closure on this period of its history, says Prof Ceci. "But to do it, we need justice and truth - and I think the French decision, requested by the Italian institutions, could be a crucial way to reach those goals."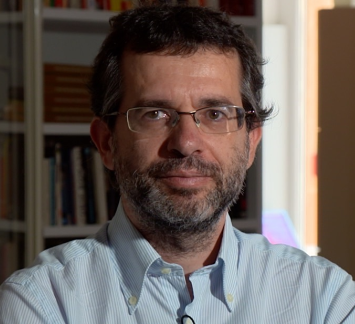 BBC
Italy has to close this bloody and dark page of its history
But history is still fought over in Italy, where fascism was not crushed with the death of its dictator Benito Mussolini. The country saw no equivalent of Germany's denazification, meaning neo-fascist groups took root again after World War Two - and the clash between the political extremes continues.
The Red Brigades directly targeted mainstream symbols of the state - judges, prosecutors, the centrist Christian Democratic party - but were further radicalised by attacks by far-right groups, in which they believed the state was complicit.
And some former Red Brigade members, such as Francesco Piccioni, maintain that the ends justified their means. We speak on Rome's Piazza Nicosia, where he opened fire in 1979 beside the Christian Democratic party headquarters, killing two policemen. For that and several other crimes, including the murder of a magistrate, he served 23 years in prison.
But he rejects the terrorist label, insisting that the Red Brigades were instead "guerrillas" and that their goal of revolution was impossible without violence.
Does he not have any regrets, I ask, for the killings and the kidnappings?
"No," he replies. "We fought a conflict - and lost. I'm sorry that the relatives of the victims suffered from the mistakes of their families. Would I repeat it all? It was a different time. That's like asking Brutus whether he would kill Julius Caesar again."
I ask whether, with hindsight, it was all worth it.
"It's always worth it," he says. "If you can't change an unjust world, what's the point of living?"
In Milan, at the spot where Luigi Marangoni was killed in 1981, a plaque commemorates the loss of "a good man." His daughter Francesca, who lost her father at 17, stands beside it with her elderly mother Vanna.
"I talk to him always," says Francesca. "When I have a decision to take, I say: 'OK Dad, make me understand how I can do this.'
"If France sends those people back to face justice here, it's right, but it's just very late", she adds. "For me personally, it won't change anything. It won't bring him back."
For the families torn apart decades ago, the court's decision may not have a tangible impact. But for their country, still working out how to process its collective memory, perhaps this will help it to face the past - and move on.