Frustration as delayed Irish exam results cuts university term short
By Amy Murray
BBC News NI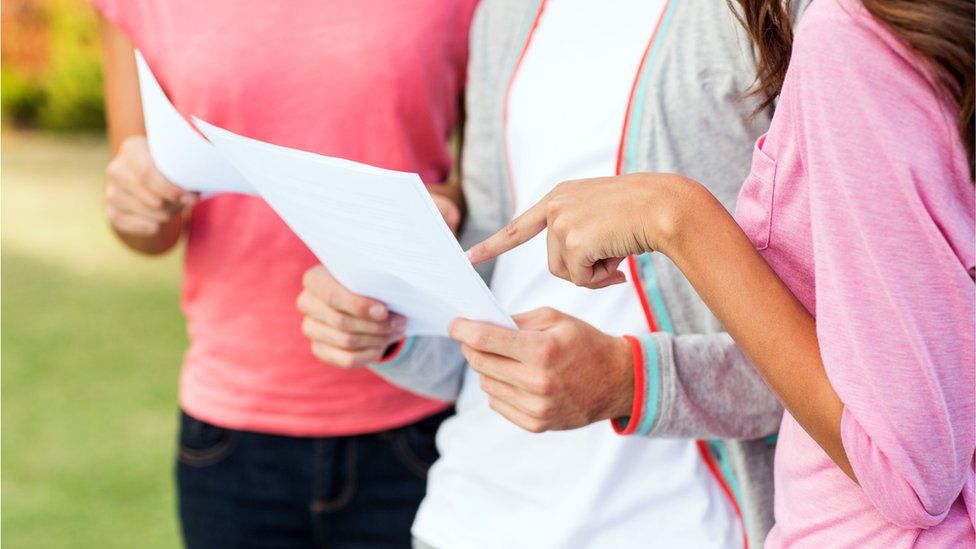 First-year students hoping to attend University College Dublin in the Republic of Ireland are "frustrated" that their first semester will be cut short due to results delays.
Ireland's Leaving Certificate results, equivalent to A-levels, are usually released mid-August.
They will be released on 2 September, having been delayed for the third year in a row.
Some students have criticised the structure of the results system.
They told BBC News NI the delay has triggered a domino effect.
University offers, which are traditionally made in multiple rounds after results are released, have also been delayed.
The first round has been announced for 9 September, with rounds two and three expected on 19 September at 27 September.
University College Dublin announced its new starting date as 26 September, two weeks after returning students are set to go back.
That reduces the traditional 12 week trimester to 10 weeks.
Megan O'Connor, vice-president of the Union of Students in Ireland, said the shortened first semester would have a huge impact on students.
"When you look at the difference between 10 and 12 weeks, that's a lot of teaching hours you're missing out on," she said.
"One of those weeks is meant to be orientation, one is meant to be a reading week and one is meant to be preparation for your exams.
"Institutions are going to be faced with whether or not they compact more information into those seven weeks that are left."
Cross-border opportunities
Megan said the delay would have repercussions on cross-border mobility for students.
"This delay really puts off students who are waiting to take up an offer here as opposed to a conditional offer they have been given through UCAS a month earlier," she said.
"It's also incredibly difficult for students from here who want to study in Northern Ireland or the UK because they will still be waiting for offers when universities are starting."
The Irish Universities Association (IUA) has proposed moving Leaving Cert exams and results two weeks earlier to bring the Republic of Ireland's university offers in line with other universities.
"We have a system here that's putting students under undue and unnecessary pressure," said its director general Jim Miley.
"We need to work together to find a way of alleviating that pressure because it really is the most important, life-changing event in young lives so why wouldn't we do everything possible to address some of the issues?"
Eoin Connolly, a student at Villiers School in Limerick, is one of the final year pupils waiting for his Leaving Cert results.
He said there were issues with the Republic of Ireland's results system.
"These problems are not unique to this year - the system is just so inflexible," he added.
"Unlike the UK where they received provisional offers months ago, everything is in August for us - accommodation and university places.
"Now all the universities will have to delay their classes because otherwise we'll only have a week to sort out where we'll live."
Leaving Cert student Kacper Boglaecki, from County Kerry, said more needed to be done to reassure students about housing.
"I did expect there to be some kind of minor delay, but I didn't expect it to be nearly two weeks later than it should have been," he said.
"We need flexibility and empathy for students who may not get their first choice.
"People need enough time to move in and settle into university life before they have to get stuck in."
In a statement, UCD confirmed that first years will have a 10-week rather than 12-week semester.
A spokesperson said the university had increased the number of rooms for first years last year to 1,100 and this would be the case this year.
"There are over 3,000 applicants on the accommodation list at the moment. Not all of these applicants will receive an offer at UCD so we generally have enough places for first years.
"We ask that as soon as students accept their offer they are contacted by UCD Residences and accept their place in campus accommodation in the next 24 hours.
"As they will be commencing later than other students, they will not pay rent until they move in."
Shortages, resits and commitments
Leaving Cert results were delayed from 2020 to 2022 because of issues posed by Covid-19 measures.
The State Examinations Commission (SEC) has cited three main reasons for the delays.
Firstly, a set of deferred exams are still to come for those who were not able to take them in the first round due to Covid-19 and other exceptional circumstances.
Irish Education Minister Norma Foley told RTÉ the number of students who had missed one or more exams was in the hundreds, although the SEC have said an official number cannot be confirmed.
The SEC cited the education minister's commitment to ensuring the results of 2022 as a whole will be no lower than the overall results in 2021 as a second contributing factor to the delays.
It said to fulfil this commitment, it must allow time for "an extensive range of checks and quality assurance procedure" before results could be issued.
The SEC is in the process of recruiting more teachers due to a shortage of examiners.
The Irish Second-Level Students Union, of which Eoin is secretary, said students needed time to plan for their first year.
"There's nothing we can do about a shortage of examiners and we accept that students should be able to get a chance to do their exams, so we can accept it," said Eoin.
"But people need to be able to find more time for accommodation."
The Central Applications Office (CAO), which issues university offers, said: "The processing schedule for round one offers cannot commence until CAO receives the Leaving Certificate examination results data from the State Examinations Commission.
"CAO and HEIs will endeavour to complete the offer allocation process and issue offers in a similar timeframe to previous years, as soon as this data becomes available."
The State Examinations Committee (SEC), which issues results, said: "The SEC has an absolute responsibility to examination candidates to ensure that their work is marked to the highest standards of quality and integrity and the Commission must be able to stand over the results it issues each year.
"This has been a significant undertaking in the current year in light of the ongoing effects of Covid-19 on schools; candidates; contract staff and the staff of the SEC."