Ukraine war round-up: A harrowing trial and EU breakthrough
By Patrick Jackson
BBC News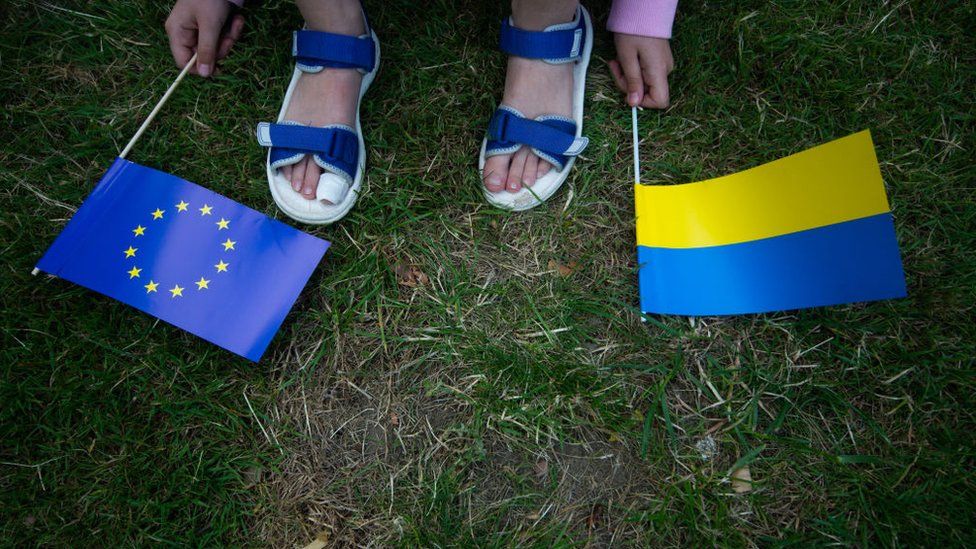 Ukraine has begun a war crimes trial for sexual offences, the first of what could be dozens of such cases against invading Russian forces.
Russian soldier Mikhail Romanov, 32, is accused of repeatedly raping a woman in the Kyiv region on 9 March, having earlier allegedly murdered her husband. He is being tried in absentia as he is believed to have returned to Russia.
Russia's defence ministry did not immediately respond to a request for comment from the Reuters news agency, who said they were unable to reach the soldier. Moscow has denied allegations of war crimes.
Fighting continued in eastern Ukraine, where a local governor described the situation as extremely difficult. Russia has been using its superior artillery strength to make gains.
Ukraine welcomed the arrival of four US-made Himars mobile rocket launchers, which have a longer range.
Ukraine applied days after the Russian invasion, and the process has since moved at a record speed.
President Zelensky called it a "unique and historic moment" in relations with the bloc.
Candidate status is the first official step towards EU membership - but it can take many years to join and there's no guarantee of success.
Germany moves closer to rationing gas
Also on Thursday, Germany moved closer to gas rationing after a drop in supplies from Russia.
The country has triggered the "alarm" stage of an emergency gas plan to deal with shortages.
German economy minister Robert Habeck said Russia was using gas "as a weapon" in response to EU sanctions.
"We must not fool ourselves. The cut in gas supplies is an economic attack on us by [Russian President Vladimir] Putin," Mr Habeck said, adding that Germans would have to reduce consumption.
He said there would "hopefully never" be a need to ration gas for German industry, but added: "Of course, I can't rule it out."
Sportswear giant Nike has announced plans to leave Russia, becoming the latest Western brand to quit the country since the invasion.
Shops run by local partners continue to operate but the firm is winding down those agreements.
Networking giant Cisco also said it would start to fully wind down operations in Russia and Belarus.
Russia has grown increasingly economically isolated since the invasion, as the West and allies impose sanctions and international companies head for the exits.
The country is now working on legislation that would punish foreign companies seeking to leave, allowing the government to seize their assets and impose criminal penalties, according to the Reuters news agency.
'I have special energy now'
An artist and Ukrainian refugee says her work has been "full of inspiration and life" since arriving in the UK.
Maria, who studied at the Lviv Academy of Art, fled Ukraine two months ago.
Her work has been featured in an exhibition focusing on art created by migrants and refugees at St Paul's Church in Bedford.
"I'm very grateful to English people... God has given me special energy so I can create new paintings here," she says.
Prom dresses among the ruins
Just a few months ago, students in the Ukrainian city of Chernihiv could hardly have imagined ending their school year in a war zone.
Now, in place of prom night, some of them turned out for a photo shoot among the ruins of war with photographer Stanislav Senyk.
War in Ukraine: More coverage