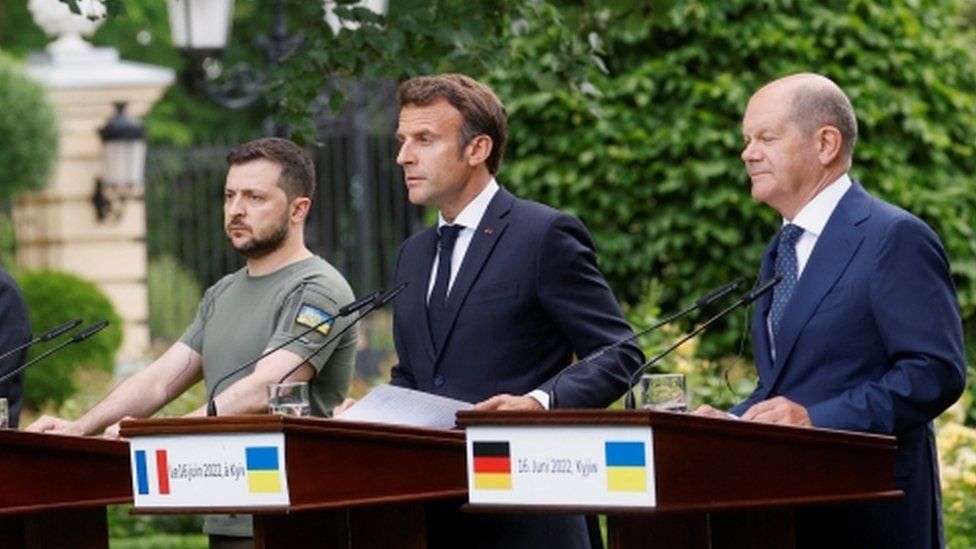 Ukrainians are fighting and dying, while Lithuania has just been directly threatened by Russia.
Germans are talking up energy rationing ahead of winter and the UN is warning of a global food crisis because of Russia's Black Sea blockade, impeding Ukraine's crucial grain exports.
We're slap bang in the middle of a European security crisis - fast becoming a global one.
And EU leadership is noticeably lacking.
Over the next week alone, there's an EU summit in Brussels, a meeting of the G7 world's richest nations in Germany and a huge Nato defence alliance summit in Madrid.
But where is that convincing European figure, able to speak on behalf of all the bloc's leaders?
Angela Merkel, Germany's famous former chancellor, was far from perfect. For starters, Russia's dominance and leverage over EU energy supplies were things she was at least partially responsible for.
But she was a good crisis manager with a canny ability to knock (EU leaders') heads together when necessary to find a way forward. Think of the Greek debt crisis or the tail end of the migrant crisis, for example.
Olaf Scholz, her successor as head of the EU's richest nation, has failed spectacularly to take the lead in the crisis over Ukraine.
He has implemented huge change at home, pledging to modernise and invest in Germany's military for the first time since the end of the Second World War. Considering long-standing sensitivities back home, that is no mean feat.
But look at his dismal popularity ratings in Germany or ask his colleagues in Europe: Mr Scholz has not grabbed the moment.
Instead, he has given the impression, since Russia began its invasion, of being very much on the back foot - when it comes to weapons deliveries to Ukraine, to name but one example.
And what of France, the EU's other traditional leading country?
Emmanuel Macron cherished the hope, when Angela Merkel exited politics stage right last autumn, that the crown of "de facto" EU leader would then be his.
But even before his drubbing in last weekend's parliamentary elections in France, Mr Macron was not a trusted figure in Brussels.
Many (particularly those geographically closer to Russia, such as Poland and the Baltic countries) suspect him of being too soft on the Kremlin.
Hackles were raised recently when he spoke of the need not to humiliate Russian President Vladimir Putin in order to maintain the possibility of a diplomatic solution to the conflict in Ukraine.
They, the countries with shared geography and a history with Russia, are "new" EU leading powers, emerging as a direct result of Russia's invasion of Ukraine.
Poland's voice, along with the three Baltic states, has been getting increasingly loud in Brussels - and within the Nato defence alliance too.
They feel vindicated after years of warning the West not to "sleepwalk" into a security crisis with the Kremlin and their viewpoints are now being heard with more respect.
In this cacophony of EU voices on Ukraine, we can't omit Hungary. Its freshly re-elected and even more self-confident Prime Minister, Victor Orban, has played a prominent role as a thorn in the side of the EU in the current crisis.
He held up, and succeeded in watering down, the most recent sanctions package, which included a strategically important phased embargo on Russian oil.
Sanctions, like all foreign policy decisions in the EU, need to be agreed unanimously amongst the 27 member countries. And despite the severity of the current crisis, no other European leader was able to persuade Budapest to step in line with the rest.
This is not to suggest EU is falling apart over Ukraine. At this week's Brussels summit, EU leaders plan to announce a joint decision to offer Ukraine candidacy status (a largely symbolic move, allowing the country to start the long process of applying for EU membership).
EU leaders will also repeat their pledge to help Ukraine economically and militarily.
But the longer Moscow's military onslaught continues, the harder it is becoming to maintain unity of purpose inside the EU and the wider Western coalition.
There are splits, for example, over what Ukraine's war aims should be.
Western powers agree Russia must be seen to have failed in Ukraine. But what does that mean in practice?
Officially, of course, allies say it's up to Ukraine to decide its own military objectives. But Western weapons deliveries (how much and what types of weapons) will be key in influencing what action the Ukrainian military can take.
Again, countries physically closer to Russia (the Baltics, Poland and much of former communist central Europe too) are more "hawkish" in their attitudes.
Estonia's prime minister told me that if Ukraine were forced to make territorial concessions in order to reach a ceasefire, far from appeasing Moscow, it would mean the Kremlin would come back for more. There's a feeling that Russia must be taught a lesson.
These EU countries feel far more aligned in their thinking with the UK, where Prime Minister Boris Johnson and Foreign Secretary Liz Truss have been very outspoken about Russia, than with traditional EU powers Germany, France and Italy.
Berlin, Paris and Rome, by contrast, are concentrating on an end to hostilities in Ukraine. Not at any price, of course. The support for Ukraine and its military is genuine.
But many leaders in Western Europe have domestic opinion polls on their mind. Voters worry about the conflict in Ukraine spreading and taking on a nuclear dimension.
Rising food and fuel prices, resulting from the war, are cause for concern too. Leaders in Western Europe also fret about the potential for a new migrant crisis, if people in the Middle East and Africa end up fleeing hunger provoked by Russia preventing sea exports of Ukrainian grain.
The US is trying to straddle these contrasting views, hoping to keep a Western coalition together.
Its long-term view is that we're in a new Cold War. And the US needs Europe to counter China with Russia by its side (as long as it suits those powers to work that way).
Washington has been keen to encourage support in Asia too. Japan and South Korea have been invited as observers to the big Nato summit in Madrid next week, as have Australia and New Zealand.
An alliance of Western-style democracies is how it's portrayed. And the EU is very much part of this alliance. However, its dream of becoming a key political, as well as economic, player will come to little if the bloc continues to muddle through, lacking decisive leadership.