Kaliningrad row: 'Sanctions have brought my factory to a standstill'
By Steve Rosenberg
Russia Editor, Kaliningrad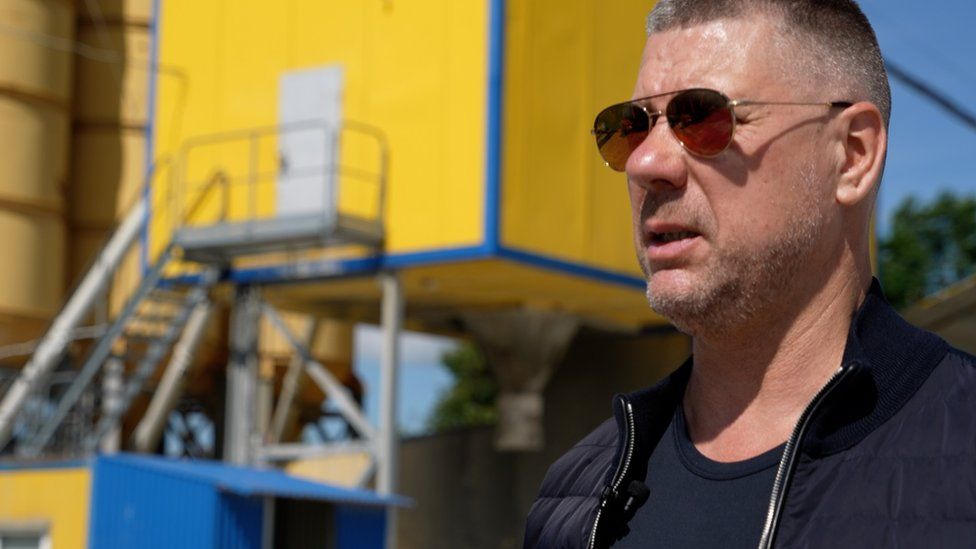 Igor Pleshkov gives me a tour of his concrete business in Kaliningrad.
Not that he's doing much business right now.
Igor's factory has pretty much come to a standstill.
"We produce commercial concrete, iron concrete and paving stones. We first experienced a shortage of cement back in March, after Europe imposed sanctions on Russian banks.
"Trains with cement were being turned back at the Lithuanian border, because the rolling stock was owned by leasing companies who were under sanctions.
"As of June, we haven't produced a single cubic metre."
Kaliningrad is a unique part of Russia. This region is cut off from the rest of the country - the Russian mainland is 300 miles (480km) to the east.
It was the Red Army that seized Kaliningrad (or Königsberg as it was known) from Germany at the end of World War Two. When the Soviet Union collapsed in 1991, Kaliningrad suddenly found itself a Russian exclave in the heart of Europe. It's sandwiched between Lithuania and Poland, both members of the European Union and Nato.
For supplies Kaliningrad has been heavily reliant on transit routes through Lithuania. But this month Lithuania began implementing EU sanctions on certain Russian goods - including construction materials. It won't allow them to transit through Lithuanian territory to Kaliningrad.
This makes Igor's challenge to turn the business around as tough as concrete.
"These sanctions aren't only affecting our business, they affect everyone," Igor explains. "We aren't making anything, so builders can't build anything. There's a chain reaction. We have nothing to pay contractors, taxes or wages."
The authorities in Kaliningrad say there's nothing to panic about and they plan to bring in more goods by sea. But expect logistical difficulties and higher costs.
Back in Moscow, Russian officials are furious. They've been taking aim at Lithuania, the EU, Nato and the West in general.
This week Nikolai Patrushev, head of Russia's powerful Security Council and one of President Vladimir Putin's closest allies, flew to Kaliningrad for meetings. There he warned Russia's response - whatever form it takes - would have "a serious negative impact" on the Lithuanian people.
Russia accuses Lithuania of imposing a blockade on Kaliningrad. That's something Lithuanian officials fiercely deny. After all, there is no ban on Russian passengers transiting through Lithuanian territory, or on Russian goods that are not on the EU sanctions list.
On Kaliningrad's Victory Square, most of the people I speak to have only positive things to say about Europe.
"I hope we can reach an agreement with the Lithuanians on transit, because they're not bad people," Svetlana tells me.
"They're not evil! The Poles aren't bad, either. We don't share a border with Russia, but with Poland and Lithuania. They're like family to us. We need to restore relations."
War in Ukraine: More coverage