Grain blockade a 'war crime' and rock band reunites - Ukraine round-up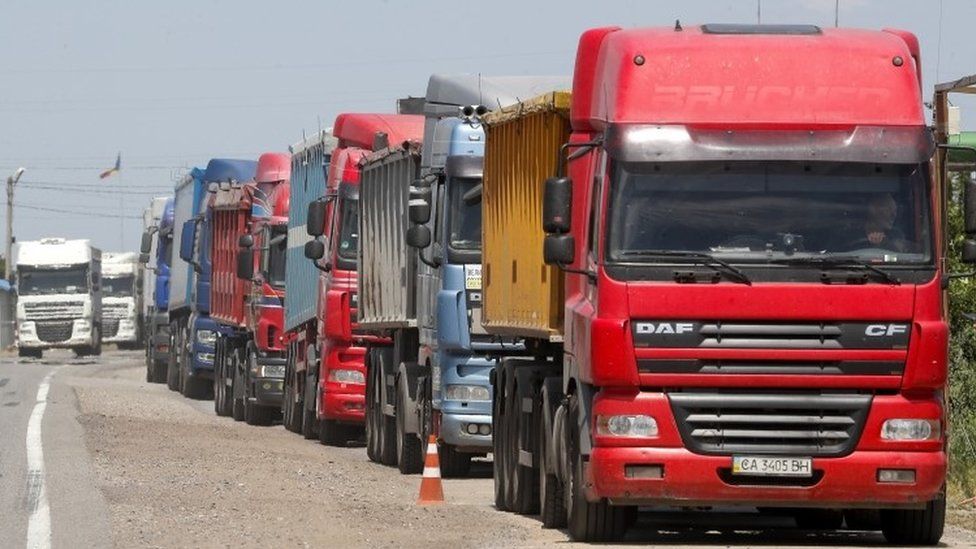 Ukraine plays a crucial role in the global food supply, exporting wheat and other grains to countries across the world.
That's why Russia's blockade of Ukrainian ports is so damaging, and why on Monday the EU's foreign policy chief, Josep Borrell, called it a "real war crime".
Speaking to the African Union, Ukrainian President Volodymyr Zelensky called Africa a "hostage" of Russia's war, because of the effect of rising food prices on the continent.
World leaders are considering alternative ways to export food from Ukraine, including by road and rail, but it will be difficult to make up for the shortfall caused by blocking ships from leaving Ukraine's Black Sea ports.
Crimean oil platforms hit
On the ground, the head of Russian-controlled Crimea said Ukrainian forces had struck several offshore drilling platforms in the peninsula - in what would be the first such attack since the war started.
The platforms belong to a Crimean oil and gas company which was seized from Ukraine during Russia's annexation of the peninsula in 2014.
Elsewhere, Russian troops continue to make progress, despite an assessment from the UK defence ministry which says the Russian air-force is "underperforming" and that Russia is running low on stocks of advance cruise missiles.
Russia's war in Ukraine has torn families apart in devastating ways.
Fathers and husbands called up to active service, elderly relatives too frail to evacuate, and thousands of civilian lives lost due to Russia's indiscriminate shelling of urban areas; no family in Ukraine is immune to the war.
Vladimir, whose daughter and granddaughter, Natasha and Dominica, were killed in March by a Russian shell in Mariupol, is no exception.
His 13-year-old daughter, Diana, survived but was badly injured. She was taken to Germany for treatment, but Vladimir stayed in Ukraine, barred by the country's martial law from travelling abroad.
China switches to Russian oil
Russia has become China's biggest supplier of oil, as Beijing takes advantage of discounted prices due to Western sanctions on Russian energy.
As the West seeks to end its reliance on Russian energy, Moscow has offered heavy discounts to alternative buyers.
China's imports of Russian oil rose by 55% from a year earlier to a record level in May, displacing Saudi Arabia as China's biggest provider.
Rock music on the front line
Shortly before the war, the BBC filmed a group of Ukrainian teenagers who set up a rock band in the city of Avdiyivka in eastern Ukraine.
When the war began they fled to safer cities, and have only just managed to reunite.
Meeting them as they played together again for the first time, the BBC's Abdujalil Abdurasulov discovered how their lives had changed forever, and that their feelings about Russia and the Russian language had changed too.