Ukraine war: Chernobyl scarred by Russian troops' damage and looting
By Laurence Peter
BBC News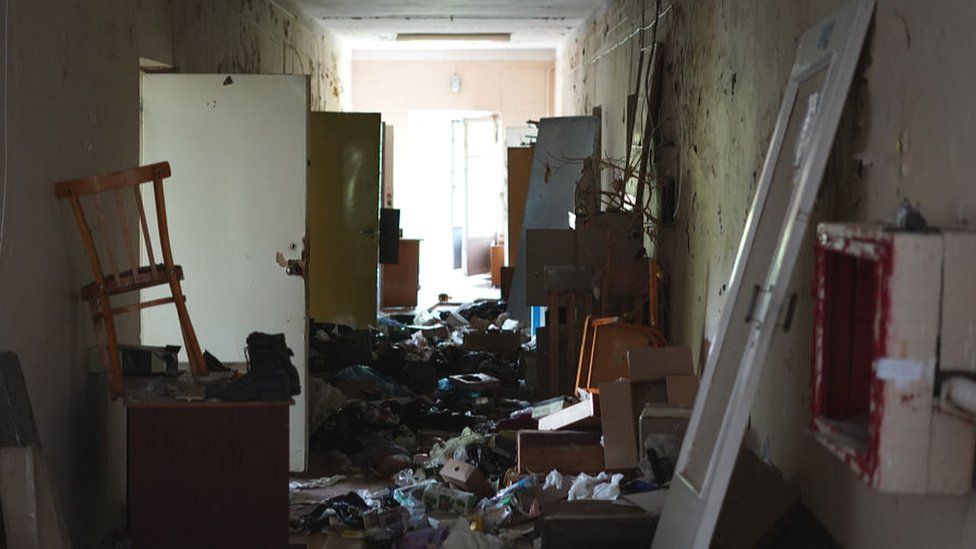 Ukraine says the Russian army looted or damaged more than 1,000 computers at the Chernobyl nuclear power station and stole trucks and radiation dosimeters.
Chernobyl's information director Vitaliy Medved said nuclear equipment was not damaged and "regarding radiation safety everything is OK".
The losses caused by the Russian occupation - now ended - are put at more than 1.6bn hryvnia (£44m; $54m).
The explosion of a reactor at Chernobyl spread radiation across Europe in 1986.
The decommissioned plant, north of Kyiv, lies near the Belarus border and was quickly occupied by Russian troops after their 24 February invasion.
Russian forces controlled the plant for five weeks before withdrawing on 31 March.
A team from the UN's International Atomic Energy Agency (IAEA) has just ended a visit to Chernobyl and its surrounding 2,700sq km (1,040sq mile) exclusion zone.
An IAEA statement says they "provided support to their Ukrainian counterparts on radiation protection, safety of waste management and nuclear security".
Ukraine's nuclear inspectorate has confirmed to the BBC that the Chernobyl site's radiation level is currently safe.
In the exclusion zone, however, there are some radiation hotspots which Chernobyl's managers blame on the Russian military activity, as troops dug trenches and their vehicles churned up dust.
Yevhen Kramarenko, head of the exclusion zone agency, said thousands of Russian vehicles including tanks had driven through the zone. He said Russia had based more than 1,000 soldiers at Chernobyl.
In April the agency said the Russians had plundered two labs at Chernobyl, stealing sources of ionising radiation.
Mr Medved told the BBC that Russian soldiers had stolen "computer monitors, hard drives and software". "We're still checking the losses... [it's] more than 1,000 units, and whatever they didn't steal they broke."
Some removed spare wheels from their armoured personnel carriers so that they could carry away more looted equipment, he said. Construction and firefighting vehicles were stolen, he said, without giving a figure.
The Russian military has also been accused of looting elsewhere in Ukraine, but has not commented on the reports. It denies indiscriminate targeting of civilian areas.
Chernobyl acting director-general Valeriy Seyda says the plant's losses amount to more than 1.6bn hryvnia. He says operations have resumed there safely. The staff, with help from the IAEA, have to monitor the dormant reactors closely and run scientific tests.
The Russian troops smashed up and looted Chernobyl's workshops, labs and offices, Mr Seyda said.
Their negligence of safety rules, he said, "caused some deterioration in [the] radiation situation" which, he added, has been mitigated.
Ukraine has now de-mined the area and disposed of ammunition left behind, Mr Seyda said. Repairs have begun on the damaged facilities, he said, but it is now urgent to ensure safe operations for radioactive waste and spent nuclear fuel.
Mr Medved said staff living in Slavutych, a town near the site, had previously commuted easily by train. "But now the bridges are blown, there is no direct route, they have to go by bus via Kyiv."
And he said the whereabouts of 196 Ukrainian soldiers taken prisoner by the Russians at Chernobyl were still unknown.
Ukraine now has eight reactors connected to the grid - two at the Zaporizhzhia power station, which is under Russian occupation, three at Rivne, two at the South Ukraine power station and one at Khmelnytskyy. Its seven other reactors are shut down for regular maintenance or held in reserve.
War in Ukraine: More coverage