Ukraine round-up: Putin urged to resume talks - and a bike ride from hell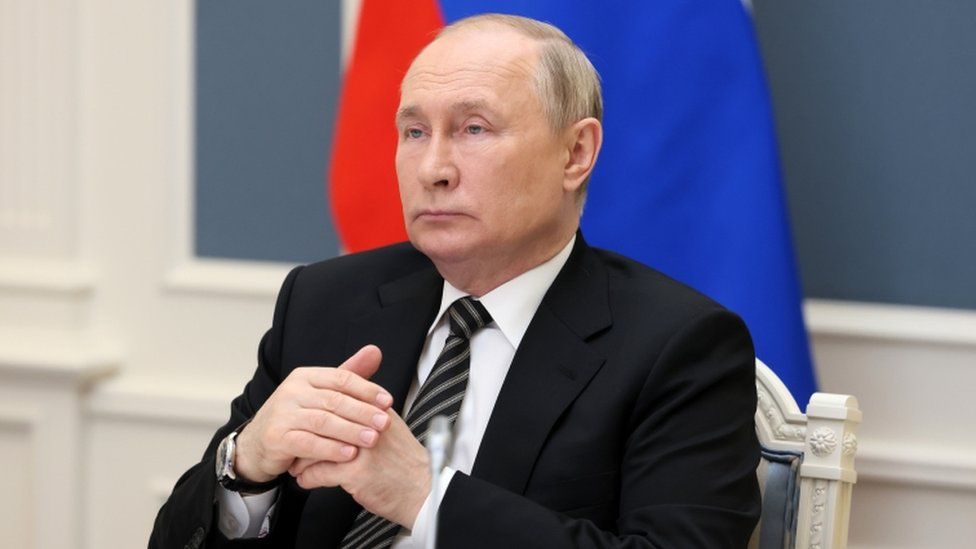 The leaders of France and Germany had an 80-minute phone call with Russia's Vladimir Putin on Saturday, and urged him to launch "direct, serious negotiations" with Ukraine's President Volodymyr Zelensky.
Emmanuel Macron and Olaf Scholz "insisted on an immediate ceasefire and a withdrawal of Russian troops," according to Germany's account of the call.
Russia's president said Moscow was open to resuming dialogue with Kyiv, according to the Kremlin.
It did not mention the possibility of direct Putin-Zelensky talks.
The Ukrainian president earlier said he was not "eager" for talks, but added they would likely be necessary to end the conflict.
France and Germany also urged Mr Putin to release 2,500 Ukrainian fighters who were taken as prisoners of war at the Azovstal steelworks in Mariupol.
The sprawling factory became the last holdout in the southern port city, which endured relentless bombardment from Russian forces and now lies in ruins.
Russia has previously said more than 900 of the fighters were moved to a reopened prison colony in Olenivka, a village in Russian-occupied Donetsk. A smaller number with serious wounds were taken to a hospital in the town of Novoazovsk, also in Donetsk region.
Russia scraps age limit for new troops
Also on Saturday, Russia scrapped its age limit for professional soldiers, meaning people over 40 can enlist for the armed forces.
Previously the army had age limits of 18-40 years for Russians and 18-30 for foreigners.
President Putin has avoided large-scale conscription for what Russia calls its "special military operation" in Ukraine.
But in March Russia's defence ministry admitted that some conscripts were involved in the conflict and some had been taken prisoner by Ukrainian forces. The defence ministry stressed that it was not official policy to send conscripts into battle.
Ukrainian and Western military experts say Russia has suffered heavy losses in the war: about 30,000 killed, according to Ukraine, while the UK government estimates the toll at about 15,000. In comparison, Soviet losses in nine years of war in Afghanistan were about 15,000.
Russia gave a total of 1,351 dead on 25 March, which it has not updated.
Russian dissidents flee to Armenia
Since the invasion of Ukraine, an estimated 108,000 Russian citizens have fled to Armenia, in a bid to avoid President Putin's crackdown on dissent.
With European destinations closed to Russian airlines, there are few options left. Armenia requires no entry visas and there are regular flights to the capital Yerevan from Moscow. Russians have also moved to Georgia or Turkey, or other destinations that will take them.
Challenging Russia's war has become a criminal offence for anyone deemed to have spread "fake news", and for Yura Boguslavsky and Asya Kiselyova, both animation artists from Moscow, Russia no longer seemed a safe place to live.
"We got arrested together - Asya, our friends and even her parents," said Yura. "Everyone has relatives and friends in Ukraine. It's crazy, and it's not us who should have been arrested."
Living underground for three months
Some Ukrainian families have spent more than three months living underground in a metro station in the country's second city of Kharkiv.
With no fresh air or access to washing facilities, disease has spread easily and people have suffered from illnesses including Covid-19, Rotavirus and heart and liver problems.
After months of intense fighting, Ukrainian forces have pushed Moscow's forces away from the city and back into Russian territory.
But the people here say intense fighting has destroyed their homes and that, despite the metro having reopened, they have nowhere else to go.
Ukrainian man's dramatic bike journey
One man, 45-year-old Arif Bagirov, has told the BBC about his bike ride like no other.
He managed to flee the heavily-bombed eastern city of Severodonetsk by cycling - and dodging Russian shells and warplanes.
"There was a lot of firing, and at least two air strikes near me," he said, recounting his 70km (43-mile) bike ride to the city of Bakhmut.
Mr Bagirov said it was easier to avoid Russian warplanes, because he could hear them coming from a distance.
"I found a ditch to lie in, and that's where I laid until they had gone past."
War in Ukraine: More coverage