Ukraine war: Troops could quit Severodonetsk amid Russian advance - official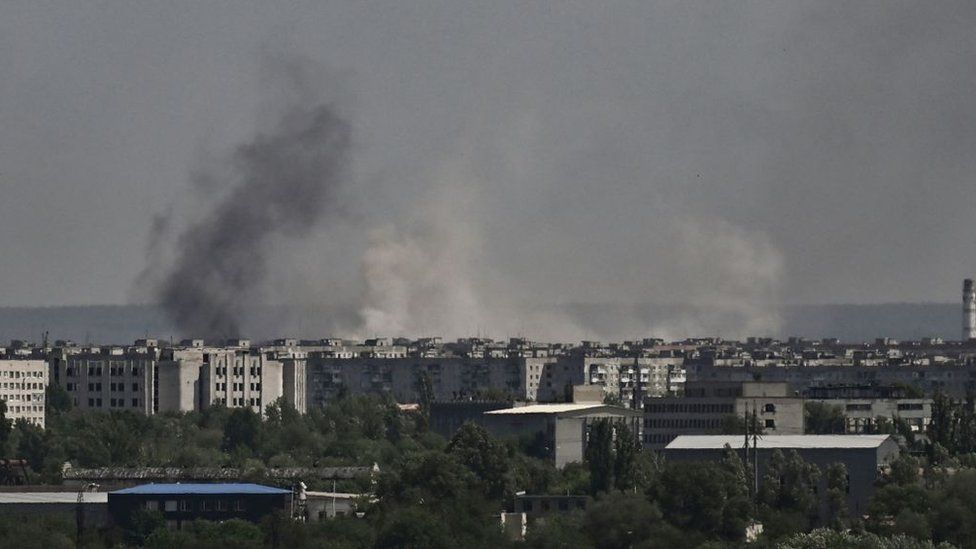 Ukrainian troops could withdraw from the big eastern city of Severodonetsk, which Russian forces are close to surrounding, an official there says.
Serhiy Haidai, governor of Luhansk, said Russians were in part of the city. "It is possible that in order not to be surrounded, they will have to leave."
Russia has made seizing the whole eastern Donbas region a key war aim.
Ukraine is pleading for long-range weaponry to resist Russia's advance, but the US has so far not offered it.
On Friday UK Prime Minister Boris Johnson said Ukraine needed long-range multiple-launch rocket systems.
"I'm afraid that Putin, at great cost to himself and to the Russian military, is continuing to chew through ground in Donbas," he told Bloomberg.
"He's continuing to make gradual, slow, but I'm afraid palpable, progress and therefore it is absolutely vital that we continue to support the Ukrainians militarily."
In Severodonetsk Mr Haidai said more than half the housing had been destroyed and almost all buildings there had been damaged. All remaining residents were in shelters.
The road out of the city to Ukraine-held territory was under constant fire but still passable, he added.
Also on Friday, pro-Russian forces seized the town of Lyman to the west of Severodonetsk, setting the scene for an advance towards the major cities of Slovyansk and Kramatorsk.
By BBC Digital Europe Editor Paul Kirby
Seizing Lyman represents a significant moment in the slow advance of Russia's proxy forces in eastern Ukraine. The battle for the city has been intense, even if Ukrainian forces started pulling back from it earlier this week. It's the second major success for Russia this week, following the fall of Svitlodarsk further south.
Lyman is not a big city in itself, but it gives Russia's proxies control of a key east-west road. It also means they are now within 20km (12 miles) of the city of Slovyansk, to the south-west. Slovyansk is a major transport and supply hub for Ukraine, even though the trains stopped running there weeks ago.
The other big battle is further to the east, where Russian forces are targeting the twin cities of Severodonetsk and Lysychansk. These are important cities in Ukraine's industrial heartland known as Donbas and losing them would be a significant blow for the army.
Away from the battlefield, Russian President Vladimir Putin accused Ukraine of "sabotaging" peace talks during a call with Austrian Chancellor Karl Nehammer.
According to Moscow's readout of the call, Putin also denied that his country's blockade of Ukrainian ports was to blame for disruption to global food supplies, suggesting the real cause was sanctions imposed by the US and the EU.
The UN has warned that Russia's invasion could soon cause a global food crisis that may last for years. It has reduced global supplies of cereals such as maize and wheat as well as cooking oil and caused the price of alternatives to soar. Global food prices are almost 30% higher than the same time last year, according to the UN.
Meanwhile the Moscow branch of the Ukrainian Orthodox Church says it is cutting ties with Russia because of the Russian Orthodox Church Patriarch's support for the war.
"We disagree with the position of Patriarch Kirill of Moscow... on the war," the Church said in a statement. It also declared the "full independence and autonomy of the Ukrainian Orthodox Church."
Ukraine is highly significant for Russia's Orthodox Church and is home to many important monasteries. Part of the Ukrainian Orthodox Church had already broken away from Moscow in 2019.
War in Ukraine: More coverage