Ukraine round-up: Mum's search for sons and Donbas fighting intensifies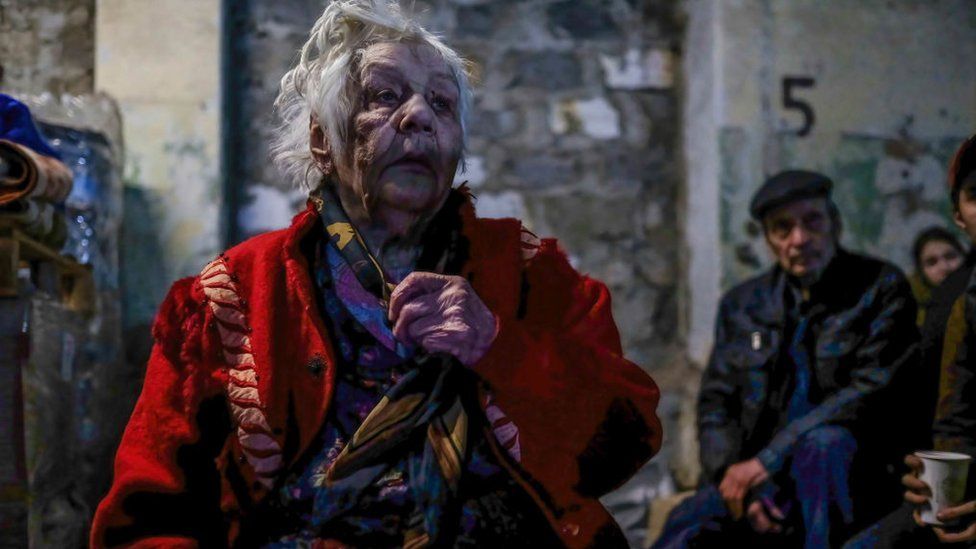 Fighting in Ukraine's eastern Donbas region is at "maximum intensity" according to the country's Deputy Defence Minister Hanna Malyar, with Russian troops storming several Ukrainian positions simultaneously.
She warned of "an extremely difficult" stage of the war ahead, adding that casualties on the Ukrainian side were "unavoidable". But she ruled out any concessions from Kyiv.
Meanwhile, Russian President Vladimir Putin's spokesman Dmitry Peskov urged Ukraine to accept "realities on the ground", in what is seen as a reference to the areas Moscow has seized since the start of its invasion on 24 February.
The Kremlin also signalled its readiness to help alleviate a growing food crisis - but only if Western sanctions against Russia were lifted.
Here are some of the main developments over the past 24 hours.
Why eastern Ukraine is vital to Russian success
Russian forces are bombarding towns and cities in eastern Ukraine with the declared aim of "liberating" the old industrial heartland known as Donbas.
Having abandoned his campaign to capture the capital Kyiv and second city Kharkiv, President Vladimir Putin is now looking for military victory in the largely Russian-speaking east, where he falsely accuses Ukraine of committing genocide.
Achieving his goals in Donbas is the minimum the Russian president needs before he could end the operation and claim it a success.
Russian forces already control large swathes of the south.
Ukraine says the battle for Donbas is the biggest on European soil since World War Two but its president has vowed the military "will fight for every centimetre of our land".
Russian mum's fight to save sons from Putin's war
Russia relies on conscription to boost troop numbers in the armed forces. Military service lasts 12 months and, with some exceptions, is mandatory for Russian men aged between 18 and 27.
After initially announcing that only professional soldiers were taking part in the operation in Ukraine, Russia later admitted that conscripts had in fact been sent across the border to fight.
The BBC has spoken to one woman who discovered after making an official complaint that her two sons - both conscripts - had been sent to Ukraine.
"They allowed me to come and take my younger son home for the day," says Marina, which is not her real name. "While I was driving to collect him, I called and asked him asked if there was anything he needed. 'Mum, I don't need anything,' he replied, 'just you'."
"The lads that came back from there were so thin, dirty and exhausted. Their clothes were torn. My son said: 'It's better that you don't know what happened there.' But all that mattered to me was that he had come back alive."
The Estonian border city where Nato meets Russia
Narva is a strange place, almost an aberration. On the very edge of Nato's eastern flank, it is Estonia's third biggest city - but its population of nearly 60,000 is 97% Russian-speaking, making it the largest Russian-speaking city in the EU.
It sits on the western bank of the River Narva that flows into the Baltic Sea. On the eastern bank is Russia. To a first-time visitor it feels like a classic Cold War frontier. Two giant fortresses face each other on opposing sides of the river, with the international border running down the middle.
Our security correspondent Frank Gardner has been to find out how life has changed in this city on the Nato-Russia border. Read his report here.
How can Ukraine export its harvest to the world?
Ukrainian farmers have 20 million tonnes of grain they cannot get to international markets, and a new harvest is about to begin. What can be done to get the food to people who desperately need it, as prices soar around the world?
In early February, Nadiya Stetsiuk was looking forward to a profitable year. The weather had been good in 2021 and she saw bumper harvests of corn, wheat and sunflower seeds on her small farm in Ukraine's central Cherkasy region.
Prices on the international market were high and rising every day so she held on to some of her stock, to sell later. Then Russia attacked.
Her region hasn't seen the worst of the fighting - like 80% of the country's farmland, it's still under Ukrainian control - but the impact on her farm has been profound.
"Since the invasion, we haven't been able to sell any grain at all. The price here is now half what it was before the war," says Mrs Stetsiuk. "There might be a food crisis in Europe and the world but it's gridlock here because we can't get this food out."