Ukraine war: Put values over profits, Nato chief tells countries
By Flora Drury
BBC News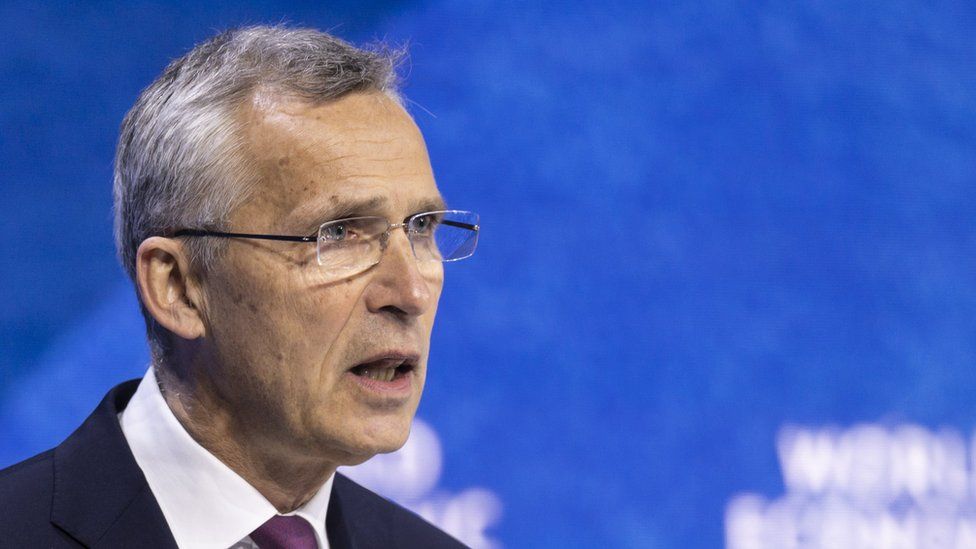 The war in Ukraine has highlighted how countries need to put values before profits, Nato's chief has warned.
Jens Stoltenberg said it had shown "how economic relations with authoritarian regimes can create vulnerabilities".
His speech at the World Economic Forum in Davos singled out trade with Russia and China in particular.
Mr Stoltenberg pointed to issues such as Russia's dominance over Europe's gas supply, as well as bids from Chinese companies to run 5G networks.
"International trade has undoubtedly brought great prosperity but we must recognise that our economic choices have consequences for our security," the former Norwegian prime minister told people gathered at the event.
"Freedom is more important than free trade. The protection of our values is more important than profit."
He said the fact European countries could buy as much gas as they wanted from Moscow was "wrong" and "dangerous".
"It provides Russia with a tool to intimidate and to use against us, and that has been clearly demonstrated now, I regret to say."
Europe has been accused of helping fund Moscow's war in Ukraine through its payment for energy, and is currently taking steps to reduce its reliance on Russian gas imports by two thirds by the end of 2022.
War in Ukraine: More coverage
Meanwhile, Russia has cut off gas and electricity supplies to Finland since it announced its ambition to join Nato. Poland and Bulgaria have also seen their gas supplies cut off after refusing to pay in Russian roubles.
Mr Stoltenberg also noted that new 5G networks were part of countries' "critical infrastructure" and control of the networks was "of vital security importance".
"We cannot say that in the interest of profits and free trade we just open up those networks also for suppliers that actually are not reliable when it comes to our security," he said.
Fears have been raised in recent years over Chinese companies' involvement in telecoms networks.
The UK, US, Australia and New Zealand have already placed bans on China's biggest telecoms equipment makers getting involved in 5G networks.
The companies have said the move is purely political. Mr Stoltenberg said he was not arguing against trade with China.