Ukraine war: Russian anti-war protesters flee to Armenia hoping for safety
By Rayhan Demytrie
BBC South Caucasus correspondent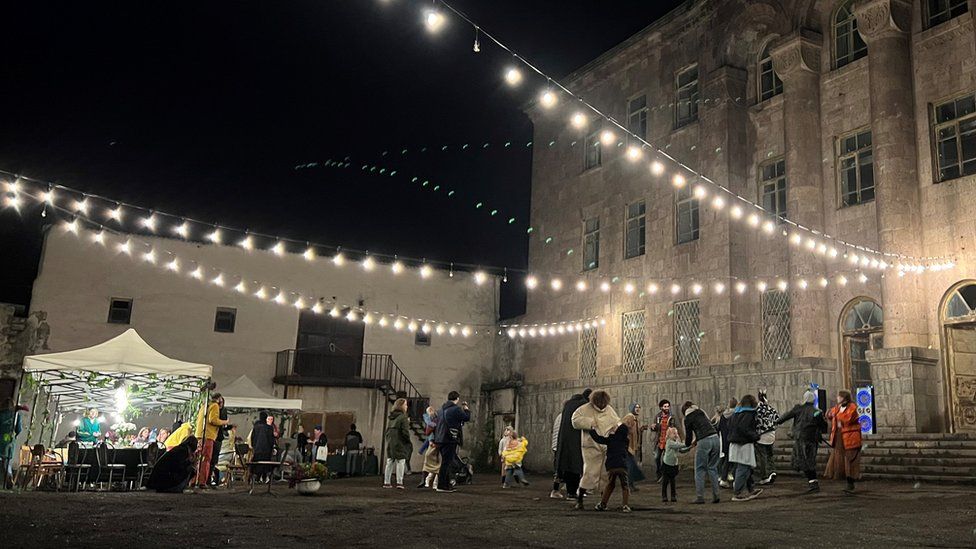 Preparations were under way for a pop-up Russian wedding in the courtyard of a disused textile factory in the remote Armenian town of Tumanyan. Most of the guests were artists and musicians who had fled Russia.
Bride and groom Yura Boguslavsky and Asya Kiselyova, both animation artists from Moscow, moved here to escape Russia's crackdown on anti-war protesters.
"We got arrested together - Asya, our friends and even her parents," said the bridegroom. "Everyone has relatives and friends in Ukraine. It's crazy, and it's not us who should have been arrested."
Challenging Russia's war has become a criminal offence, for anyone deemed to have spread "fake news".
Since the invasion of Ukraine, an estimated 108,000 Russian citizens have come here.
With European destinations closed to Russian airlines, there are few options left. Armenia requires no entry visas and there are regular flights here from Moscow. The two countries have long-standing ties. Armenia is Russia's strategic ally in the South Caucasus region and hosts a Russian military base as well as being part of the Russian-led security alliance CSTO.
Russians have also moved to Georgia or Turkey, or other destinations that will take them.
After his detention, strange, anti-government messages appeared on Yura's phone as the couple were preparing to board their flight to the capital, Yerevan.
Yura was well aware that Russia's FSB security service had been ordering people to unlock their phones to reveal personal messages and contacts. He feared the messages may have been an attempt to incriminate him, but he made it through security without being stopped.
As the guests brought out tables and erected gazebos, the bride's mother, Valeriya Kiselyova, revealed that back in Russia her husband had stopped a car with the letter Z emblazoned on its windscreen - one of the propaganda symbols of the invasion.
"He took out a shovel and ordered them to rip it off. I realised then that we had to leave to avoid being imprisoned," she said.
Wedding guest Polina Prokofyeva described spending 12 days in a prison cell for taking part in an anti-war rally in St Petersburg.
"The whole process was so humiliating, they try to make you feel that you are nobody and your voice means nothing," she said. After a three-minute court hearing, she said she was convicted of taking part in resisting Russia's so-called special military operation.
Many Russian emigres here are IT specialists who see Armenia as a practical place to resettle.
The arrival of tens of thousands of highly skilled Russian citizens will have a positive impact on Armenia's economy, says Haykaz Fanyan of the Armenian Centre for Socioeconomic Studies.
"In March, Armenia's accommodation and food services sector recorded growth of 230% and 30% compared with the same period last year. Relocated Russians established 1,500 enterprises, of which 300 are companies and the rest are private entrepreneurs."
Among them was Dima, a 34-year Muscovite, who has just opened a cafe serving Israeli and Korean food. "At the beginning of March the centre of Yerevan looked like the centre of Moscow, there were so many Russians," he said. "They looked lost and didn't know what to do."
He had been considering leaving Russia even before the war.
"We've been losing our freedom for some time, now it's dangerous for me to go back because two years ago I posted some anti-government message on Facebook, I could be jailed for it now."
Sitting at his cafe were a young couple.
"I served in a regular army for a year, and now I'd have to serve again as there was mobilisation," says video games developer Sergei. "I didn't want to be jailed for avoiding military service, but I also did not want to kill innocent people, so I decided to leave."
He is ashamed of once voting for Vladimir Putin while serving in the army in return for more food: "I sold my country for two gingerbread cookies."
His partner Anya, an English tutor, dropped out of her third year at university when her head of department declared that Ukrainians deserved what Russia was inflicting on them.
"It opened my eyes, I could not believe it that those responsible for teaching could say such things, that it was right to kill someone and that it was not right to say anything against it."
War in Ukraine: More coverage
Russian state TV has not just spread propaganda and disinformation about the war in Ukraine, it has also reported on riots in Armenia that never happened.
Anya said she had to reassure her mother that recent anti-government protests had been largely peaceful: "I checked the reports she was talking about and found out that Russian TV used footage from riots in France."
Opposition protesters set up a tent city, demanding Prime Minister Nikol Pashinyan's resignation over territory lost to neighbouring Azerbaijan during a 2020 war.
Here too, Kremlin disinformation has found a ready audience, as most Armenians speak Russian.
"We are for Russia, the Russians are our brothers," said one female protester. Others gathered around, voicing their support.
Vardan Makhitaryan picks up the conversation: "We don't want this democracy that destroyed the strong Armenian army, and Russia does not want it either. Why is the whole world looking at Russia with wolf eyes? Russia did not attack Ukraine, it is just defending itself."
Sentiments like these may be of concern for recent Russian arrivals who oppose the war against Ukraine, and Polina Prokofyeva fears Armenia may not be the safe haven that dissidents need.
She points out that some hotels have been asked by police to hand over data of their Russian guests. "Just talking to people in Yerevan, I feel they don't really get what's going on and they're on the side of my government which punished me and all my friends," she said.
But Valeriya, mother of the bride, said she had nothing but gratitude for the welcome she had so far received. "Since leaving Russia, I've seen so much beauty. Had it not been for the war I would have died from happiness."