Baptism of fire for France's new government
By Hugh Schofield
BBC News, Paris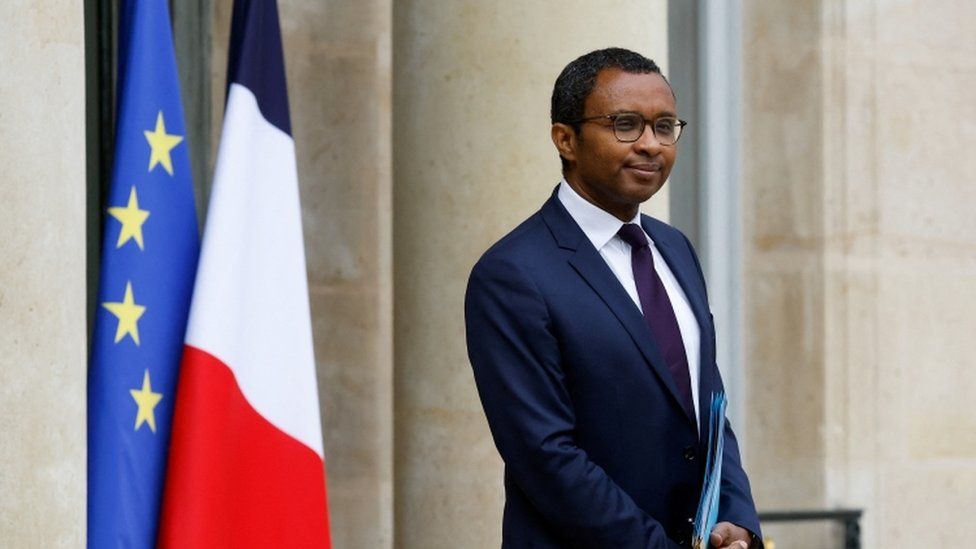 France's government is barely in place, and Prime Minister Elisabeth Borne is already on the defensive over two new appointments.
Though entirely different, the rows over Education Minister Pap Ndiaye and Solidarity Minister Damien Abad have both serious potential to embarrass.
Ndiaye, 56, is a Paris-born historian of French and Senegalese parents. His race is not an issue. What is, is whether he's a Trojan horse for American-style race theory.
The outgoing education minister, Jean-Michel Blanquer, was an outspoken enemy of so-called "woke" ideas, seeing them as a threat to France's "universalist" tradition which in principle is blind to people's colour and origin.
But Ndiaye, who specialises in American social history, has made clear his sympathy with those who say race and colonialism are still important factors in understanding injustice. He has compared French and American black experiences, and described French society as "structurally" racist.
This earned the government a torrent of criticism from the far-right following his appointment last week, with Marine Le Pen accusing Ndiaye of wishing to "deconstruct" French history.
"I don't care a fig about the colour of his skin," she said. "But if this is the ideology we are going to impose on our children, it is a catastrophe."
Political observers have been struggling to work out the reasoning for the appointment, which came as a bolt from the blue. Few in France had heard of Ndiaye, who was a teacher at Sciences-Po university in Paris and head of the city's Museum of Immigration.
Most observers agree that President Macron - who gives Prime Minister Borne her orders - wants to draw support from his far-left challenger Jean-Luc Melenchon at the upcoming parliamentary elections.
Since coming third in the presidential race in April, Melenchon has masterminded a "union of the left" with himself at the helm, and although his goal of winning a majority in the National Assembly next month seems far-fetched, he is nonetheless poised to wreak major disruption in Macron's second term.
Bringing Ndiaye into government sends a signal to teachers - most of whom vote left and hate Blanquer - as well as to supporters of the new ideas on race and gender which, despite much resistance, are gradually seeping into France via academia.
What bewilders some is that President Macron used to appear a champion of the "anti-woke", hence his original support for Blanquer. The change of heart is ascribed either to a cynical absence of convictions, or, by his supporters, to a brilliant grasp of the contradictory forces that shape modern society.
The row over Damien Abad also stems from Macron's urge to cherry-pick from the opposition, the easier to dominate the political ground.
Abad, 42, had a growing reputation as leader of the parliamentary delegation of the conservative Republicans. He was recognisable both as a cogent critic of Macron's government, but also because of a physical disability called arthrogryposis that affects his arms.
Poached by the president to lead a new ministry of "Solidarities, Autonomy and the Disabled," Abad was accused over the weekend of two historic counts of rape and sexual abuse.
The minister has denied both accusations, which were made public by the investigative website Mediapart. One of the cases - dating from 2011 - has been looked into twice by police, who declined to prosecute. In the other case - from 2010 - Abad is accused by a woman of drugging her prior to sexual abuse.
Abad said that his disability would have made it impossible for him to do what he is accused of doing. Regardless of the fairness of the allegations, insiders at the Republicans told the Politico website it was common knowledge that Abad had been the focus of gossip.
In which case, the question becomes why - given the importance all political parties now attach to claims of sexual abuse - Abad was given the appointment. Is it credible that no-one in the Macron camp had heard of the rumours before he joined the government? Or was he just too big a catch to resist?
Prime Minister Borne, a born technocrat rather than a born politician, is having a baptism of fire.
You might also be interested in: