Ukraine war: Russian assault on key Donbas city intensifies
By Matt Murphy
BBC News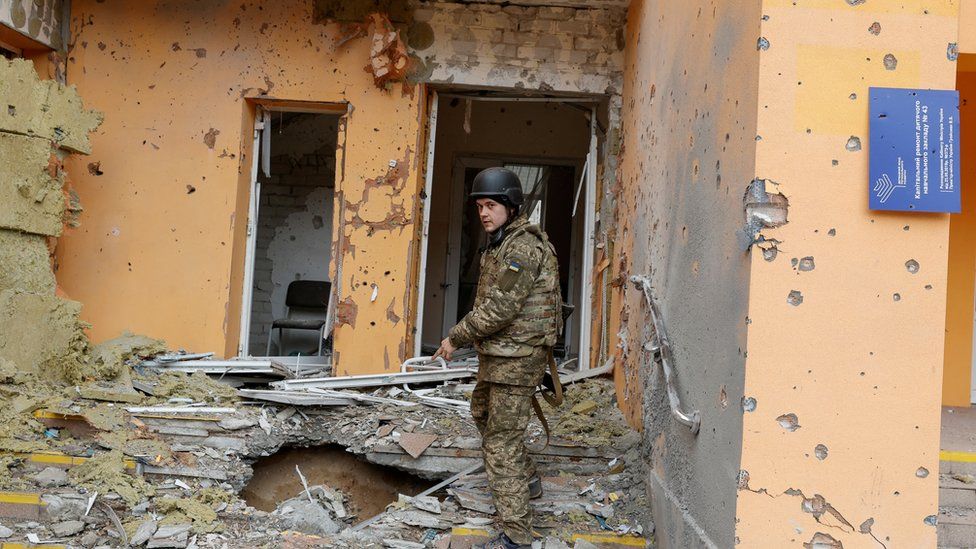 Russian forces in eastern Ukraine are intensifying attacks on a key city as they seek to seize the Donbas region.
Severodonetsk, the largest city under Ukrainian control in Luhansk province, has come under intense artillery and missile fire from Moscow's forces.
On Sunday, local officials said Russian troops were repelled after trying to enter the city from four directions.
It comes as Ukraine's President Volodymyr Zelensky urged world leaders to end all trade with Russia.
Speaking via video link at the annual World Economic Forum in Davos, Mr Zelensky called for "maximum sanctions" to be imposed on Moscow, saying frozen Russian funds should be used to rebuild Ukrainian cities destroyed by the war.
"There has to be a precedent for punishing the aggressor," Mr Zelensky said. "If the aggressor loses everything then it definitely deprives him of any motivation to start a war."
Meanwhile, Luhansk Governor Serhiy Gaidai accused Moscow of adopting a "scorched-earth approach" in its efforts to capture the city of Severodonetsk.
"Every day they are trying to break the line of defence," Mr Gaidai said. "They are simply systematically destroying the city. Everywhere is being shelled constantly."
The city of 100,000 people sits on a strategic position on the Donets River, with UK defence officials saying it has likely become one of Russia's "immediate tactical priorities".
Mr Gaidai warned that Russian forces have destroyed all but one bridge across the Donets river and said that the city is at risk of being cut off.
He also accused Russian tanks of firing on residential buildings during fighting in the city and of seeking to erase Severodonetsk "from the face of the earth".
Ukraine's human right's ombudsman, Lyudmyla Denisova, said the city risks suffering the same fate as Mariupol - being surrounded and pounded into submission.
"The enemy threw all his forces to storm Severodonetsk, on the outskirts of which there are constant battles," Ms Denisova wrote on Telegram.
Analysis: Russian war effort shifts to Severodonetsk
by Jeremy Bowen in Donbas
We visited the Ukrainian front line yesterday and the main thrust of the Russian activities at the moment is at Severodonetsk. Kyiv's soldiers have told us it is largely surrounded and they are undoubtedly under pressure.
They've taken serious casualties and a Ukrainian military source said one unit that went into combat with 240 men returned with just 135 - the others killed, wounded or taken prisoner.
The Russians have taken some territory - villages and little towns - but it's a very heavily defended area. They've been fighting around there since 2014 and there are concrete Ukrainian positions that are hard to overcome.
A couple of days ago in Moscow, the ministry of defence said they would take the whole of the Luhansk region.
If Vladimir Putin can seize the whole of Luhansk and then do something similar in Donetsk, he could then say to Russians: "This is a victory guys."
It would be nothing like the victory he sought when all this started in February, but one he could declare anyway. The Ukrainian authorities are very anxious that doesn't happen.
Elsewhere, at least seven civilians were killed and eight others were wounded in Sunday's bombardment of the Donetsk region, according to the Ukrainian army's Facebook page.
Shelling and missile strikes have targeted Kharkiv in the north, as well as Mykolaiv and Zaporizhzhia in the south, officials said.
The UK's Ministry of Defence has said that Russia has likely suffered a similar number of casualties in Ukraine as it did during the entirety of the Soviet war in Afghanistan.
It said "a combination of poor low-level tactics, limited air cover, a lack of flexibility, and a command approach which is prepared to reinforce failure and repeat mistakes officials" had contributed to the high figures.
It is unclear exactly how many casualties Russia has suffered in its invasion.
Moscow, which says it launched a "special operation" to demilitarise its neighbour, has not updated its official figures since March, when defence officials said some 1,351 troops had been killed.
Meanwhile, the United Nations has said the global number of forcibly displaced people has risen above 100 million for the first time.
The UN's High Commissioner for Refugees, Filippo Grandi, said the announcement should serve as a wake up call for world leaders.
"The international response to people fleeing war in Ukraine has been overwhelmingly positive," Mr Grandi said. "But ultimately humanitarian aid is a palliative, not a cure.
"To reverse this trend the only answer is peace and stability so that innocent people are not forced to gamble between acute danger at home or precarious flight or exile."
War in Ukraine: More coverage