Polish leader in Kyiv and Donbas miners struggle on - round-up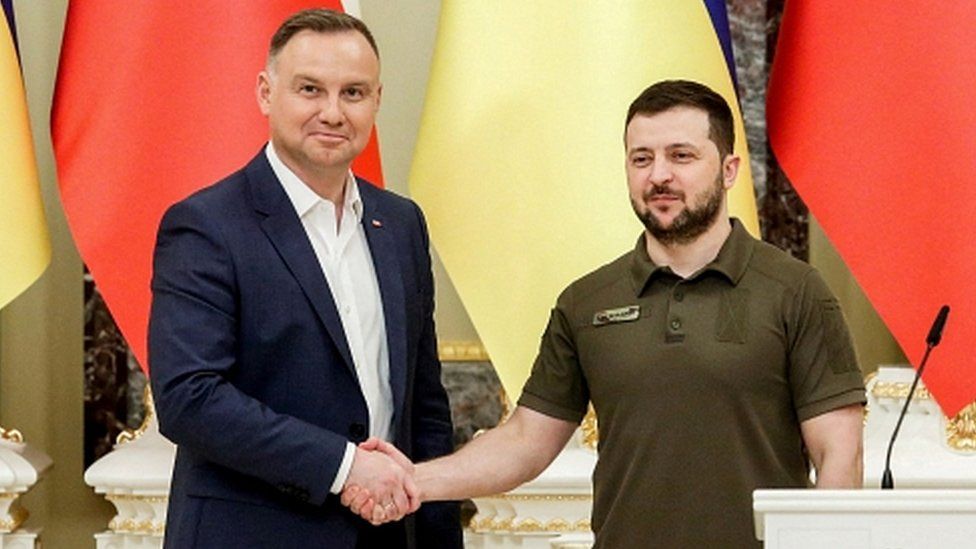 While Russian troops maintain their attacks on Ukraine's eastern Donbas region, Polish President Andrzej Duda has become the first foreign leader to address the parliament in Kyiv in person.
He received a standing ovation as he declared that only Ukrainians themselves could decide their future.
He added that Poland would do everything it could to help Ukraine join the EU.
However, France's Europe minister, Clément Beaune, said on Sunday that it would probably take "15 or 20 years" for Ukraine to be accepted as an EU member.
As fighting continued, the General Staff of the Ukrainian Armed Forces said that Russian forces were trying to break through Ukrainian defences to reach the administrative borders of the country's easternmost Luhansk region.
The region's governor, Serhiy Haidai, said Russia had tried to get into the city of Severodonetsk from four separate directions.
Ukrainian President Volodymyr Zelensky acknowledged that the situation remained "extremely difficult" in the east.
At the same time, Ukraine gave signs of hardening its position on an eventual end to hostilities.
A day after President Zelensky said that only diplomacy could resolve the war, his adviser ruled out any ceasefire deal that involved giving up territory, warning that it would backfire.
"The war will not stop. It will just be put on pause for some time," Mykhaylo Podolyak said. "They'll start a new offensive, even more bloody and large-scale."
Russia deploying Terminator tanks, says UK
Another indication of the intensity of fighting around Severodonetsk has come from the UK's Ministry of Defence (MoD).
Russia is believed to have deployed its BMP-T tank unit to this part of the Donbas region, the MoD said.
The tank, unofficially nicknamed Terminator by its manufacturers, is heavily armed and armoured so that it can survive in urban combat.
The MoD said there are, at most, ten of the Terminator tanks, so "they are unlikely to have a significant impact".
'I'm so proud to be Ukrainian' - Man City's Zinchenko
The effects of the war in Ukraine have been felt on the final day of the English Premier League season, thanks to Ukrainian defender Oleksandr Zinchenko, whose team Manchester City clinched the title on Sunday.
Speaking to Sky Sports after draping the Ukrainian flag around the trophy, an emotional Zinchenko said it was an unforgettable moment.
"I'm so proud to be Ukrainian," he said. "I would love to one day bring this title to Ukraine, for all Ukrainian people, because they deserve it."
Against the thud of artillery, miners struggle on
Fighting on the ground is one issue - but below ground, Ukraine's coal miners are trying to maintain their way of life in the middle of a war zone.
The BBC's Andrew Harding went to the Toretsk mine in the eastern Donbas region to find out how they were coping.
Only a third of the mine's staff have stayed on in the town since the Russian offensive began earlier this year - some out of loyalty to the mine itself, but mostly for financial reasons.
"People go down the mine knowing they may not come back up. And when you do come back up, anything can happen - the town is constantly being bombed," said Anatoly Sholokhov, deputy head of Toretsk's coal miners' association, as he watched the elevator door slide shut.
IMF urges governments to counter economic shock of war
The war in Ukraine has delivered a huge shock to the global economy. Ukrainian wheat supplies are stuck in silos, unable to find a way out of the country, while Russian oil and gas are subject to sanctions and boycotts.
Now the International Monetary Fund (IMF) is calling on governments to support those businesses that have been "most damaged" by the conflict.
The head of the IMF, Kristalina Georgieva, told the BBC that they needed to subsidise the cost of food and energy for the poorest members of society.
Ms Georgieva said support should be provided "in a very targeted manner, preferably by providing subsidies directly to people".
Many governments are providing some help, but critics argue it's not enough.
War in Ukraine: More coverage