Ukraine round-up: Row over Ukraine's nuclear power and a colourful protest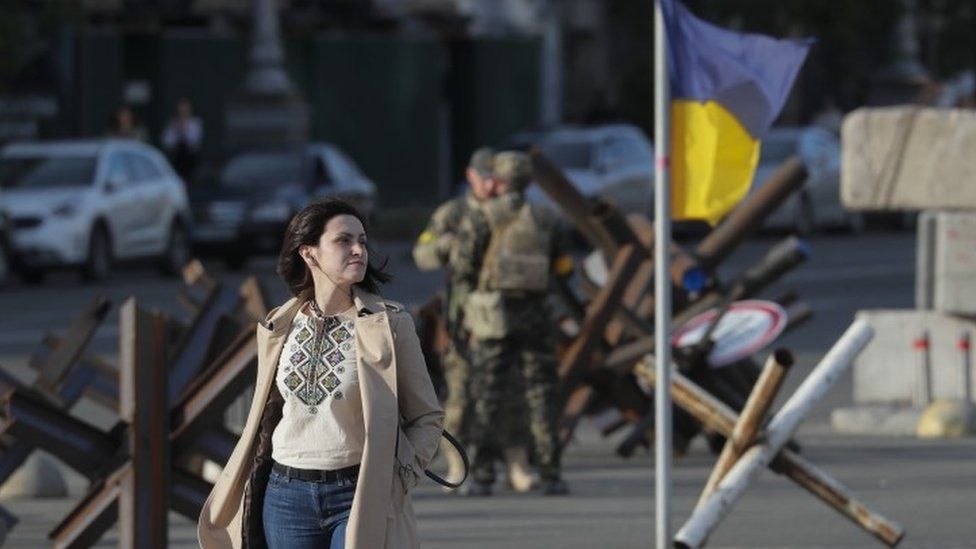 Russia's invasion of Ukraine is now nearly into its fourth month.
It is worth remembering that many people, including perhaps Russian President Vladimir Putin, did not expect it to last this long.
But instead of swiftly taking the capital Kyiv, Russia faced strong resistance and last month switched focus to trying to capture the eastern region known as the Donbas.
A US foreign policy adviser, Derek Chollet, says Russia has already suffered a "strategic defeat". "Ukraine is stronger today and closer to the West," Mr Chollet says. "And Nato is stronger as well."
Mr Zelensky has also condemned a missile strike against a cultural centre in the Kharkiv region that reportedly injured seven people including an 11-year-old child, describing it as "absolute evil, absolute stupidity".
"What is in the heads of people who choose such targets?" he said.
Mariupol defenders in steelworks surrender
Central to Russian ambitions in Ukraine has been the city of Mariupol, which connects its eastern regions to the annexed Crimea.
Soldiers at the Azovstal steelworks - the last part of the city still in Ukrainian hands - say they have finally ended their defence.
They had vowed to fight until the end, but eventually were told they could get out and save their lives.
Since Monday, hundreds have left the site and taken to Russian-controlled towns. The exact number is not yet clear, though Russia claims almost 2,000 have surrendered.
What will happen next is still not clear.
What might tip the balance of the war?
The war has become an increasingly grinding and bloody affair, with each side wearing the other down. Both claim to have made recent gains. But they've also suffered setbacks.
That pattern of costly gains and losses is now being repeated in the east of the country.
Russia has been making small but steady advances in the Donbas - the renewed focus of its offensive. But it's also suffered setbacks - as highlighted by the destruction earlier this month of dozens of Russian armoured vehicles trying to cross the Siversky Donets river.
Ukraine says giant nuclear plant won't supply Russia
Ukraine has dismissed as "wishful thinking" Russia's plan to connect a giant Ukrainian nuclear power station to the Russian electricity grid.
Russia's deputy prime minister has vowed to sell power from the sprawling Zaporizhzhia plant in the south of the country back to Ukraine - and if it won't pay, he said, then the electricity could be sent to Russia instead.
But a spokesman for Ukraine's state nuclear agency Energoatom told the BBC it would take years to link the plant to Russia.
Russia halts gas supplies to Finland
Russia still exports large amounts of gas to Europe, despite being under unprecedented sanctions.
Finland has been refusing to pay for its supplies in roubles after Russia said "unfriendly" countries must do so in retaliation for the sanctions imposed by Western powers. It also follows an announcement that Finland will apply for Nato membership.
One man's anti-war protest in a tiny Russian town
Meanwhile in Russia, the BBC's Steve Rosenberg reported on an unusual public protest in a small town.
In Russko-Vysotskoye, Steve writes, "there is not a great deal to see here, apart from the chicken farm and the church that was reduced to rubble in World War Two.
"But there is one thing in this town that is particularly eye-catching: the local shopping centre."
Its owner Dmitry Skurikhin has painted in giant letters "Peace to Ukraine, Freedom to Russia!" and has listed in bright-red paint the names of Ukrainian towns that have been attacked by the Russian army.
War in Ukraine: More coverage