Ukraine round-up: Widow confronts soldier and George Bush's gaffe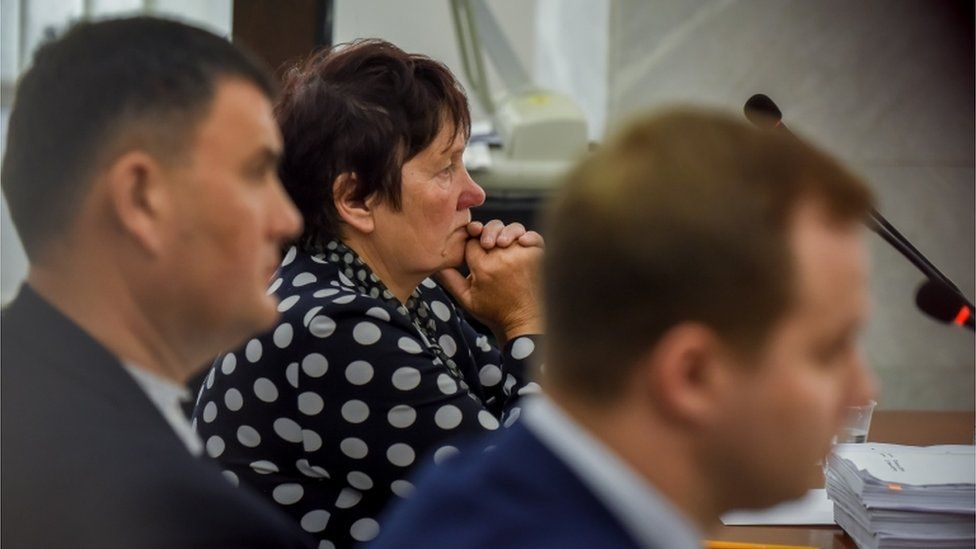 The widow of a Ukrainian civilian shot dead in the first days of the invasion confronted the soldier accused of killing him, as the country's first war crimes trial continued on Thursday.
Kateryna Shelipova stood up in court and asked the soldier: "Do you repent of the crime you committed?"
"Yes, I admit guilt," Vadim Shishimarin, a 21-year-old Russian tank commander, responded. "I apologise for everything I have done."
Ukrainian prosecutors are asking for him to be sentenced to life imprisonment for the killing of 62-year-old Oleksandr Shelipov.
The BBC's Sarah Rainsford has been following the landmark trial: click here to read more.
Meanwhile, there was a strong endorsement of Finland and Sweden's Nato membership bids from the US.
President Joe Biden said the Nordic nations had the "full, total, complete backing" of the US, adding they met "every requirement - and then some". Read the full story here.
On the ground in Ukraine, Russia said nearly 800 more fighters from the besieged steelworks in Mariupol had surrendered in the past 24 hours. It is unclear how many fighters remain at the site.
The fall of the port city represents a strategic victory for Moscow, which is pressing on with its main offensive in the eastern Donbas region.
Bush condemns Putin's invasion of 'Iraq' instead of Ukraine
Former US President George W Bush has accidentally condemned Vladimir Putin's invasion of "Iraq", before correcting himself by saying he was talking about Ukraine.
Mr Bush made the gaffe during a speech at an event in Dallas, Texas, where he was talking about the importance of fair elections.
He made a reference to the Russian leader's "wholly unjustified and brutal invasion of Iraq... I mean of Ukraine".
Mr Bush was the president during the US-led invasion of Iraq in 2003, which was justified due to weapons of mass destruction that were never found.
Russia's claim it used laser weapons derided as propaganda
Russia has claimed to be using laser weapons in Ukraine - one of which burned up a Ukrainian drone within five seconds, at a distance of 5km (three miles).
But the US said it had not seen anything to corroborate this.
Ukrainian President Volodymyr Zelensky mocked the Russian claim, comparing it to the so-called "wonder weapons" that Nazi Germany claimed to be developing during World War Two.
Lasers work by sending out a beam of infrared light that heats up its target until it combusts.
An expert told the BBC that even advanced laser weapons are still too weak to make a significant difference on the battlefield.
Read the full story here.
McDonald's finds local buyer for its Russian business
McDonald's has found a buyer for its 850 restaurants and staff in Russia, after the war in Ukraine pushed it to quit the country.
Alexander Govor, who currently operates 25 McDonald's restaurants in Siberia, will operate them under a new brand, the fast food giant said.
McDonald's had operated in Russia for more than 30 years.
The opening of its first restaurant in Moscow in 1990 came to symbolise a thaw in Cold War tensions.
War in Ukraine: More coverage