Elisabeth Borne: New French PM urges girls to pursue their dreams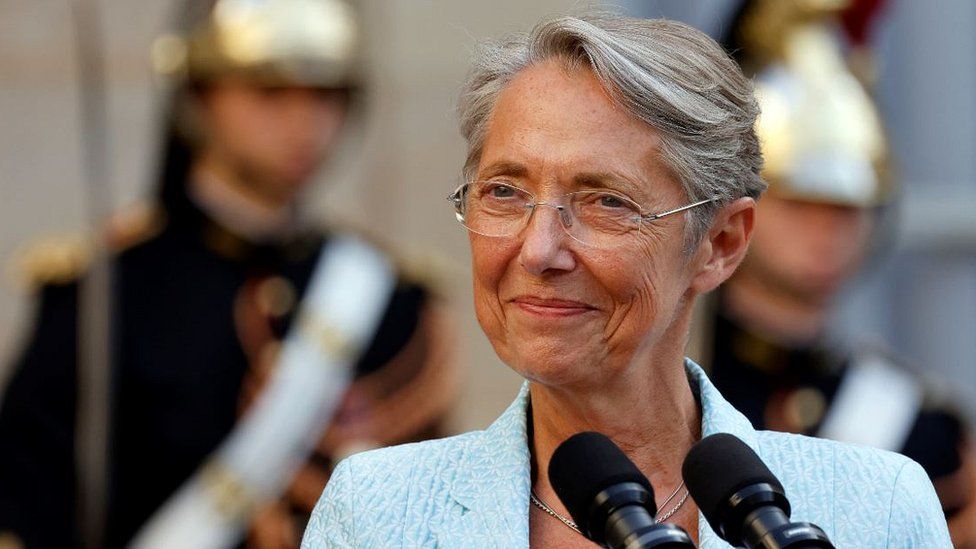 France's new Prime Minister, Elisabeth Borne, is the first woman to hold the job in more than 30 years and says she hopes to inspire young girls.
"I want to dedicate my nomination to all little girls and tell them to go all the way pursuing your dreams," she said in her inauguration speech.
The engineer, 61, has been described as a "left-wing technocrat". She served most recently as labour minister under President Emmanuel Macron.
France has a general election in June.
But the uncertainties of the 12-19 June parliamentary election raise a question mark over the length of Ms Borne's tenure, and under the French system the president's powers considerably outweigh the prime minister's.
A powerful leftist-green alliance led by Jean-Luc Mélenchon will challenge the president's centrist party next month, and some speculate that the veteran left-winger could become prime minister.
Ms Borne has detailed experience of key green and social policy issues. She served previously as transport minister and ecological transition minister under Mr Macron, who was re-elected last month. Her background is seen as an asset for Mr Macron, who aims to push through controversial social policy reforms.
The far-right National Rally of Marine Le Pen also poses a big threat to Mr Macron's party, now called Renaissance, despite his convincing second-round win over her in April.
Ms Borne is only the second woman to serve as French prime minister, after Edith Cresson in 1991-1992.
She held senior roles in France's biggest transport companies and has advised left-wing leaders on social issues in the past. She also has a reputation for working long hours at a ferocious rate, the BBC's Lucy Williamson reports from Paris.
On Monday the outgoing PM, Jean Castex, called Ms Borne "première ministre" - a feminine form of the usual "premier ministre" - to underline the historical significance of her appointment. Critics say France's ruling elite has lagged behind other European countries in appointing women to top jobs.
Eric Zemmour, a far-right rival to Ms Le Pen, pointedly refused to use the feminine "première ministre" for Ms Borne, saying "for me French should above all sound pleasant to the ear".
Ms Cresson - France's first female prime minister - said French politics was still "macho". "It was high time there was another woman," she said, praising Ms Borne as "a remarkable person, with great experience in the public and private sectors".
Ms Borne is unelected but will run as Renaissance candidate next month in Calvados, northern France.
One of her toughest challenges is expected to be negotiations to raise the retirement age to 65, from the current 62. Mr Mélenchon, in contrast, wants to lower it to 60.
"Ms Borne is against raising minimum wages and for retiring at 65. Here we go for a new season of social mistreatment," Mr Mélenchon commented.