Ukraine round-up: Kharkiv shelling eases but Bucha horrors linger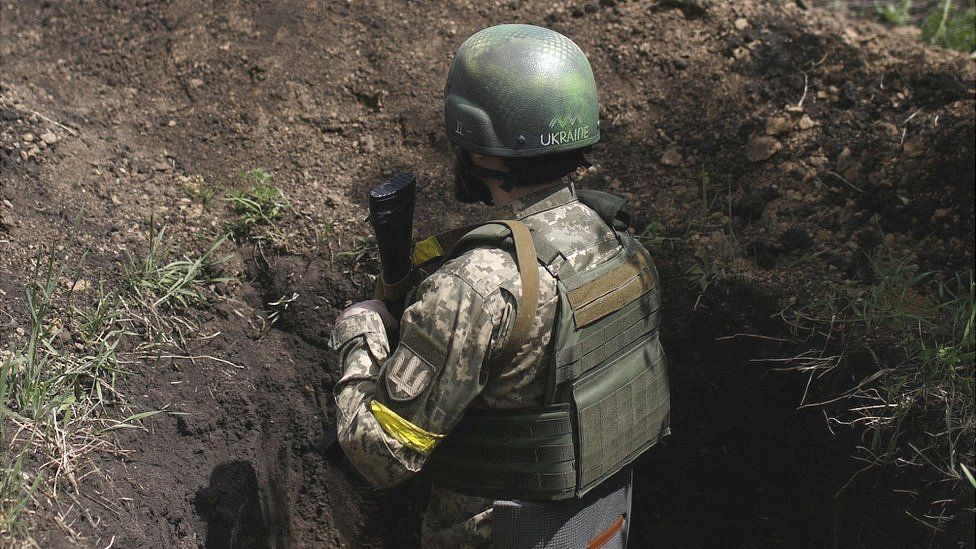 Russian forces made little apparent progress on Monday, with Ukrainian authorities saying the intensity of shelling on the north-eastern city of Kharkiv had "significantly reduced".
Earlier, the regional governor said counter-attacking Ukrainian troops in the area had reached the border with Russia.
Ukraine's defence ministry posted a video showing a number of soldiers gathered around a yellow-and-blue-painted border demarcation post.
The region's governor said troops had restored a sign marking the border. However, the claim has not yet been verified.
Ukraine's presidency said in a briefing that Russia had continued strikes on the Luhansk region, south of Kharkiv, killing two people and injuring nine others as a result of shelling on a Severodonetsk hospital.
*This report contains material some readers will find disturbing*
At the same time, new details have emerged of the horrors left behind in Bucha after the Russians withdrew.
In a cold, damp basement on the edge of the woods that made Bucha a popular getaway spot before the war, five Ukrainian men were forced to their knees and shot in the head.
To the right of the entrance, there were stones coated in blood that had turned dark red. Lying among that was a blue woollen hat with an exit hole in one side and its rim soaked in blood. The BBC's Sarah Rainsford, reporting from the scene, counted at least a dozen bullet holes in the wall.
A couple of steps away were the remains of a Russian military ration pack - an open can of rice porridge with beef and an empty packet of crackers.
A name daubed in graffiti on a wall was a reminder that the scene had been a children's camp. But when Russian troops moved into Bucha, just outside the capital, in early March, Camp Radiant became an execution ground.
Under fire near Russian-controlled territory
As our correspondent witnessed, Vladimir Putin has turned day into night along Ukraine's eastern front, forcing people underground.
Bare bulbs lit the dark space where he joined them in the bunker - the new home to the group of volunteer fighters who are part of Ukraine's Territorial Defence.
Turkey to block Finnish and Swedish Nato bids
Turkey's president has restated his opposition to Finland and Sweden joining Nato - just hours after they said they would seek membership.
Recep Tayyip Erdogan said the two Scandinavian nations need not send delegations to convince Turkey, a key Nato member, of their bids.
He is angered by what he sees as their willingness to host Kurdish militants.
Earlier, Sweden said Europe was living in a dangerous new reality, referring to Russia's invasion of Ukraine.
Mr Erdogan was speaking after one of the biggest-ever Nato exercises in the Baltics got under way.
Named "Hedgehog", the drills involve 10 countries, including Finland and Sweden who are expected to formally apply to join the alliance within days.
The exercises in Estonia, which will last until 3 June, were arranged before Russia's invasion of Ukraine.
McDonald's pulls out of Russia
McDonald's has said it will permanently leave Russia after 30 years and has started to sell its restaurants there.
The fast food giant said it made the decision because of the "humanitarian crisis" and "unpredictable operating environment" caused by the Ukraine war.
The chain opened in Moscow in 1990 as the Soviet Union was opening its economy to Western brands and its exit carries similar symbolic weight.
War in Ukraine: More coverage