Ukraine round-up: Putin's message to Finland and Kharkiv battle 'won'
By Thom Poole
BBC News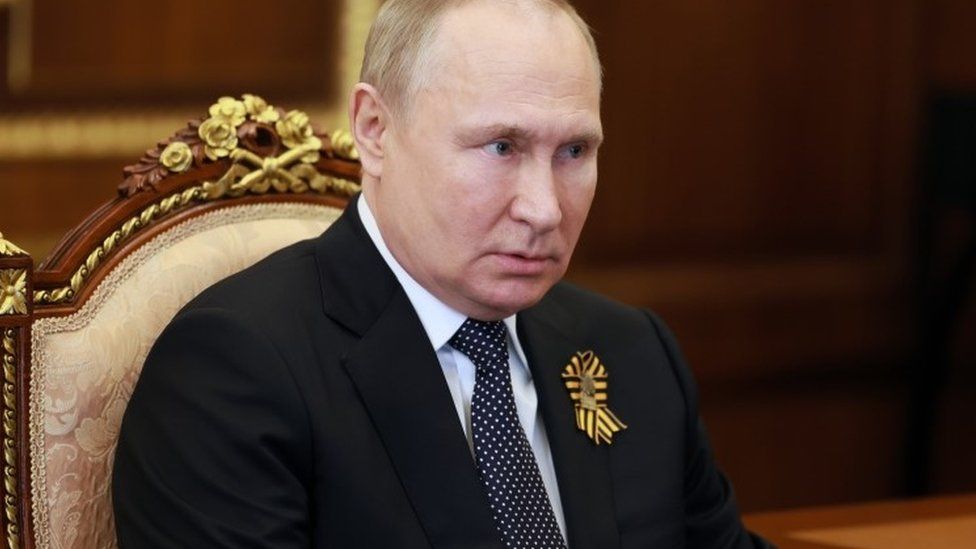 President Vladimir Putin launched an invasion in part to stop Nato gaining an extra member - Ukraine. Instead Nato is likely to get another two.
Sweden and Finland are pressing ahead with their efforts to join the security alliance, despite Russian warnings of retaliation.
On Saturday, President Putin told Finnish counterpart Sauli Niinistö joining Nato would be a "mistake".
In a sign of what may come, Russia suspended electricity supplies to Finland, although a Finnish energy chief said it had not caused any problems.
Battle for Kharkiv won, mayor says
On the ground, Ukrainian forces have been keeping up the pressure on Russia.
Its army has launched a counteroffensive in Izyum in Kharkiv region, military officials say.
Retaking the eastern city could complicate Russia's plans to capture the eastern Donbas region, the main focus of Russia since it withdrew from areas around the capital Kyiv.
Most significantly, the mayor of Kharkiv, Ukraine's second largest city, said Russian forces had withdrawn in the direction of the border.
One of our reporters in Ukraine has this assessment.
Kharkiv is a major victory for Ukraine
Joe Inwood, BBC News Lviv
On the outskirts of Kharkiv the retreating Russians left a parting gift.
Dergachi's Palace of Culture is now a smouldering ruin, thanks to a final barrage of rocket artillery.
But, it may be one of the last buildings in Ukraine's second city to suffer this fate.
Kharkiv is called a fortress, and with good reason. It has withstood more than two months of constant bombardment.
Its buildings and people have been battered, but never broken. Its defences never were breached
The city's mayor, Ihor Terekhov, told the BBC people are starting to return - and that the battle has been won.
"There were no Russian troops inside the city of Kharkiv. Russian tanks and armoured fighting vehicles were eliminated by Ukrainian fighters.
"And due to the efforts of the Kharkiv territorial defence and Ukrainian Armed Forces, the Russians have now withdrawn far from the city - towards the border," Terekhov said.
But, this was not a full-blown retreat as was seen around Kyiv. The Russian forces will hold lines further back, or re-join the fight elsewhere.
This is not a turning point in the war for Ukraine, but it is still a major victory.
Soldier weeps at comrade's graveside
Ukraine's national guard says at least 500 of its members have died since Russia's invasion more than two months ago.
It's the first time the force has announced such fatality figures.
Many fear the real number could be much higher. Behind each death, there are comrades left behind to mourn those who have lost their lives in battle.
The BBC met one such soldier at a military cemetery on the outskirts of Dnipro.
There are other, less visible battles going on.
For years, Russia is suspected to have used its intelligence services to target the West - from interfering in elections, to poisonings and sabotage.
The West has been carrying out acts of espionage on Russia as well.
But now, in the face of the Ukraine war, this battle is intensifying.
Ukraine bids for Eurovision glory
And finally, at the time of writing this the Eurovision Song Contest is under way.
The last time Ukraine won was in 2016, not long after Russia annexed Crimea and with a song about the deportation of Crimean Tatars under Soviet dictator Josef Stalin.
Ukraine are favourites to win this year's contest, while Russia has been barred.
BBC Ukraine's Viktoriia Zhuhan joined the Kalush Orchestra as they prepared for the contest in the war-torn city of Irpin.
War in Ukraine: More coverage