Next stop Kyiv - the battle on the capital's outskirts
By Jeremy Bowen
BBC News, Irpin, Ukraine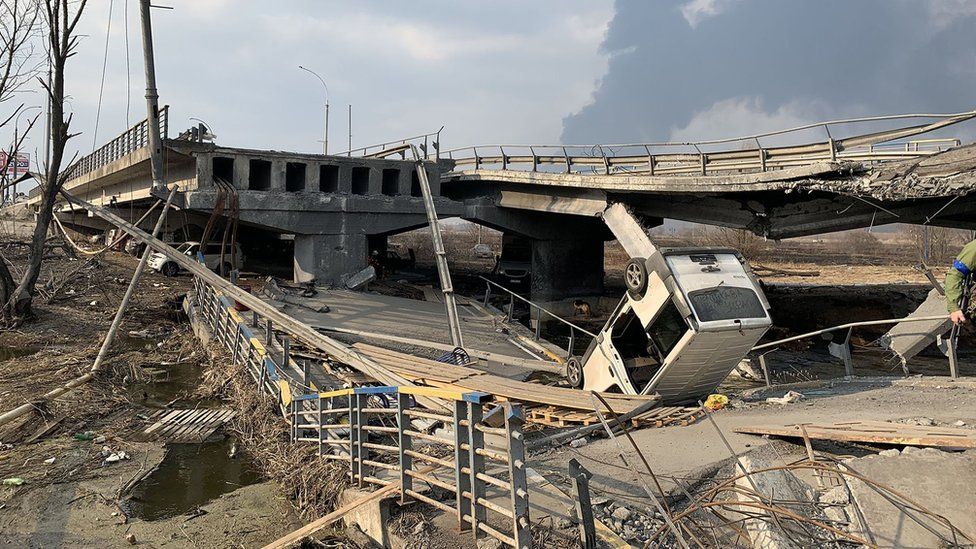 Smoke as heavy as a winter fog hung over the last mile or so of the road into Irpin, just a 20-minute drive north-west of Kyiv. Trees and undergrowth in the pine forest on either side were burning, set alight by shelling. The road was almost empty.
When our BBC team was last able to come here, about three weeks ago, the city was badly damaged. Now it is in ruins.
Irpin sits in an arc of towns that also includes Bucha and Hostomel, where the most important fighting for the future of Kyiv is taking place. If it is important for Kyiv, it is important for the rest of the country. The capital remains the biggest prize.
It seems clear now that a central part of Russia's strategy when President Putin ordered the invasion was a decisive thrust into Kyiv, to replace the troublesome Zelensky government with one that would do as it was told.
The failure of that strategy is, without a doubt, a victory for Ukraine. President Zelensky's presence in the capital is as well. While the government is here, and functioning, and while Kyiv remains accessible, President Putin has a constant reminder that the start of his "special military operation" - it is not called a war by the Kremlin - was badly bungled.
Ukraine is winning another battle decisively - the war of the Twittersphere. From skilfully crafted video messages delivered by President Zelensky and world-famous Ukrainians, such as the boxing Klitschko brothers, to local journalists who suddenly have hundreds of thousands of followers, they dominate social media.
It is a clever strategy, partly managed and partly spontaneous. The information battlefield is a vital part of modern war.
But getting to the truth of what is happening in a war means being very cautious about declarations of victory or defeat by anyone.
For journalists, that requires using your own eyes and ears, which is why our BBC team - and many other colleagues - have made trips to front line areas to try to base our reporting on first-hand knowledge.
A month into the war, it's harder to get to the crucial front line at Irpin. In the first days, journalists were able to drive in that direction. They were waved through roadblocks, and images went round the world of thousands of displaced civilians crossing the ruins of a road bridge blown by Ukrainian engineers to slow the Russians down if they made it to the Irpin River.
But as governments and military commands organise themselves in wars after the confusion of the first few days, it is always more difficult to move around. So, when the opportunity came to revisit the area it was important to take it. It is never an easy decision to go into harm's way.
Commander Oleg, the leader of the unit that was going to take us in, delivered a stern briefing at their base in Kyiv. His pistol was on the desk in front of him and his Kalashnikov assault rifle was propped up against a chair. The unit was part of the volunteer territorial defence.
Oleg, a thick-set man in his 40s, said he had been a factory manager before the invasion. He said that shelling north west of Kyiv was constant. If we were lucky there might be a lull. If we were not whatever happened was our responsibility, and there were basements and cellars we would have to reach in a hurry.
When displaced people were leaving Irpin, the road into the city was crowded with buses and ambulances picking them up and taking them into Kyiv. Many went straight to the railway station to head west, further from the Russians or to cross the border to become refugees in Poland, Romania and beyond.
In Irpin I could see clearly that the last few weeks of bombardment had damaged almost every building. The ruined bridge was now the route into the battlefield for groups of Ukrainian troops, heavily laden with weapons and ammunition, who were pushing forward on foot.
A few civilians were still emerging from the rubble of their town, people who had tried to hang on. A man called Pavlo, who walked painfully slowly with a stick, said he was getting out because a shell had destroyed his house. A soldier was helping him, carrying a few of things Pavlo had salvaged packed into a plastic supermarket shopping bag. I asked the old man how he was.
"I'm bad," he said. "Children are dying, everyone is dying. I didn't think I would make it to the bridge."
A man and a woman were leaving with nine dogs. The animals were terrified, and Slava was dragging them on a lead. She said they had been cut off, but now had to move.
They were the exceptions. Otherwise, it was a military area, swept up by the fighting. Vehicles picked up the Ukrainian soldiers to ferry them deeper into the battleground. The sound of Russian heavy artillery rumbled constantly around the flat, boggy terrain.
Irpin, Bucha and Hostomel, all now in ruins, used to be desirable places to live, an easy drive into the city, criss-crossed by waterways, with plenty of forest to walk dogs. It turns out that what was good for the residents is also good for Ukrainian defenders.
As one of the generals commanding the defence of Kyiv told me early in the war, the topography helps them. Spring is in the air, ice and snow have melted; mud and water are a nightmare for tanks. Forests are good places to conceal guns and build defensive positions.
In a cellar Commander Oleg, who had delivered the stern warning in Kyiv, was more relaxed closer to the fight.
The underground space, chosen because it had a thick concrete roof, was in a half-built house. It still had power. The lights on racks of battery chargers for walkie-talkies glowed in the gloom. Weapons were stacked in corners.
Ammunition comes in metal containers painted army green, which are opened like giant cans of corn beef.
Like his men, Oleg said the Russians had been pushed back. He explained that they were hitting Russian supply lines. Putin's men still had a toehold on the ground in Irpin, but the way they made their presence felt was with heavy artillery.
Shane Matthews, a former British soldier who travelled here from the UK with a Ukrainian friend, was part of Oleg's unit. Shane did not believe Nato should intervene, unlike every Ukrainian from the president down, because of the risks of a wider war. He had seen many civilians, including a family of four whose car was hit by an artillery shell. So little was left of them, he said, that their remains would barely have filled a bin bag.
First-hand reporting helps, but it is still hard to penetrate the fog of war, especially in a place that is being shelled more or less constantly. As far as I could see, the claims made by the Ukrainian military that it is holding territory and even taking some of it back are true.
What is also true is that Russia is using its formidable firepower and could still direct it at Kyiv. Even if most of their artillery is kept too far back to hit the city centre - a key Ukrainian objective - the Russians have destructive long range conventional missiles.
So far, apart from isolated but deadly attacks, nothing nearly as bad has happened in Kyiv. Everyone in the city knows that could change very fast.
In the city this week, more volunteers were being redeployed from quieter sectors to the battered north-western suburbs. It was quiet, a bit tense, as they waited for buses that would take them to the front line.
Katrine, one of the few women in uniform, cuddled her 18-month-old son Nikita. It was going to be a brief reunion as she too was off to Irpin. Katrine said she had been a sniper since 2015 in the long war against Russian backed separatists in eastern Ukraine. Now she was back.
"I'm ready to kill," she said, kissing her boy, "to protect his future".
The war has changed everything for Ukraine, and for Russia. The world now feels more dangerous. Whatever happens on the battlefields of Ukraine, it is clear after a month that the Russian invasion is the biggest threat to international peace and security since the end of the Cold War.
Its consequences are already being felt beyond the borders of Ukraine, in the shape of European security, the politics of the Nato alliance and the growing pressure on economies and food supplies. UN Secretary General Antonio Guterres warned this week that disruption to Ukraine and Russia's agricultural exports could increase world hunger.
Outside their headquarters, the younger volunteers were checking their phones as they waited for the buses. They were born when Europe was hopeful, in the 1990s.
Plenty of older men, some in their 60s were there too. Two of them said they were fishing buddies. They grew up when Ukraine was part of the Soviet Union.
Now the old drumbeat of the Cold War, the risk of confrontation between the big powers that was so familiar when Europe was divided by an iron curtain, is back for a new generation.
War in Ukraine: More coverage