Snake Island: Ukraine says soldiers killed after refusing to surrender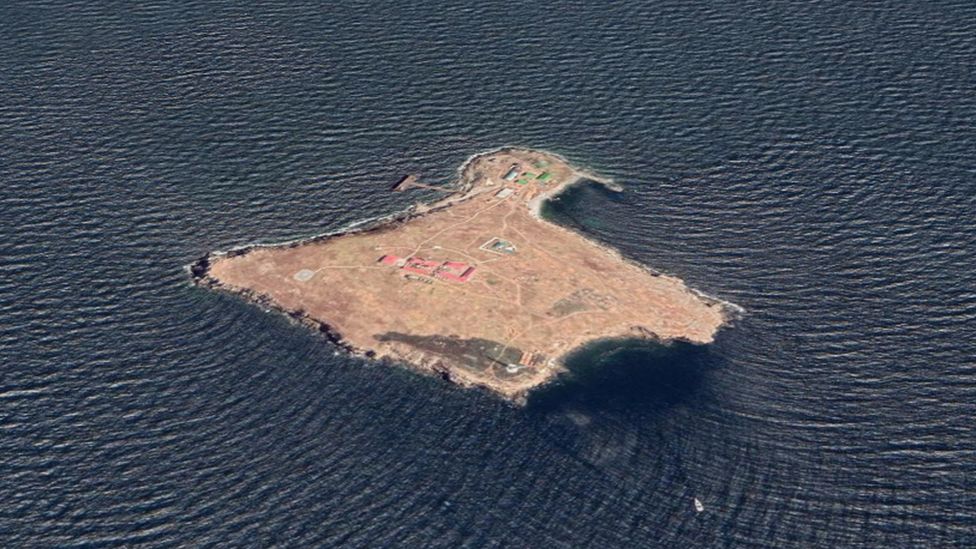 Ukraine has honoured 13 soldiers who were killed defending a tiny island after reportedly swearing at a Russian ship that ordered them to surrender.
In unverified audio clips, the borders guards defending Zmiinyi Island in the Black Sea are told to "lay down your weapons" or "be bombed".
"Russian warship, go to hell," they respond.
Ukraine says they were then killed by air and sea strikes. Russia denies the account, saying they all surrendered.
Ukraine's President Volodymyr Zelensky has awarded each of the guards the posthumous title of "Hero of Ukraine".
"On our Zmiinyi Island, defending it to the last, all the border guards died heroically," Mr Zelensky said.
In the audio recordings, shared by a Ukrainian government official, the soldiers can be heard exchanging barbed comments with the Russian vessel.
"This is a Russian warship," one voice says in the clip. "I propose you lay down your weapons and surrender to avoid bloodshed and unnecessary victims. Otherwise you will be bombed"
According to the audio, the Ukrainian soldiers can then be heard speaking amongst themselves, agreeing "this is it", before their final "go to hell".
According to Ukrainian officials, those were the last words heard from the island before Russia began strikes and Kyiv lost contact with the island.
The official Russian account of the incident differs dramatically. Moscow said the 82 Ukrainian soldiers on the island surrendered it to them voluntarily and made no mention of carrying out strikes or inflicting casualties.
Snake Island is a roughly 16-hectare (40-acre) rocky island owned by Ukraine that lies about 300km (186 miles) west of Crimea.
Ukraine says 137 of its civilians and military personnel were killed during Russia's invasion on Thursday.
Russia attacks Ukraine: More coverage