Ukraine conflict: Simple visual guide to the Russian invasion
By The Visual Journalism Team
BBC News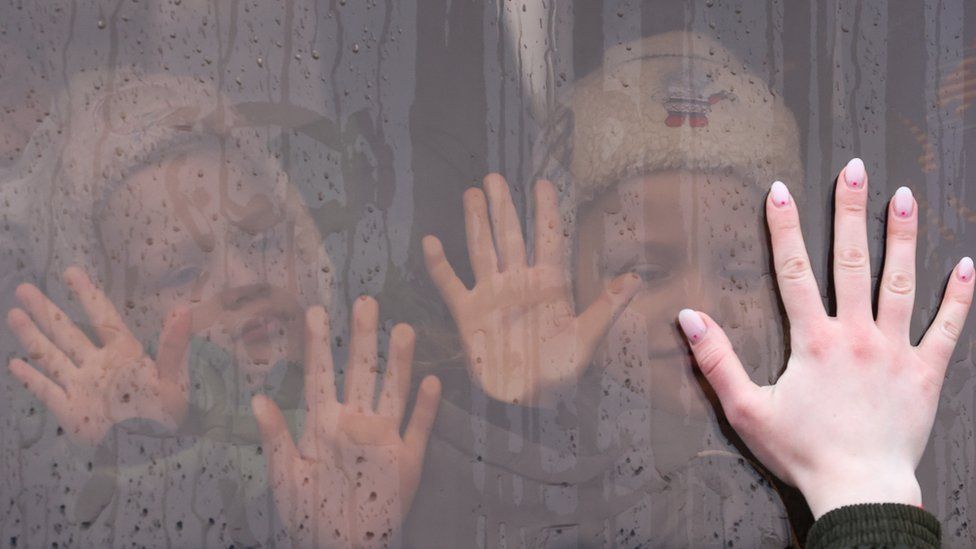 Russian forces have launched a full-scale invasion of neighbouring Ukraine, attacking locations across the country. A number of people have been killed and thousands have fled their homes.
These maps and images help to explain what we know about what has happened so far.
Ukraine is in Eastern Europe and shares a border with Russia.
It used to be part of the Soviet Union but became an independent country in 1991.
Russian President Vladimir Putin sees Ukraine as historically part of Russia.
In 2014, Russia invaded Crimea, in the south of Ukraine, and continues to occupy it.
Russian forces crossed Ukraine's borders early on Thursday morning and began bombing military targets near big cities.
Air strikes continued overnight and into the early hours of Friday, with attacks being reported across the country - including on the capital Kyiv.
Russians tanks were filmed on the outskirts of Kyiv on Friday morning. A second night of attacks followed with heavy gunfire and explosions in parts of the capital.
A number of civilian areas have been targeted, including one apartment complex outside of Kharkiv - a city of 1.4 million people in north-eastern Ukraine.
Injured people - including a woman with bandages on her head - were seen after the air strikes.
Since 2014, Russian-backed separatists and Ukraine's armed forces have been fighting a war in the eastern regions of Donetsk and Luhansk in which more than 14,000 people have died.
President Putin this month recognised the two regions held by the Russian-backed separatists as independent states and ordered Russian troops there, tearing up a peace deal.
Ukraine says more than 100 people have been killed so far, including civilians.
Many are now trying to escape the country, with UN estimates suggesting over 100,000 people have already fled from their homes.
Streams of cars have been seen leaving major cities and are queuing to cross borders into neighbouring countries.
Lithuania, Latvia, Poland, Hungary, Slovakia and Romania and Moldova have all said they expect a wave of refugees from Ukraine.
He said the UK and its allies will launch a "massive package" of sanctions - commercial and financial penalties - to "hobble" Russia's economy.
He also tried to reassure the British public by promising to do "everything to keep our country safe" and work with allies "for however long it takes" to restore Ukraine's independence.
As a result of the conflict, oil prices have surged past $100 (£75) a barrel to hit their highest level for more than seven years, which will impact already-rising petrol prices in the UK.