Amalia: Heir to the Dutch throne keeps it normal at 18
By Anna Holligan
BBC News, The Hague
For a country whose national motto is "be normal", the heir to the Dutch throne is a pretty good fit.
Princess Amalia turns 18 on Tuesday. She's on a gap year, has spoken candidly about her struggles with mental health and says she won't claim her income until she becomes a fully working royal.
Amalia loves singing, tiaras and musicals and apparently mixes a potent cocktail. So what else do we know about the future queen of the Netherlands and could her coming of age herald a new era?
Princess Amalia attended a state school close to her home in The Hague and, like many Dutch children, rode her bicycle to school.
Friends of friends tell me Amalia and her family were no different to others, interacting on private messenger groups.
She graduated from a Protestant high school and followed the school-leavers' tradition of proudly hoisting the Dutch flag on the roof of her home with her schoolbag slung over it. The only difference is her home is a palace - the Huis ten Bosch in an especially leafy part of The Hague.
Now she's 18 Amalia's entitled to €1.6m (£1.3m; $1.8m) in income and household support, but won't take it up for the time being because it would make her "uncomfortable" while she is doing nothing to earn it.
Princess Catharina-Amalia Beatrix Carmen Victoria, to give her full name, has two younger sisters, Alexia and Ariane, and her family poses twice a year for a royal family photoshoot, in return for privacy for the rest of the year.
Her father, King Willem-Alexander, is a pilot who regularly flies passengers on commercial KLM aircraft. Her mother, Queen Maxima, is Argentinian and brought a dash of Latin American flair to what was previously perceived as a rather bland royal household.
The king told me a few years ago, when I went for tea and biscuits in one of the family's palatial homes that the secret to a happy marriage was openness and honesty.
His daughter appears to have inherited his views.
In an authorised biography published to mark turning 18, Princess Amalia spoke candidly about the consent of parliament required under the Dutch constitution when she marries.
"If it's the man who supports me, who I love, who I want to spend my life with and parliament doesn't approve, well then we'll just have to see what I do.
"I can't choose at my own expense. Then I can't give the best for our country."
This has happened before. Her late uncle, Prince Friso, lost his place in the Royal House and line of succession when he married Mabel Wisse Smit without government approval.
Same-sex marriage and the crown
In her biography, written by comedian Claudia de Breij, Amalia notes homosexuality is no big deal in her family: "My parents have quite a lot of different friends, so I grew up not only with 'uncle and aunt' but 'uncle and uncle' and 'auntie and auntie'."
When she was 14, she wore purple clothes to school on "Purple Friday" in solidarity with students who were not heterosexual or cisgender.
As same-sex marriage has been legal in the Netherlands for 20 years, the question was raised recently what might happen if Amalia were to choose a same-sex partner.
Although the speculation did provoke criticism, caretaker Prime Minister Mark Rutte said hypothetically there would be no legal problem.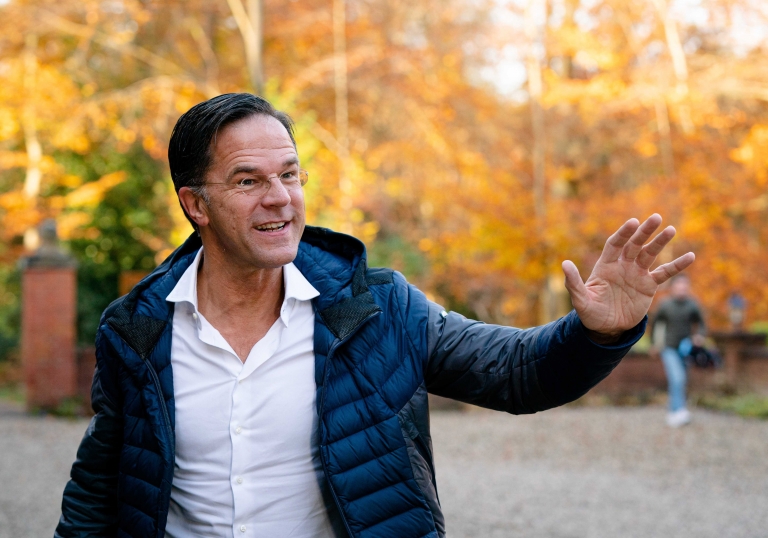 EPA
The cabinet does not see that an heir to the throne or the king should abdicate if he or she would like to marry a partner of the same sex
We learn from her biography that Amalia finds German men more gallant than the Dutch.
In junior high, relieved that someone finally had shown a romantic interest in her, she dated another student, only to discover his intentions were insincere.
He had dated her for a bet. Many teenagers will no doubt relate.
In the pragmatic Netherlands, showing emotion is sometimes considered a weakness, but Amalia has said openly that "sometimes it all gets too much for me - school, friends - and then I talk to someone".
She sees mental health as important as physical health: "If I need it, I'll make an appointment... talking to a professional every now and then is quite normal."
Hearing a crown princess talk about seeking therapy, and a teenager at that, could help reassure other young people here who may feel pressure to hide their suffering.
While British royals have spoken out about mental health, they have not worked as a waitress at a beach club like Amalia.
She considers herself a mean mixologist, under the nickname "cocktail queen", and even rides a horse called Mojito.
"Compare Amalia to the British royal family and count your blessings," said one Dutch editorial. Just don't count the cost, because the Dutch royal family is more expensive than any other in Europe.
In common with other European royal families, the House of Orange is merely responding to the Dutch desire for their royals to be normal. Calvinist sensitivities mean standing out from the crowd isn't cool. They are rarely mentioned but ever present.
It is hard to form an opinion about a young woman who's been shielded from the press and allowed to grow up in private.
Princess Amalia's mix of humility, openness and authenticity have endeared her to many. "If I can avoid a bad situation through diplomacy, then I have made the world a little bit better, I'm happy," she says.
And yet our understanding of her has been filtered through a PR lens and an authorised autobiography.
Amalia herself believes she isn't ready for the role of queen and would ask her mother to fill in until she is.
But bells will ring out across the Netherlands at 09:00 on Tuesday, heralding the crown princess coming of age and a special composition entitled Amalia Eighteen will be performed by the Royal Glockenspiel Society.
And Amalia herself might just celebrate in private with a cocktail or two.
You may also find this of interest: