Poland clarifies abortion law after protests over mother's death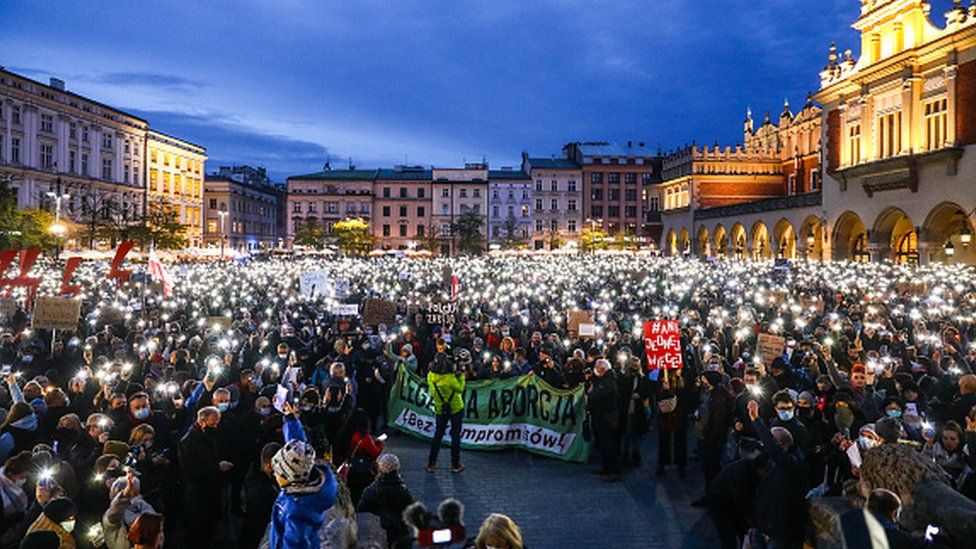 Poland has reminded doctors that abortions are legal in some cases after the country's strict laws on the practice were linked to a pregnant women's death.
The guidance was issued on Sunday, a day after mass protests over the death.
The 30-year-old woman died of sepsis 22 weeks into her pregnancy, which had complications.
Her family say life-saving care was delayed because doctors feared breaking Poland's restrictive abortion laws.
A controversial court ruling last year imposed a near-total ban on abortion in Poland. Abortion is now permitted only in cases of rape or incest or when pregnancy threatens a mother's health or life.
On Sunday, Poland's health ministry clarified the latest legal regulations and medical recommendations on abortion in response to the mother's death.
The guidance says if a mother's life or health is at risk, doctors "must not be afraid of making obvious decisions" about abortions.
The woman, named Izabela, died in September but her family's lawyer brought the case to wider attention this month.
The lawyer said doctors had been aware of severe foetal defects but refused to perform an abortion because a heartbeat could still be detected. The mother sent a text saying her fever was rising and she was worried about going into septic shock, which then led to her death.
"I hope that I don't have septicaemia, otherwise I will not make it," the mother wrote. "It's dreadful. And I have to wait."
The hospital has said its decisions were based on concern for the health of the mother and foetus.
However, the family's lawyer argued that the tighter restrictions on abortion meant that doctors waited too long to act.
The doctors have been suspended and prosecutors are investigating.
Poland's nationalist government blamed the woman's death on medical error and said it had nothing to do with the new law.
But protesters say there will be similar cases in the future unless the law is changed. Huge protests against the law were held in dozens of Polish cities on Saturday.
Tens of thousands of people demonstrated in the capital Warsaw, where chants of "Her heart was beating too" and "Not one more" were heard.
Katarzyna Kotula, protest organiser and opposition politician, said: "This is what we call the frozen effect - the doctors will be afraid to perform abortions."
A devoutly Catholic country, Poland already had some of Europe's most restrictive abortion laws.
An estimated 200,000 women have abortions illegally or travel abroad for the procedure every year.