The Rotterdam museum set to display its entire art collection
By Anna Holligan
BBC News, Rotterdam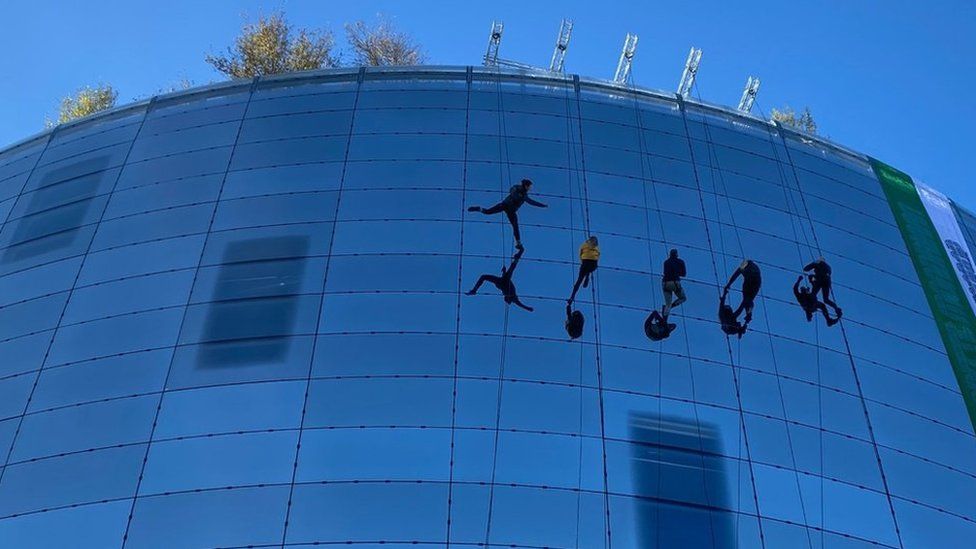 Sunbeams rebound off a mirrored facade, abseilers perform stunts on the imposing 40m-high cauldron-shaped sculpture.
This is The Depot in the Dutch city of Rotterdam, which opens to the public on Saturday after a royal unveiling by King Willem-Alexander.
Most museums have capacity to display only a small percentage of their works.
The Depot is exhibiting the Boijmans Van Beuningen's entire art collection of more than 150,000 pieces.
Other European museums have been in touch, investigating how they might share their storage in ambitious, previously unseen ways.
In reflecting Rotterdam's skyline in the soaring curved exterior, the idea is that as people look at The Depot they see themselves.
It is a thematic ambition that continues inside.
As we soar skywards in a glass elevator, I spot Picasso's Grey Owl and a bejewelled carpet by Dutch artist Suzan Drummen: ancient artefacts jostling for attention with contemporary treasures.
An eclectic collection is visible from the six-storey atrium. Traversing, transparent staircases encourage visitors to explore beyond their comfort zones and discover new realms.
In traditional galleries, the main attractions occupy prime position in great halls.
In the Rijksmuseum, Louvre or Prado, enthusiasts might make a beeline for The Night Watch, Mona Lisa or Hieronymus Bosch, the pragmatic layout of The Depot forces visitors to change their behaviour.
The collection is worth an estimated $8bn (£6bn), but works here are arranged according to type and size, rather than value or status.
The hierarchy has been deliberately dismantled.
Away from the atrium in storage areas white coats must be worn. We tread over white sticky plastic mats, designed to prise off any bugs and dirt to protect and preserve.
Paintings are hung on retractable ceiling-to-floor white wire racks, attached to rails. They can be pulled out, but strictly by museum staff only, to reveal the works of some of the world's most revered masters.
Seeing these old masters in a new light invites the audience to appreciate art as we see it, rather than from a prescribed or preconceived perspective.
The idea is to make this space more inviting for those intimidated by monumental museums.
Gasps resound as a ceiling-height Salvador Dalí is hauled out from the racks like a library book, it is breath-taking to see such masterpieces slung almost like objects displayed in a Swedish furniture store.
"We are as safe as the national bank; we have to be," Ina Klaassen, one of the museum's directors, assures me.
Not even the directors have the biometric credentials required to access the secure zones within this priceless collection.
Putting the backstage front-stage is a means to celebrate the importance of curating to contemporary culture.
Restoration and conservation work is conducted in public view as staff peer through microscopes. Rotterdam's cityscape provides a dramatic backdrop, transforming behind-the-scenes procedures into almost theatrical displays.
Sometimes it's hard to differentiate between art and life and where the boundary lies.
Engineers hang upside down, housekeepers in shimmering jumpers lug vacuum cleaners alongside us in the lift.
The interior, industrial concrete is in keeping with the concept of this being a work space and a practical solution to the challenges of storing such vast public collections previously vulnerable to floods.
The original museum here had to be shut after suffering years of flooding and it could anyway only show a small proportion of the objects.
With a focus on sustainability, the building's toilets are flushed with rainwater collected on the roof, where elm trees are thriving. It is emblematic of a space that wants to blend in with the local environment as much as it aspires to stand out.
The Depot's answer to the problem of exhibiting and storing all of a museum's works has given the art world a valuable precedent.
In 2023 London's Victoria and Albert Museum will open the V&A East Storehouse on the former 2012 Olympic site, taking visitors behind the scenes in an "immersive experience".
But Ina Klaassen believes The Depot will remain one of a kind. "We had the space and idea to do it in a really radical way, I don't think anyone can do it like this."
All images by Anna Holligan subject to copyright