With a new Michelin guide, Moscow's best-kept culinary secrets are out
By Steve Rosenberg
BBC News, Moscow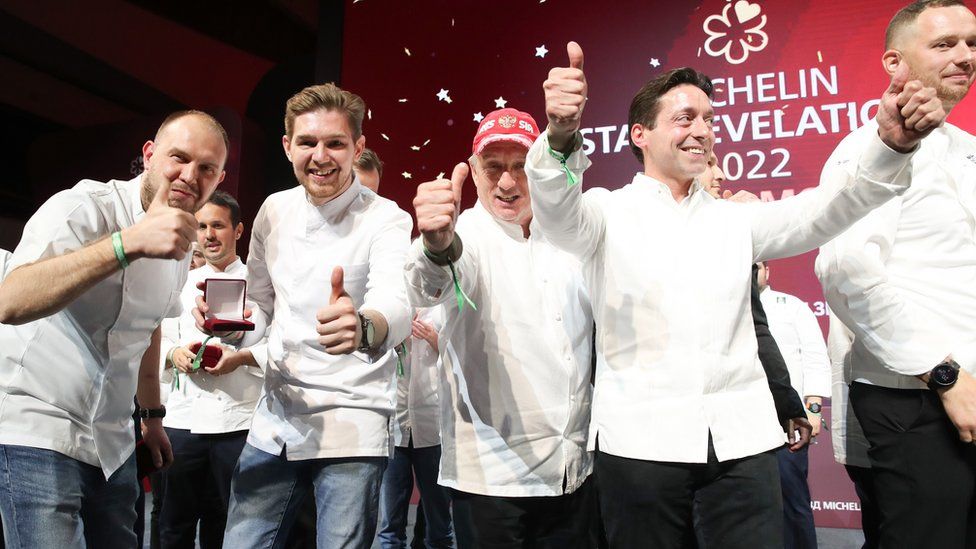 It's been described as one of the Russian capital's best-kept secrets: Moscow's restaurants are excellent.
Michelin has published a Moscow Guide, heaping praise on Russian chefs and serving up its prestigious awards. Seven restaurants received one star. Two were awarded two stars.
"Inspectors have been particularly seduced by the high-quality local produce," said Gwendal Poullennec, Michelin Guide International Director.
"I'm super happy," chef Ivan Berezutsky told the BBC. "It's the favourite moment of my professional life. It's a fantastic moment for Moscow and for Russia."
Ivan and his brother Sergey are the twin chefs of Twins Garden. Their restaurant received two stars, plus an extra Green star award for sustainable practices.
How times have changed. When I lived in Moscow in the 1980s, eating out was a chore and a challenge. Restaurants had a reputation for surly service, poor choice and less than appetizing fare. I'll never forget the "Closed for Lunch" sign often hung on restaurant doors.
Today the choice of cuisine is mindboggling. Moscow has everything from gastropubs to kosher cafes. Ethiopian, Brazilian, Vietnamese - you name it, you can find it here. Soviet service (thank goodness) is a thing of the past. And food quality is generally very good.
Michelin believes that Moscow could become a new culinary destination for tourists and travellers. And if it does? Some think that foreigners flocking here for the food might somehow ease political tensions between Russia and the West.
"We are so separate right now, unfortunately," says chef Vladimir Mukhin of the White Rabbit restaurant, which received a Michelin star. "It's like if you have a problem with your wife, but you have breakfast with her at the same table, then you have a future. The table can unite everyone."
The authorities here are hoping that the Michelin Moscow Guide 2022 will project a more positive image of the Russian capital.
"I am proud that Moscow's restaurants have become a calling card for our wonderful city," said Moscow's Mayor Sergei Sobyanin at a ceremony near the Kremlin.
But while the belief is that a gastronomic calling card can bring in more tourists, there's just one problem.
Although Russia has taken a great leap forward in terms of cafes and restaurants, the picture is less positive in other areas: like the state of democracy and the high level of anti-western rhetoric here.
It's things like that which may reduce the appetite of foreign tourists to visit Russia.