Norway attack: What we know about bow and arrow killings
A bow and arrow attack that left five people dead and three others wounded has shocked Norway.
A 37-year-old Danish man has been arrested and is being questioned by police, who have not ruled out terrorism.
The attack was the country's deadliest since the far-right extremist Anders Behring Breivik killed 77 people in 2011.
The attack took place on Wednesday evening in Kongsberg, which is about 80km (49 miles) south-west of Norway's capital, Oslo.
The attacker launched the assault near a Coop Extra supermarket on Kongsberg's west side.
Police first received a report of a man shooting at people with a bow and arrow at 18:12 local time (16:12 GMT). Shortly afterwards, officers arrived on the scene.
It is not clear if they were armed when they first came across the suspect. They made contact with the attacker at 18:18.
The officers were then shot at with arrows before the attacker escaped. Attacks were subsequently reported in different locations.
One witness told local media they saw a woman lying injured at an intersection and calling for help.
Another witness told the TV2 channel that she saw a "man standing on the corner with arrows in a quiver on his shoulder and a bow in his hand".
"Afterwards, I saw people running for their lives. One of them was a woman holding a child by the hand," she said.
Images from Kongsberg showed arrows lying on the ground and one sticking out of a wall.
At a news conference on Thursday, Norwegian police official Ole Bredrup Saeverud said the victims were most likely killed after officers first confronted the attacker.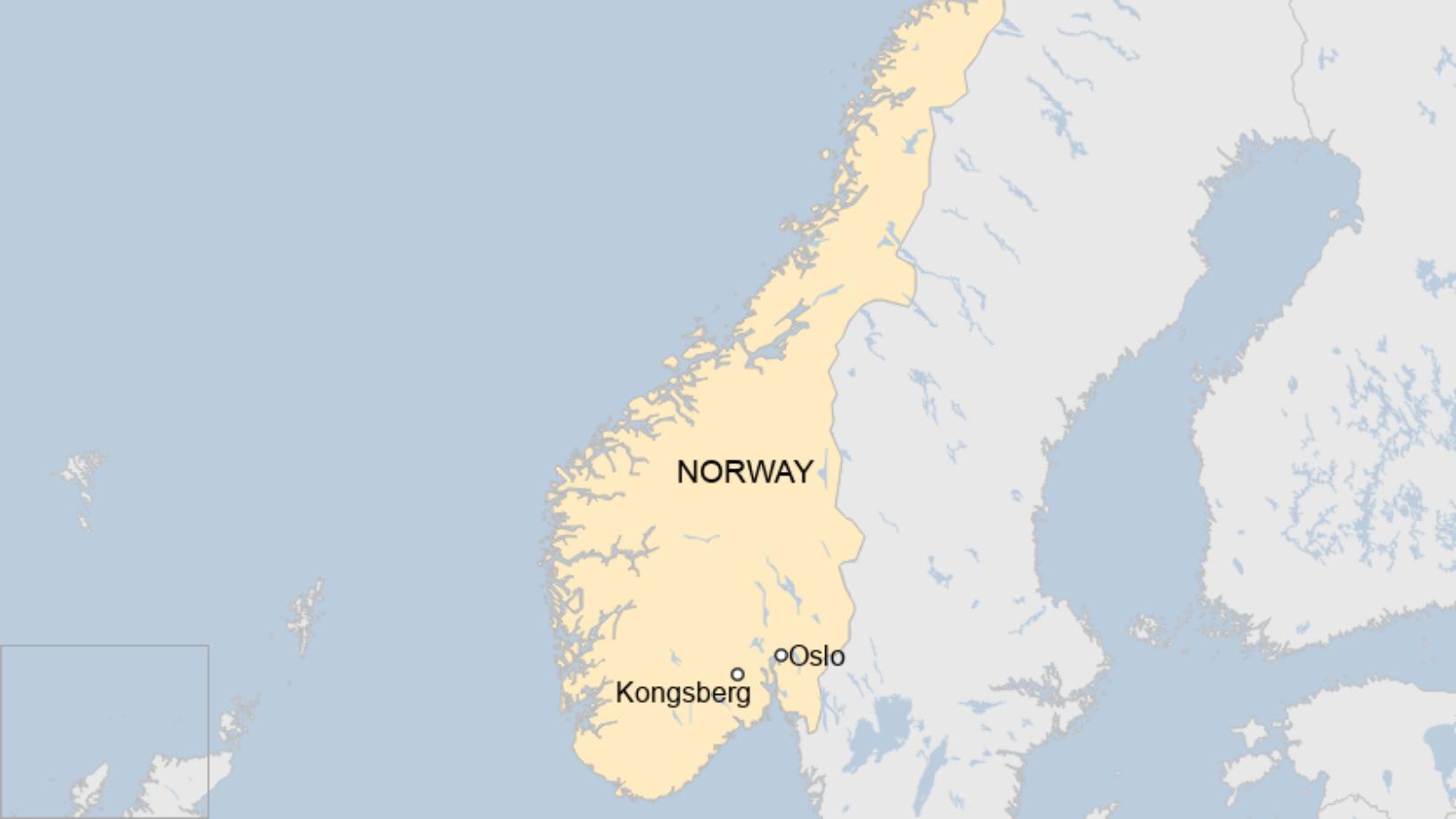 The suspect was arrested at 18:45 - 35 minutes after the attack began. Warning shots were fired during the arrest, police said.
Norwegian media questioned why it took police more than half an hour to arrest the suspect after the first reports of an attack. Mr Saeverud said it had been a "confusing" situation.
Norway's intelligence service, PST, said the attack appeared to be an "act of terror" but further investigation was needed to establish the motivation.
Who is the suspect?
Officers named him as Espen Andersen Brathen, a 37-year-old Danish citizen with a Danish mother and Norwegian father.
Police prosecutor Ann Irén Svane Mathiassen told TV2 that the man lived in Kongsberg and was known to police. He will be assessed by psychiatric experts, she told NRK.
The suspect converted to Islam and "there were fears linked to radicalisation previously", Chief Saeverud told reporters.
He said the latest report of concern about radicalisation was in 2020. "We haven't had any reports about him in 2021," Mr Saeverud said.
Public broadcaster NRK reported that Brathen received a six-month restraining order against two family members last year.
According to the verdict in that case, he reportedly left a revolver on the sofa which one family member perceived as a threat.
The suspect was taken to a police station in the town of Drammen, where he was questioned by police. "He is explaining in detail and he is speaking and co-operating with the police," the suspect's lawyer, Fredrik Neumann, told reporters.
Mr Saeverud said the suspect confessed during questioning, adding that he was "relatively sure that he acted alone".
The suspect was charged and is expected to appear before a court in Kongsberg on Friday at 09:00 local time.
Who are the victims?
None of the victims have been formally identified. Four women and a man, all aged between 50 and 70, were killed, police said.
Relatives have been notified. Police say they do not believe the suspect knew any of the victims.
One of those injured was an off-duty police officer who was in the supermarket, where the attack is said to have started. He and one other wounded person were stable.
In a press release on Thursday, police said a third person was wounded and had been taken to an emergency room.
Shock and condolences
Incoming Norwegian Prime Minister Jonas Gahr Store said the attack was a "gruesome and brutal act". It happened a day before his centre-left coalition government was due to take office.
The outgoing conservative Prime Minister Erna Solberg said reports of the attack were "horrifying".
And Kongsberg Mayor Kari Anne Sand said it was a shocking attack that had taken place in an area where many people lived.
Describing the town as "a completely ordinary community with completely ordinary people", Ms Sand said everyone had been deeply shaken by "this very tragic situation".
Internationally, political leaders expressed shock and offered their condolences.
Denmark's Prime Minister Mette Frederiksen condemned the "terrible attack", while UN Secretary General António Guterres said he was "saddened by the tragic news".