Kerry Babies: Remains exhumed in 1984 baby death investigation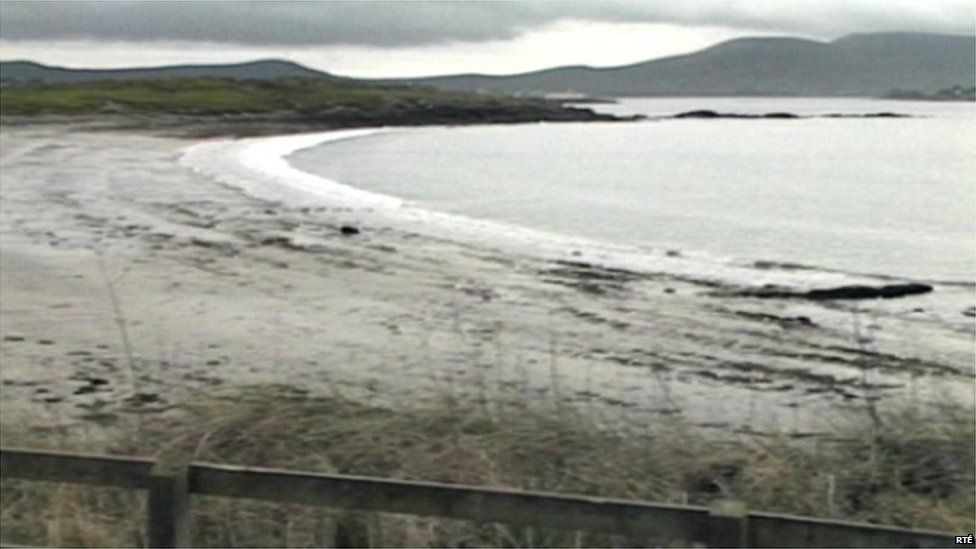 The remains of a baby boy found dead on a beach in the Republic of Ireland 37 years ago have been exhumed as part of an ongoing investigation.
The infant, who had suffered multiple stab wounds, was discovered by a jogger at White Strand, Cahersiveen, County Kerry, on 14 April 1984.
The child has never been formally identified but he was given the name "Baby John" before his burial in 1984.
He was at the heart of an infamous case known as the Kerry Babies scandal.
Gardaí (Irish police) confirmed they exhumed his remains on Tuesday morning.
The exhumation at Holy Cross Cemetery in Caherciveen began at dawn and the remains were reinterred the same day.
The original 1984 investigation into the child's death was seriously mishandled and became a national scandal known as the Kerry Babies case.
At the time, gardaí focused their attention on a 25-year-old single mother, Joanne Hayes, and wrongly accused her of killing Baby John.
Ms Hayes came under suspicion as she had been admitted as a patient at Tralee General Hospital on the day Baby John's body was found.
She had recently been pregnant but because there was no sign of her baby, detectives wrongly convinced themselves that she was Baby John's mother and charged her with murder.
They searched her family farm at at Abbeydorney, County Kerry, and found the body of a second newborn baby boy.
Ms Hayes had been having an affair with a married man at the time and the couple already had one child together, a toddler whom she was raising alone.
She became pregnant with her lover's second child and gave birth at home, but the baby was either stillborn or died shortly after birth and was buried on the family farm.
Ms Hayes later revealed these details to gardaí when they questioned her over Baby John's death.
Blood tests confirmed she and her lover were the parents of the baby found dead on the farm. However, that child had a different blood type to Baby John.
Despite the blood results, gardaí proceeded with their case against Ms Hayes.
Detectives believed she may have given birth to twins - despite the two babies having different blood groups - and that she had murdered the baby found on the beach now known as Baby John.
At one stage gardaí believed the different blood groups could be explained by Ms Hayes having sex with two different men at the same time and becoming pregnant at the same time by both of them.
The tribunal shocked many in the Republic of Ireland for the manner in which Ms Hayes, a private woman, was publicly asked about her sex life.
Women's groups protested outside and the tribunal is now widely seen as unwanted reminder of a dark past.
Ms Hayes and her family claimed they had been mistreated by gardaí and had been intimidated into making false statements.
The case caused major controversy and a tribunal was set up to examine the force's handling of the case.
The results led gardaí to issue a public apology to Ms Hayes for the stress and pain they put her through during the 1984 investigation.
The then Taoiseach (Irish Prime Minister) Leo Varadkar apologised to her and the Hayes family.
In 2019, Miss Hayes, her daughter and her siblings started High Court proceedings against the Garda commissioner and the Director of Public Prosecutions.
After months of mediation the state was expected to offer her €1.5 million (£1.4m), her three siblings €300,000 (£272,000) each and her daughter €100,000 (£91,000) as compensation.
Neither the parents nor the killer of Baby John have ever been identified.
Tuesday's exhumation was carried out on foot of a ministerial order, granted in accordance with the Coroners Act, police said.
Baby John's remains were taken to the morgue at University Hospital Kerry, Tralee, for examination and were reinterred in the same grave on Tuesday afternoon.
"Investigating gardaí continue to believe that there are members of the public who have information in relation to the death of Baby John in April 1984 and we are appealing to those people to come forward and help us," police said.