Coronavirus: Republic of Ireland eases gathering and wedding restrictions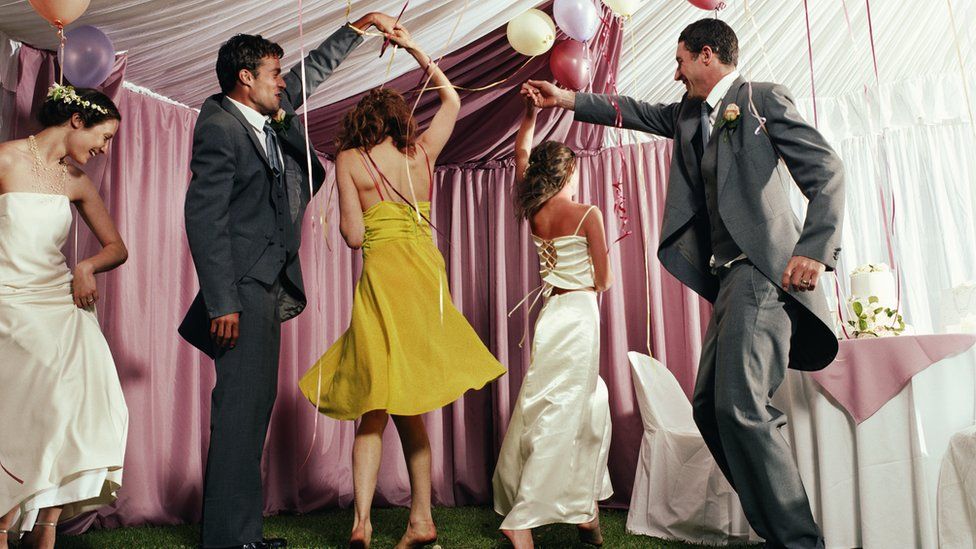 Restrictions on indoor events and mass gatherings have further eased in the Republic of Ireland.
From Monday, live music and dancing can resume at weddings.
Organised outdoor events and mass gatherings can take place with 75% of venue capacity where people have been either fully vaccinated against Covid-19 or have recently recovered.
Religious ceremonies can proceed at 50% of venue capacity, regardless of peoples' immunity status.
The timetable agreed by the cabinet is dependent on 90% of adults being vaccinated and the number of cases of Covid-19 being manageable.
Taoiseach (Irish prime minister) Micheál Martin said "great uncertainties remain", particularly with the spread of the Delta variant, despite the relaxations.
From 20 September, the Irish government roadmap will see restrictions eased on indoor and outdoor group activities, such as sports, arts, culture and dance classes.
It would also include a phased and staggered return to the workplace.
From 22 October the following restrictions will be lifted:
Requirements for physical distancing
Requirements for mask wearing outdoors and in indoor private settings
Limits on numbers at indoor and outdoor events and activities
Restrictions on religious or civil ceremonies
Limits on numbers that can meet in private homes/gardens
Certification of vaccination, immunity or testing as a prerequisite for access to, or engagement in, any activities or events (with exception of international travel)
Restrictions on high-risk activities (i.e. nightclubs)
On Monday, Tánaiste (Irish deputy prime minister) Leo Varadkar said the relaxations had been possible because of Ireland's "world-class vaccination programme".
He said it was "now suppressing the Delta wave", RTÉ News reported.
Mr Varadkar said the wage subsidy scheme would remain in place until at least the end of 2021, while a reduced VAT rate of 9% would continue until the summer of 2022.