Ebrar Karakurt: Supporters rally around Turkish volleyballer after abuse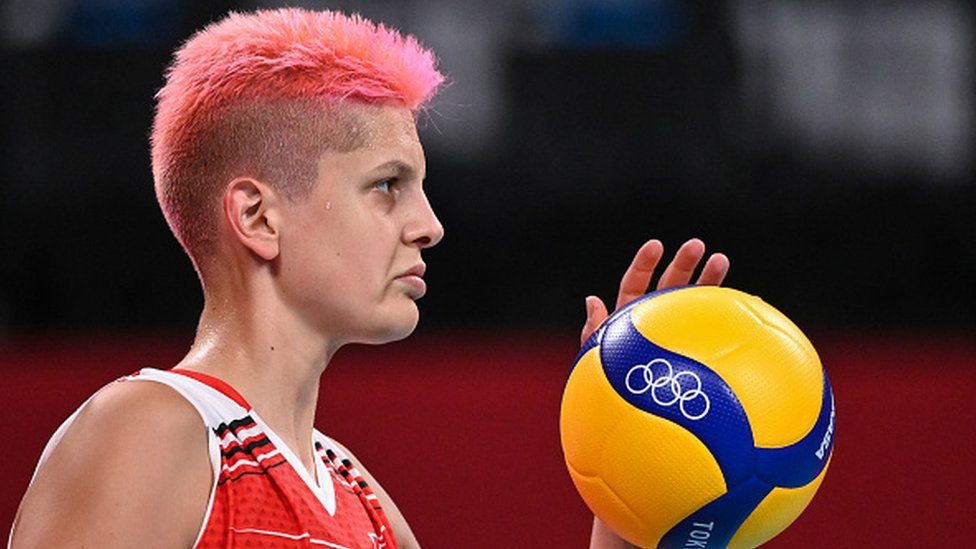 A Turkish Olympic volleyball player has received messages of support after she was subjected to homophobic slurs on social media.
Ebrar Karakurt was abused online after posting a photo with her girlfriend on Instagram, Turkish media is reporting.
The picture of Ms Karakurt, 21, posing with the woman was subsequently deleted from her Instagram account.
Ms Karakurt helped Turkey's national volleyball team reach the quarter finals of the Tokyo Olympic Games.
At the event she drew attention for her hot-pink hair and impressive performances as an opposite hitter. Playing in that position, she has won two silver medals at international tournaments with the national team, which she joined in 2018.
Reacting to reports of the abuse, Turkish athletes and other public figures defended Ms Karakurt and highlighted her achievements on social media.
In a tweet her teammate, Naz Aydemir Akyol said Ms Karakurt was focused on volleyball and "doesn't care about anything said about her".
"The rest is none of my business, or yours, or anyone else's," she added.
Another teammate, Hande Baladin, wrote: "Always be who you are because the Ebrar we know is very special, very beautiful."
Turkish pop singer Demet Akalin tweeted: "Her private life is none of anyone's business besides her own. Period!"
Homosexuality is legal in Turkey but official opposition to the LGBT community has grown in recent years. The Istanbul Pride march has been banned since 2016.
Public opinion is generally conservative and the LGBT community has reported widespread discrimination and harassment.
Critics have accused Turkey's ruling Justice and Development Party (AKP) government, which promotes conservative Islamic values, of eroding social rights and tolerance.
You may also be interested in: