Pope rejects German cardinal's offer to quit over abuse failures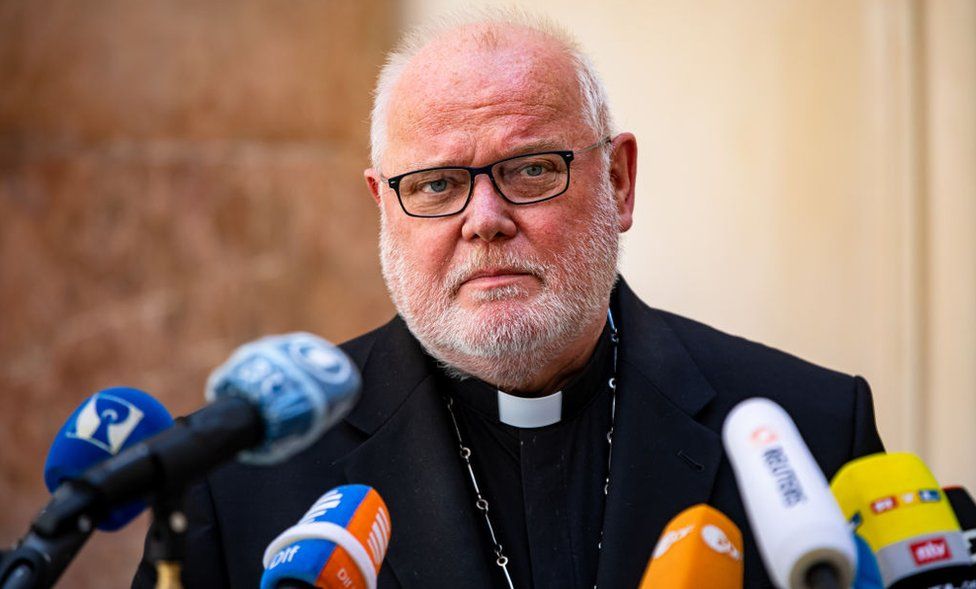 Pope Francis has rejected a German cardinal's offer to resign, over the mishandling of the Catholic Church's sexual abuse crisis.
Cardinal Reinhard Marx said earlier this month that he should share responsibility for the "catastrophe" of abuse by Catholic priests.
Cardinal Marx is Archbishop of Munich, and one of the Church's most influential liberal figures.
He is not under investigation himself, either for abuse or for covering it up.
Pope Francis said he understood the priest's motivation, but rejected the resignation offer.
"That is my answer, dear Brother. Continue as you suggest (in your pastoral work), but as Archbishop of Munich," the Pope wrote in a letter released by the Vatican.
Cardinal Marx was previously head of the Catholic Church in Germany, which is facing scrutiny over hundreds of historic abuse allegations.
An investigation is currently under way in the archdiocese of Cologne, after a report in March found more than 300 abuse victims - most of them children - in cases from 1975-2018.
In his letter to the Pope on 21 May, the cardinal wrote: "It is important to me to share the responsibility for the catastrophe of the sexual abuse by Church officials over the past decades."
He said investigations had "consistently shown there have been many personal failures and administrative mistakes, but also institutional or 'systemic' failure."
The pontiff echoed that language in his reply, saying "the entire Church is in crisis because of the abuse issue", and "the policy of burying the head in the sand leads nowhere."
"Becoming aware of hypocrisy in the way we live our faith is a grace and a first step that we must take. We have to take responsibility for this history, both as individuals and as a community. We cannot remain indifferent in the face of this crime," he wrote.
The new rules creates new criminal offences under Vatican law for sexual abuse, grooming minors for sex, possessing child pornography and covering up abuse.
Victims and critics had complained for decades that the existing laws were outdated and designed to protect perpetrators.
You might also be interested in...