French Open: Yana Sizikova released from police custody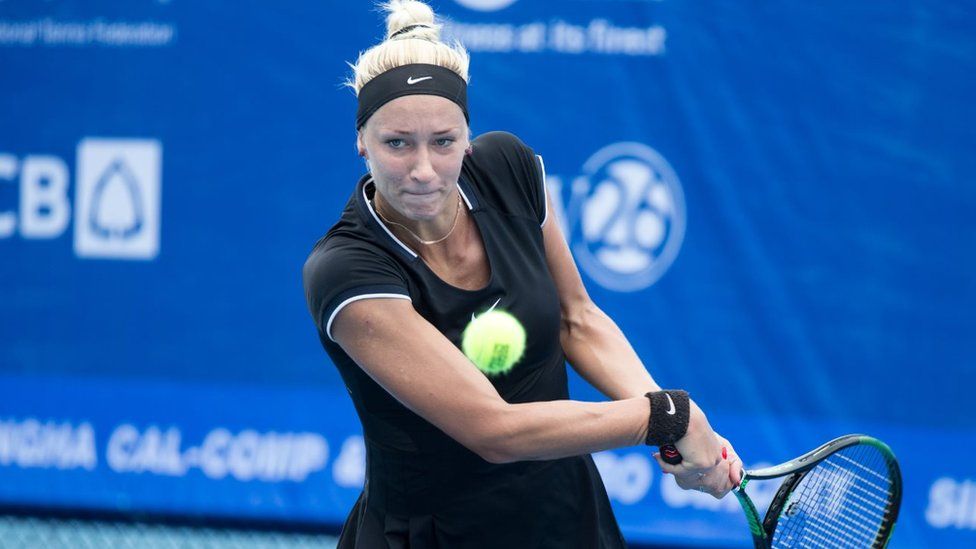 Russian tennis player Yana Sizikova has been released from police custody a day after she was arrested as part of an investigation into match-fixing at last year's French Open.
The 26-year-old, who is ranked 101st in doubles, was released without being charged.
She is "shocked" at the allegations, her lawyer told Russia's Tass news.
The investigation began in October after suspicions of "organised fraud" and "sports corruption" were raised.
The investigation was announced shortly after Sizikova and the American player Madison Brengle lost to the Romanians Andreea Mitu and Patricia Maria Tigin in the tournament's opening round.
Suspicions were reportedly raised after betting companies noticed hundreds of thousands of euros had been wagered on a break of serve in the second set.
Despire Sizikova's release on Friday, the investigation is continuing.
"Yana Sizikova is shocked and rejects charges of crimes she has never committed... these accusations harm her reputation," her lawyer Frederic Belo told the Tass news agency, adding that she intends to file a complaint for libel.
Mr Belo said he was not sure if Ms Sizikova would be allowed to leave France, explaining that she was "accused of sporting corruption, which is punishable by five years in prison and a 500,000 euro ($608,000; £430,000) fine.
"She is also suspected of fraud as part of an organised group. Under this article, she could face up to five years in prison and a fine of 300,000 euros ($365,000; £260,000)," Mr Belo said.
On Friday, the Paris prosecutor's office told the Associated Press that Sizikova had been arrested on charges of "sports bribery and organised fraud" but did not provide further details.
She was reportedly arrested as she was coming out of her massage session following her first-round match with new teammate Yekaterina Alexandrova. They lost in straight sets against the Australian pair Storm Sanders and Ajla Tomjanovic.
Sizikova's hotel room was also searched, according to the Le Parisien newspaper which first reported her arrest.
Last year was the first time Sizikova - who has a world singles ranking of 765th - competed in the French Open Grand Slam.
Match-fixing is recognised as a serious problem in professional tennis, and a number of investigations have resulted in lifetime bans for some players.
However these bans have usually involved poorly ranked players who are competing at lower-tier tournaments, as they struggle to make a living through the sport.