Roman Protasevich: Belarus dissident seized from Ryanair plane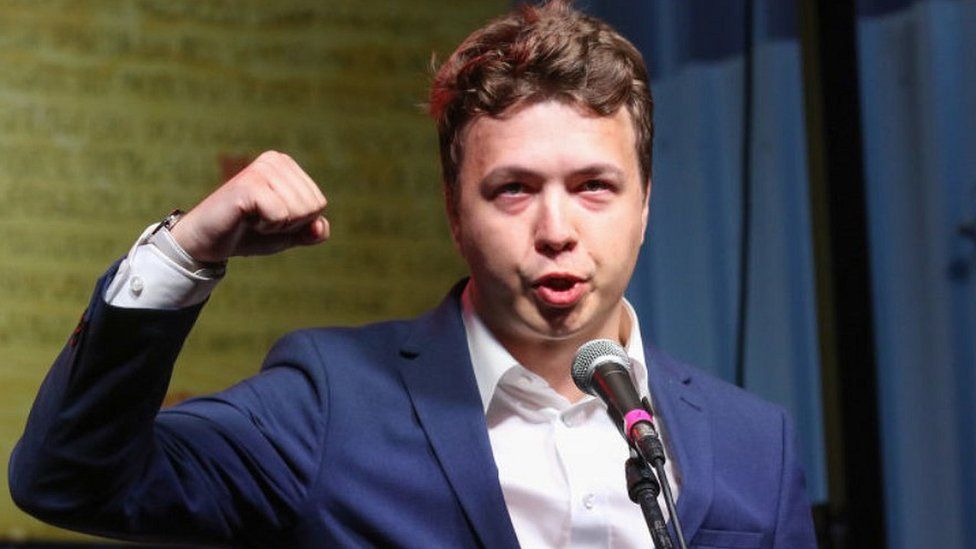 Belarusian journalist Roman Protasevich is under house arrest after the extraordinary diversion of his Ryanair flight from Greece, denounced by some as a "state hijacking".
Mr Protasevich, 26, was until November 2020 editor of the opposition Nexta channel on the Telegram messaging app. The channel was founded by fellow dissident Stepan Putilo and run from outside Belarus.
Nexta and Nexta Live, used for mobilising street protests, now have nearly two million subscribers, managing to get round heavy state censorship.
Mr Protasevich faces serious charges. He and Mr Putilo - who calls himself Stepan Svetlov - were put on Belarus's list of "individuals involved in terrorist activity" last year. The charge of causing mass unrest can be punished by up to 15 years in jail. But terror offences carry higher sentences and as he was led off the plane passengers quoted him saying "I'll get the death penalty here".
Mass protests erupted across Belarus after long-time leader Alexander Lukashenko claimed victory in a 9 August presidential election widely condemned as rigged, and a crackdown followed.
How was Protasevich arrested?
He had just been visiting Greece along with his Russian girlfriend, Sofia Sapega. The blogger had attended an economics conference in Athens along with other Belarusian dissidents before the couple spent some time on holiday in Crete.
They were flying back to Lithuania, where they were both living, when their jet was made to land in Minsk over a fake bomb threat.
Passenger Monika Simkiene remembered seeing Mr Protasevich panicking as the flight was diverted. Another said he looked "super scared".
On the ground, he and Ms Sapega were led away by police, and later appeared in videos where they were shown making what appeared to be forced confessions to crimes against the Belarusian authorities.
On 25 June, it was revealed that both had been placed under house arrest. Ms Sapega in a flat on her own in Minsk, and Mr Protasevich at an undisclosed location, allegedly under secret police supervision.
His fellow blogger Mr Putilo said they had once discussed the risks of flying over their home country.
"It's a real shame that Roman made this mistake, he said. "But unfortunately Roman's colleagues say he had relaxed a bit in recent times, not feeling threats."
The small Nexta (pronounced "nekhta", meaning "somebody" in Belarusian) team is based in Poland but also works closely with Belarusian dissidents in neighbouring Lithuania. It was launched by Mr Putilo in 2015 as a YouTube music channel, but soon switched to focus on political content.
Telegram, a secure messaging app for smartphones, is one of very few ways Belarusian dissidents have been able to organise.
Nexta Live's posts have included crowd-sourced photos and videos of police brutality and have informed people about opposition rallies and strikes.
Mr Protasevich now works for a different Telegram channel, Belamova. He stepped in to write for it after blogger Igor Losik was arrested by Belarusian authorities in June 2020.
When once asked by BBC Russian if Nexta was a protest hub or a media outlet, Mr Protasevich said: "It is hard to say who we are. I guess we are primarily Belarusians who would like to come home and live in a free country without dictatorship."
Who is Roman Protasevich?
His anti-Lukashenko activities go back to 2011 - as a teenager he was expelled from school for taking part in a protest.
He was later admitted to the journalism department of Belarusian State University, but expelled from there too.
In 2014-15, he was in eastern Ukraine, spending time with the ultra-nationalist Azov Battalion when it was fighting Russian-backed rebels.
While the exact nature of his involvement with Azov is difficult to know, Belarusian state media have seized upon it in an attempt to portray Mr Protasevich as an extremist.
The blogger left Belarus in 2019 and in January 2020 applied for Polish citizenship.
His parents moved to join him in Poland last August. His father Dmitry is an army reserve officer who lectured in ideology at a Belarusian military academy.
Since his capture, Mr Protasevich has appeared in several videos apparently speaking under duress.
In one appearance on Belarusian state TV, he admitted trying to topple Mr Lukashenko.
Belarusian rights group Viasna condemned the broadcast, saying: "Everything Protasevich will say was said under duress - at the very least psychological duress."
His father Dmitry said watching his son speaking was painful: "No-one should believe these words because they were beaten out, through abuse and torture of my son."
At the end of the interview, the dissident broke down in tears and lifted his hands to his face, revealing marks on his wrists.