Climate change: EU official backs German Greens on curbing flights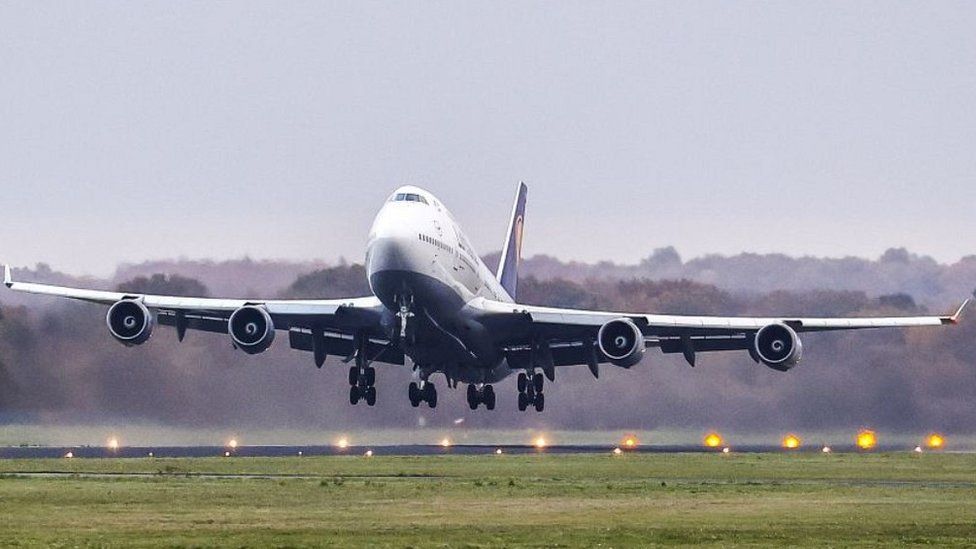 The EU's top official on climate action has backed the German Greens' call for tax and pricing changes to make rail travel more popular than flying.
EU Commission Vice-President Frans Timmermans said "I support taxing kerosene like other fuels" and "nobody has to fly 10 or 12 times a year".
He did not, however, back German Green Party leader Annalena Baerbock's call for a ban on short-haul flights.
The Greens' popularity has soared ahead of a September general election.
In Germany, as in many other countries, jet fuel based on kerosene is exempt from energy taxes.
Ms Baerbock is the Greens' candidate to replace Angela Merkel of the centre-right Christian Democrats (CDU) as chancellor. Mrs Merkel, now in her fourth term, became Germany's first woman chancellor in 2005, and is not running again.
Opinion polls suggest the Greens have drawn level with the CDU, on just under 25%. If they keep up that momentum, the Greens could lead the next governing coalition, with Ms Baerbock becoming chancellor. The CDU's junior partner in government, the centre-left Social Democrat Party (SPD), is on about 15%.
"A family travelling by train should pay less for a train ticket than for short-haul flights. Short-haul flights should no longer exist in the longer run," Ms Baerbock told the Bild am Sonntag newspaper.
She said that a Greens-led government would make budget flights - such as those to Majorca costing just €29 (£25; $35) - a thing of the past. "Climate-friendly taxation of flights would stop such dumping prices," she said.
She also said the Greens' emergency climate programme would include making solar panels compulsory for new buildings.
Speaking to Germany's Funke Media group, Mr Timmermans said that if EU citizens could be persuaded to limit themselves to one flight a year, "then there would be no problem - neither for the climate, nor for their wallets".
Last month, members of the French National Assembly voted in favour of a bill to end short-haul flights where the same journey could be made by train in under two-and-a-half hours. The upper house - the Senate - has not yet voted on the bill to make it law.
About 2.4% of global CO2 emissions come from aviation. Together with other gases and the water vapour trails produced by aircraft, the industry is responsible for around 5% of global warming. But aviation emissions are growing fast - outpacing improvements in fuel efficiency.
In Germany, there was criticism of the Greens' stance from Mrs Merkel's centre-right group and from the opposition liberal Free Democrats (FDP).
Ulrich Lange of the CDU's Bavarian allies, the CSU, said "it's clear that aviation must make its contribution to protecting the climate. But banning short-haul flights and massive price hikes for flights are the wrong way to go".