Eurovision's noisy fans are back despite Dutch pandemic
By Anna Holligan
BBC News, Rotterdam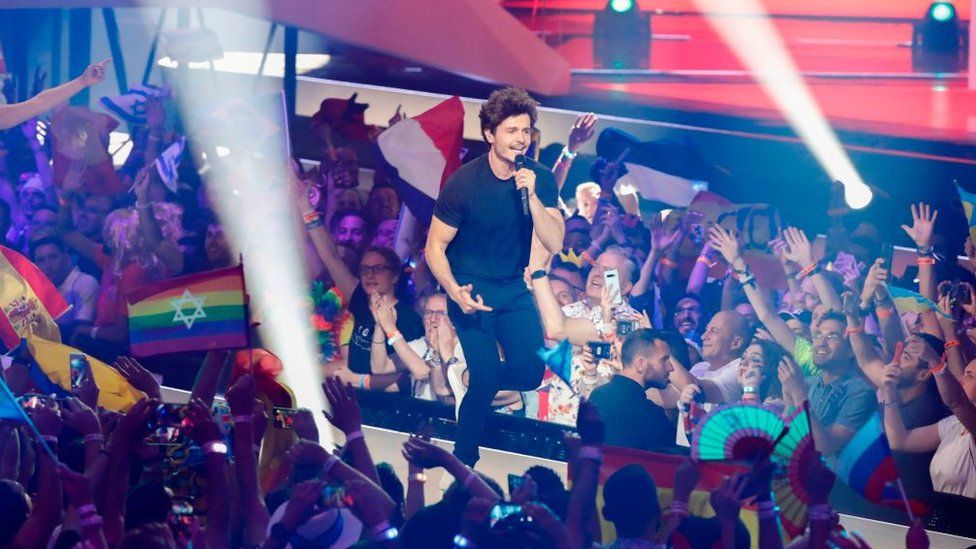 Europe's most popular cultural event would not be the same without its audience, and after last year's cancellation this year's Eurovision will go ahead in Rotterdam even though the Netherlands is battling a third wave of Covid-19.
Organisers are adamant a "scaled down but ambitious" Eurovision 2021 can be conducted safely. They say it would bring hope and signal the start of Europe's long anticipated revival of live events.
In Liverpool, an experimental rave took place only last weekend. But the pandemic here is currently much more serious and young people represent the greatest hike in hospital admissions.
Some epidemiologists have argued it is irresponsible to be welcoming people travelling from across Europe in the midst of a pandemic.
Tickets are only available to people who bought one for the 2020 show, and there will be none on sale to the wider public
All visitors will have to show a negative test result that's no more than 24 hours' old to enter the arena
Delegations will have to stay in their "bubble", only leaving their hotel to travel to the arena for rehearsals, live shows and other programme-related activities
Artists have been told they can go for a walk or a cycle, providing they avoid crowds and abide by Covid rules
Currently, anyone coming from abroad is asked to go into quarantine for five days before heading to the Netherlands. They must also take a negative Covid test before they fly. As there is a Dutch travel ban on most non-EU countries, anyone affected will have to show a return ticket as well as a letter from the organisers.
What if there's a Covid case?
Everyone working at Eurovision, including crew, artists and journalists, will undergo regular tests and if anyone catches the virus an "isolation protocol" will kick in.
If any of the acts test positive a back-up recording will be used. That is something that the 26-year-old Dutch entry is desperate to avoid.
Jeangu Macrooy, who grew up in Suriname, has stopped hugging anyone outside his household. And while he's afraid of losing his chance to perform on stage, he has no fear of becoming infected by screaming fans because he's confident in the safety measures.
"I trust that it'll be safe for them to cheer. I hope that they'll get to cheer because, you know, it would be weirder if they sat down without making noise," he told the BBC.
What about fans inside the arena?
Rotterdam's Ahoy arena will be at about 20% capacity and spectators can watch six rehearsals and the three live shows: two semi-finals on 18 and 20 May and the Grand Final on the 22 May.
Bubbles are expected to be in place but the exact details are still being discussed. Masks will be required when people are moving around, but not when they are in their seats and at that point no social distancing rules will apply.
What's the research value?
Eurovision is being allowed to go ahead as a "Fieldlab" experiment, not unlike last weekend's Liverpool rave that saw 5,000 fans flock to Sefton Park and a similar-sized trial in Spain. No signs of higher levels of infection were detected after the Barcelona gig, where revellers wore masks but did not socially distance.
The Dutch have already held experimental festivals, concerts, football matchers and conferences but this is the biggest and most complex gathering conducted under the Fieldlab banner.
Some bigger events with up to 10,000 people have had to be cancelled at the last minute amid fears it would be impossible to control the crowds.
The organisers of the Eurovision shows are planning a wider range of control measures and believe the experiment will be very useful.
As nine shows are taking place within the same space, involving different people, a wider range of control measures and variations can be tested.
"Eurovision with spectators is far more interesting for viewers around the world," says lead Fieldlab researcher Prof Andreas Voss, who sits on the Dutch government's Outbreak Management Team. "The atmosphere is completely different and far more natural, and the better data will help us to better predict how to reopen society."
But not everyone is convinced
The Fieldlab experiments have been criticised for focusing on crowd tests and behaviour, instead of the possible knock-on effect for the Netherlands' wider, mostly unvaccinated, society.
The Dutch government has invested €2.7m in the events, and those involved say the testing regime helps detect asymptomatic carriers. Prof Voss says the risk of attending is no greater than in day to day life.
Critics also argue the funds would be better spent on boosting vaccine rollout: that would help events reopen faster without the need for such tests.
But the slow pace of the Dutch vaccination programme isn't due to a lack of funding, but rather problems with logistics of supply and rollout.
And Prof Voss believes the data from Eurovision could help provide a model for the entertainment industry in the event of a further Covid wave later this year.
What's the current Covid situation?
Although hospital admissions have fallen in the past week, Dutch health officials say there has been a sharp rise in younger people being treated in this third Covid wave. The biggest increase has come from the 0-39 and 40-59 age groups.
Some hospitals have declared their intensive care units full, others have been forced to postpone routine operations to allow staff to care for Covid patients.
"We don't take lightly the responsibility of hosting the Eurovision Song Contest at this challenging time and safeguarding the health and safety of all those participating in, and attending the event remains our top priority," says Martin Osterdahl, the contest's executive supervisor.
With an audience of 180 million viewers in at least 45 countries, this annual spectacle has always been about connecting a continent on one stage, not to mention Australia too.
Jeangu Macrooy hopes it will also offer a little glimpse of positivity and hope. "People are pretty lonely nowadays," he says.
"It's probably one of the first big events that actually happening. I hope that after that the situation will get better and better."
More stories from the world's favourite song contest: