Napoleon's incendiary legacy divides France 200 years on
By Lucy Williamson
BBC Paris correspondent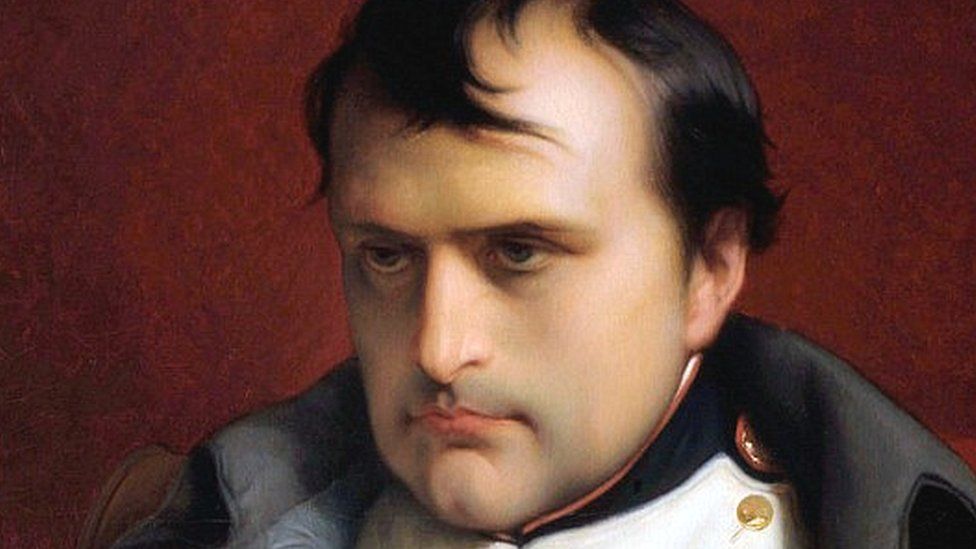 On a busy street in the centre of Montauban in southern France, with roadworks blasting the pavement nearby, there is a spot earmarked for a new statue of France's best-known dictator.
Once Europe's biggest problem, Napoleon Bonaparte is still posing a dilemma for France, 200 years after his death in exile on the Atlantic island of St Helena.
Napoleon was a brilliant military general, who saved the French Revolution and laid the foundations of the modern French state. He also gave Montauban its own county in 1808, despite being less than an hour's drive from Toulouse.
But is that enough to offset his dictatorship and aggression, and his decision to reinstate slavery after it had been abolished in France?
BBC
Decisions by Napoleon that seem outrageous today have to be seen in the context of the entire history of colonisation. Powerful people always abuse their powers
"As with any historical figure, some parts are darker than others," said deputy mayor Philippe Bécade. "If you take just one element, it's very easy to condemn anyone. Today we're in a dictatorship of the politically correct, and I'm among those who want to fight it."
So how do you commemorate Napoleon in the 21st Century?
In a light-filled barn two hours' drive away, Emmanuel Michel unveils the emperor's head and tell-tale hat, half-emerged from a lump of red clay.
The face is pensive, the eyes downcast.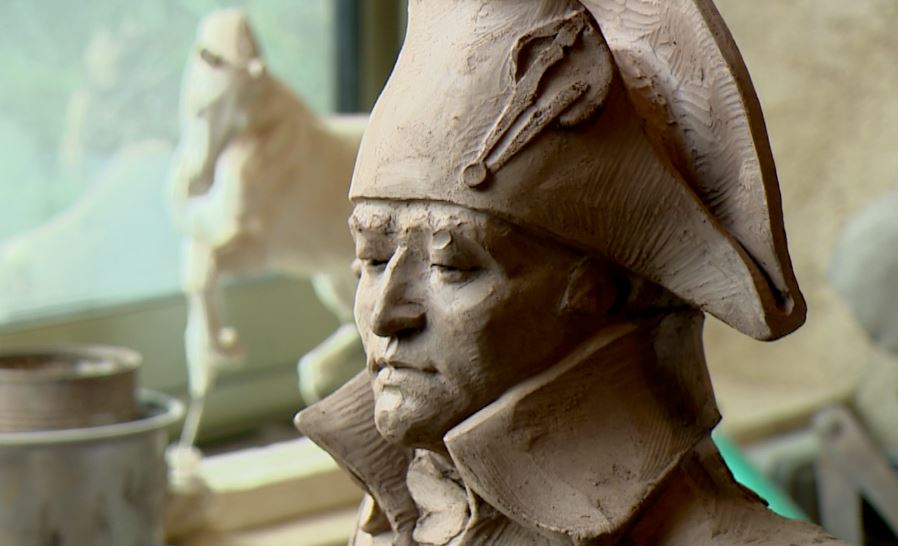 BBC
I tried to make him as I think he was: very tormented, introspective, never satisfied... I didn't want to make him a conqueror, but rather someone very lonely
Divisions over how France should remember Napoleon have grown since the bicentenary of his birth 50 years ago, with much of the debate now focusing on his reintroduction of slavery to islands in the Caribbean and Indian Ocean.
"Napoleon was a military pragmatist," says Prof Malick Ghachem, a historian with France's Foundation for the Memory of Slavery.
"For him, as for many others, having a massive slave empire in the Caribbean was good for the greater glory of France and the French economy. But does it make sense to centre this debate on the figure of Napoleon himself? If you think he's the person calling the shots and shaping the course of events that doesn't necessarily change how you interpret French history".
Napoleon Bonaparte: key dates
1769 - Born in Ajaccio, Corsica
1785 - Graduates from military academy in Paris
1795 - Commands French revolutionary troops who defeat royalist rebels in Paris
1796-1802 - Wins key battles against Austria, Prussia and others
1804-05 - Crowns himself emperor then defeats Austrian and Russian troops at Austerlitz
1812-14 - Campaign in Russia results in disastrous retreat; forced to abdicate and exiled on Elba island
1815 - Escapes from Elba, then defeated by British and Prussians at Waterloo; exiled to St Helena, where he dies in 1821
On the 200th anniversary of Napoleon's coronation as emperor in 2005, both the French president and prime minister at the time found themselves out of the country. Cabinet colleagues, including then-interior minister Nicolas Sarkozy, decided against joining any commemorations.
Stand too close to Napoleon, many politicians have judged, and there is a risk you will get burned.
Not so President Emmanuel Macron, who will on Wednesday lay a wreath at Napoleon's tomb after giving a speech about his legacy.
It won't be a "blissful hagiography, or a denial, or a repentance", says the Elysée Palace, but will suggest that France took the best from the emperor's legacy and separated it from the worst.
But politicians like Alexis Corbière, from the far-left party France Insoumise, believe the state - and especially the president - should not be commemorating the anniversary at all.
"He's making political use of history, and that poses a problem for me," Mr Corbière told the BBC. "It's worrying in the current French climate, when there is widespread doubt about democracy, and when some French people perhaps even hope for an authoritarian strongman."
The original authoritarian strongman of the early 1800s is still etched into the memory of France's European neighbours, according to Renaud Blanloeil, who runs a group that organises reconstructions of Napoleonic battles in full costume.
"We don't have any enemies locally to fight against," he told me. "So we invite friends from European countries."
"When we go to Spain," he continued, "we're the enemy. We keep our head down there, because it's still a very fragile topic, just like when British people come to re-enact in France and sometimes walk on eggshells when they're here."
He says that 500km (311 miles) away in Italy the reaction is completely different.
"We're welcomed as heroes because the French army rescued them from Austria. Once, after a battle, we walked down the streets in Milan and people sitting at the cafés stood up to applaud us, shouting 'Vive La France!' I'd never seen anything like it."
At home and abroad, Napoleon is not a name that is easy to live up to, or live down. One reason, perhaps, why so few people in France have been given it.
Napoléon Nguyen is one of the exceptions.
A reserve officer with the French air force, Napoléon was named after the French emperor, as a tribute to the country that accepted his parents as refugees after the Vietnam War.
"It was disturbing to learn about Napoleon in school," he told me. "I was quite a shy kid, but it was important to learn where this name came from. I think he did a lot more good things for France than bad. And I feel lucky not to have been named another controversial character, like Attila for example."
One of his air force colleagues told him that it was a dream to be named after Napoleon.
"I don't want to say it too loudly," Napoléon admitted, "but I'm actually much more passionate about the Battle of Britain."
Napoleon Bonaparte was a man who knew the power of public image.
One of his favourite portraits shows him leading his army across the Alps on a magnificent horse. He was actually riding a mule.
Two centuries later his image here is more balanced, more controversial. But his relationship to France was always complex: a man who died in exile, after the shame of military defeat, and was laid to rest in honour under a golden dome.