Republic of Ireland to push ahead with alcohol minimum pricing
By Shane Harrison
BBC News Dublin Correspondent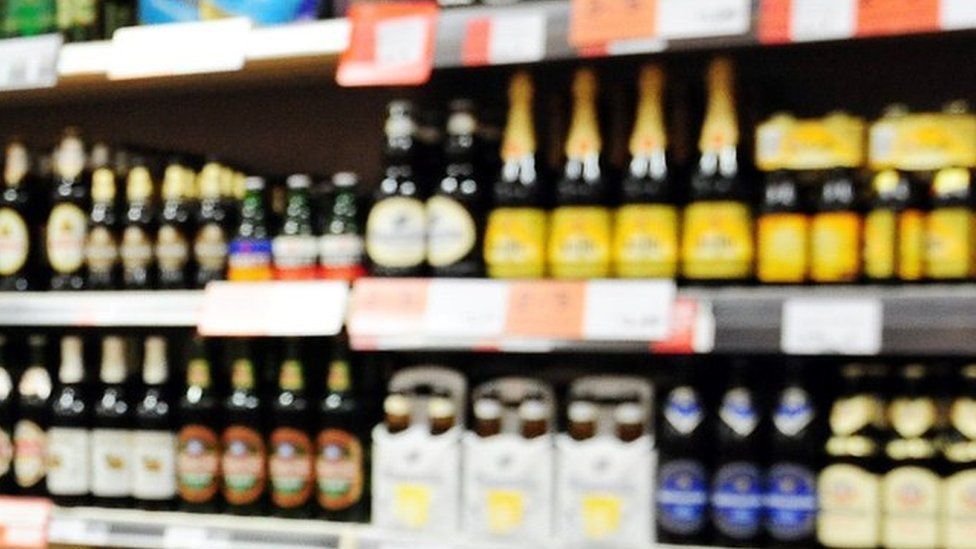 The Republic of Ireland's cabinet is expected to push ahead with alcohol minimum unit pricing, despite opposition from retailers.
Retailers fear unless similar measures are introduced in Northern Ireland there will be a surge in cross-border shoppers seeking "cheaper booze".
Health Minister Stephen Donnelly believes minimum pricing for alcohol is a necessary public health measure.
The issue will be discussed when the cabinet meets on Tuesday.
Statistics from the country's Revenue Commissioners indicate that alcohol consumption levels in 2020 were 10.07 litres of pure alcohol per person, only slightly down - 6.6% - on the previous year despite the closure of many pubs and restaurants for large parts of 2020.
Alcohol consumption has remained at about 11 litres per person since 2015.
That is the equivalent of 116 bottles of wine or 445 pints of beer per adult every year.
The proposed measures would see a can of lager costing at least €1.32 (£1.14) and a bottle of chardonnay €7.75 (£6.70) based on 10 cents per gram of alcohol.
The representative body Drink Ireland said it was in favour of tackling excessive alcohol consumption to reduce its misuse, but any measure must be introduced on both sides of the border simultaneously.
Its director Patricia Callan said that unilaterally introducing minimum unit pricing in the Republic of Ireland would "massive pressures on border businesses, and lead toto an increase in illicit alcohol smuggling at the border, all at a vulnerable time for our economy".
But ministers are expected to ignore that advice, citing the Scottish example.