Spain's far-right Vox eye share of power in Madrid
By Guy Hedgecoe
BBC News, Madrid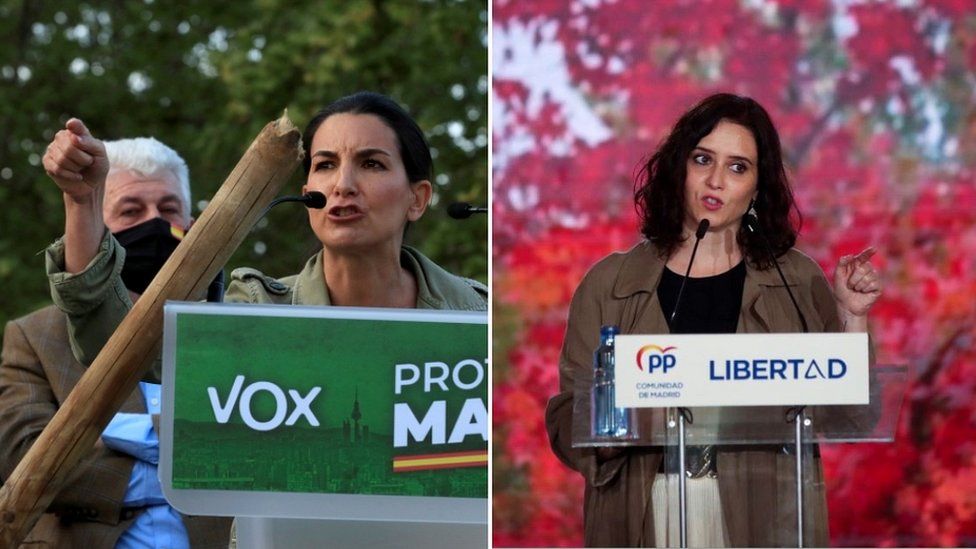 The people of Madrid vote on Tuesday in a regional election that has brought management of the Covid pandemic under scrutiny and highlighted Spain's deeply divided national politics.
After a rancorous campaign that has included death threats, the conservative regional president, Isabel Díaz Ayuso, appears to be heading for victory, with some polls showing her Popular Party (PP) doubling its share of seats in the Madrid assembly.
But that might not be enough for her to avoid needing the support of another party in order to form a new administration.
The PP has governed Madrid for the last 26 years and since 2019 it has done so in a coalition with Ciudadanos (Citizens), which is expected to struggle to win any seats in this election. Instead, Ms Ayuso might have to turn to the far-right Vox, which is the third-biggest party in the Spanish parliament.
So far, the 42-year-old has batted away questions about that possibility.
"I want to govern alone," she said. "Coalitions are not good, particularly at times when deep-rooted reforms need to be implemented to recover normal life in Madrid."
Ms Ayuso's team are hoping that, even if she does not secure the 69 seats needed to form an absolute majority, that a divided left will be unable to prevent her from forming a minority administration. Such an outcome could still mean she needs Vox's support in a confidence-and-supply arrangement.
Although other parties have attacked Vox during the campaign for claiming that immigrant minors are a burden on regional finances, polling firm Metroscopia found that 78% of PP voters were in favour of their party forming a coalition with the far-right.
Ms Ayuso says her campaign slogan, the single word "Freedom", summarises her libertarian, right-of-centre ideology.
That includes lowering taxes and encouraging bullfights, as well as a relatively hands-off approach to coronavirus restrictions. Throughout the pandemic, Ms Ayuso has pushed for fewer controls in order to protect the capital's economy. This has meant that Madrid's bars and restaurants, for example, have been able to operate closer to normal circumstances than most other cities in Spain.
"During the hardest months of the pandemic we have shown that living the Madrid lifestyle means people work responsibly, they are treated as adults," she said.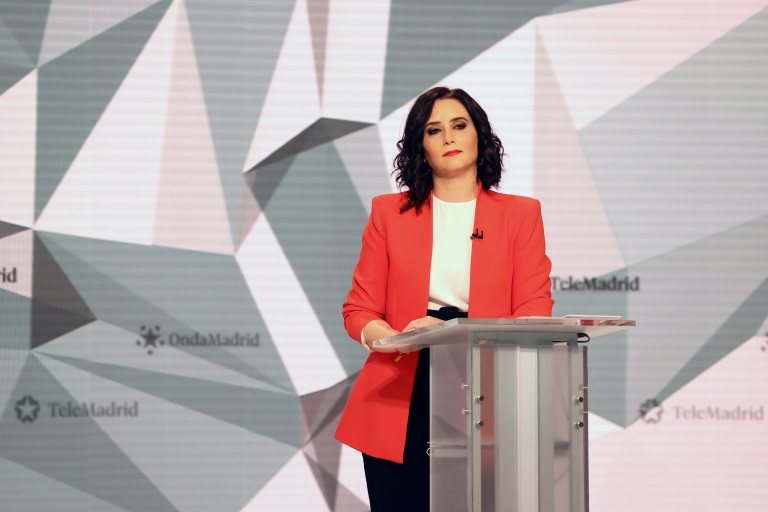 EPA
More and more people in Spain and elsewhere in the world have been won over by our message of freedom and prosperity
But critics point to the fact that Madrid has the second-highest infection rate per 100,000 inhabitants of Spain's regions, after the Basque Country, and the highest percentage of intensive care units occupied by Covid patients, at 44%
Ms Ayuso has clashed with Spain's Socialist prime minister, Pedro Sánchez, who has frequently appealed to the Madrid administration to introduce tougher restrictions. On the campaign trail, Mr Sánchez accused Ms Ayuso of "polarisation, insults, provocations and fireworks — just what Madrid doesn't need".
In turn, Ms Ayuso accuses the central government of being in the hands of Venezuela-style radicals.
The acrimonious nature of the election campaign reflects the deep split between left and right in Spain's national politics. A spate of death threats sent to several politicians - most of them on the left although Ms Ayuso was also targeted - has added to the tension.
The candidate for the leftist Unidas Podemos (UP), Pablo Iglesias, is among those who have received the threats, revealing that members of his family had been targeted when he was sent four bullet casings in the post.
However, the Vox candidate, Rocío Monasterio, cast doubt on the threat against him and refused to condemn it specifically, causing the main leftist parties - UP, the Socialists and Más Madrid - to boycott campaign debates involving the far-right party.
Meanwhile, Mr Iglesias, who resigned as deputy prime minister in order to run in this local election, has cast the upcoming vote as a drastic choice between the parties on the left and the PP and Vox on the right.