Navalny support network ordered to stop Russia-wide activities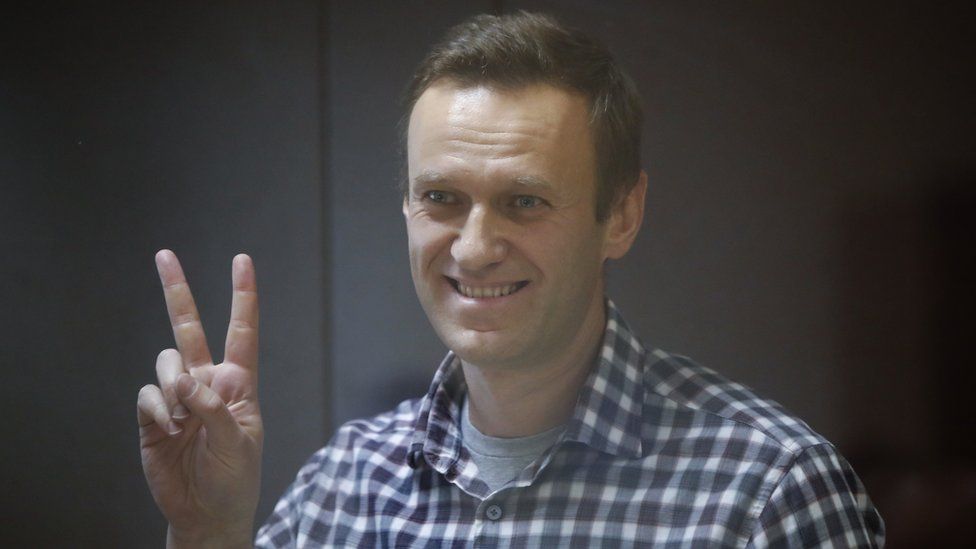 A Russian prosecutor has ordered the network of offices supporting jailed Putin critic Alexei Navalny to suspend all activities across Russia.
The Moscow prosecutor also applied to a court to suspend the work of Navalny's Anti-Corruption Foundation (FBK).
They are moving to label the groups as "extremist", which would allow the authorities to jail activists and freeze the groups' bank accounts.
The German government has condemned the move as contrary to the rule of law.
Last week Navalny - Russia's most prominent opposition figure - announced he was ending a hunger strike after 24 days of refusing food in jail. Hours earlier his private doctors appealed to him to eat to preserve his life and health.
The BBC's Sarah Rainsford in Moscow says that, with Navalny now in a penal colony east of the city, the authorities are moving to close down all of his team's activities.
Some of his supporters have been planning to run in parliamentary elections in September.
The prosecutor has alleged that Navalny's network is trying to destabilise Russia and foment a revolution.
Navalny's team, meanwhile, condemned the move as an attempt to destroy peaceful political opposition in Russia. They say they are establishing how to go on operating - but admit it is too dangerous to openly defy this suspension.
In a message on the Telegram platform, Navalny's Moscow team said they were taking down their social media pages because of the new threat they were facing.
"Whatever happens, individually we will continue the fight against corruption, against the United Russia party, which is looting our country, and against Vladimir Putin, who builds himself palaces with state funds and kills his political opponents," the message said.
President Putin's foremost critic, Navalny was detained as soon as he returned to Russia in January. He had received treatment in Berlin for a nerve agent attack in Siberia that left him in a coma and fighting for his life.
The pro-Putin United Russia party dominates parliament. Navalny scorns it as "the party of crooks and thieves", and millions of Russians have watched his videos alleging corruption in Mr Putin's elite circle.
A Kremlin spokesman declined to comment on the move against Navalny's followers.
Navalny blamed President Putin directly for the attack which nearly killed him last August. The Kremlin denied any involvement. During his convalescence in December Navalny tricked an FSB state security agent into revealing that Novichok - a Russian weapons-grade toxin - had been placed in his underpants.
In February Navalny was sent to a penal colony in the Vladimir region, about 100km (62 miles) east of Moscow, for more than two and a half years. A court ruled he had broken the terms of a suspended jail term while in Berlin, even though he had been in a coma.
Russia rejected a ruling from the European Court of Human Rights that he should be freed because his life was at risk.