Navalny's supporters fear Russia's Putin wants him dead
By Sarah Rainsford
BBC News, Moscow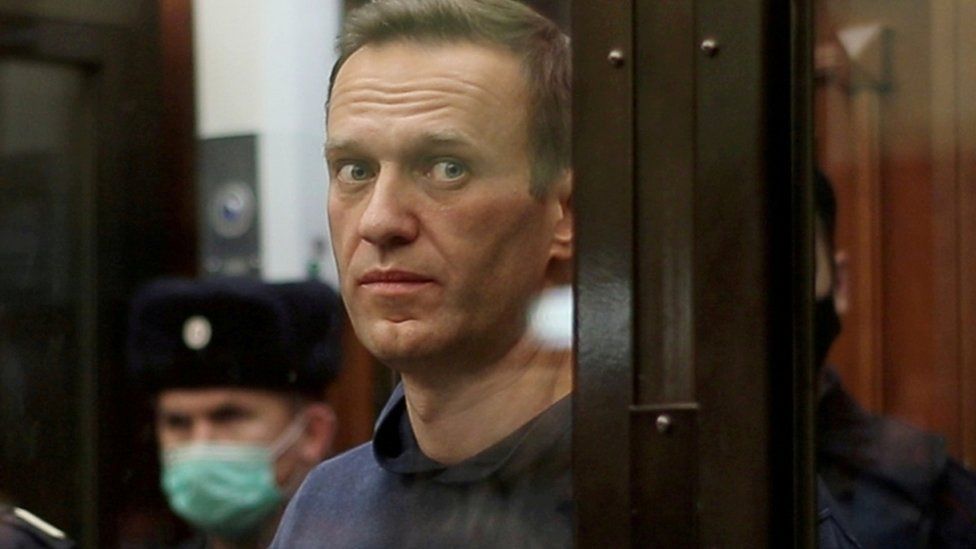 Alexei Navalny is starving, but he's still making dark jokes. Three weeks into a prison hunger strike, the opposition politician has described himself as a "skeleton" staggering round his cell with such sunken eyes and taut skin he'd frighten any child into eating their porridge.
But his supporters aren't laughing.
They've been warning that Navalny's life "hangs by a thread" since blood test results appeared to show that his potassium levels were dangerously high.
Vladimir Putin's foremost critic was detained the moment he returned to Russia in January after treatment for nerve agent poisoning in Siberia last summer. He was then jailed for violating the terms of a court conviction widely condemned as politically motivated.
As he's pledged to continue his prison protest, the Kremlin has dismissed international statements of concern as "unacceptable".
It's now refusing even to comment on "this situation, this convict", setting the stage for a perilous battle of wills.
"This weekend was pretty bad, I won't lie," Navalny wrote in his latest Instagram post, passed on via his lawyers, describing how he was transferred to a prison hospital after his health took a turn for the worse.
A lawyer who was then admitted to see him briefly told me he was "really thin, weak and clearly in a bad way," though still able to walk.
A doctor, Alexander Polupan, also told the BBC that Navalny's recent test results, if accurate, were "life threatening" and he required immediate treatment.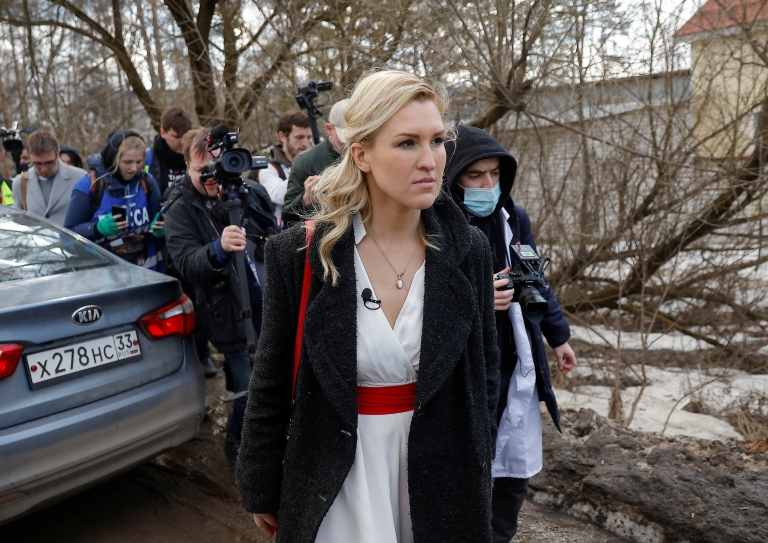 Reuters
We, the doctors, are ready to act. The question remaining is whether the penal colony is willing to cooperate to save the life of Navalny
Navalny began calling for a doctor he could trust, not a prison medic, after experiencing acute back pain and numbness in his limbs some weeks ago. The prison service refused, prompting him to launch his hunger strike.
Attention-seeking or torture?
Pro-Kremlin voices dismiss the protest as attention-seeking. One blogger claimed appeals by Western governments were part of an "anti-Russian information campaign" by Navalny's "curators", and journalist Dmitry Steshin tweeted that "without attention, Alexei will wither like a flower without water".
"Anyone who suggests this is some kind of PR stunt, I hope they never have to experience what Alexei Navalny experienced last August and what I experienced twice," is how opposition activist Vladimir Kara-Murza responds.
He equates the denial of proper medical care with the attempt to poison Alexei Navalny with Novichok last year, and his own near-fatal poisoning before that.
Both men wound up in a coma; both spent months in recovery.
"This is the continuation of the old and horrific tradition of torturing political prisoners in the USSR and now Russia," Mr Kara-Murza believes. "These people know no bounds."
'Showdown that could kill Navalny'
To some, the situation looks personal.
Navalny flew back to Russia in January after publicly accusing President Vladimir Putin of trying to have him killed.
He ignored all the neon-lit warnings to stay away and out of politics and was promptly arrested at the airport.
"I think it's important for Putin to demonstrate that he's punishing Navalny," Chatham House Fellow Nikolai Petrov argues, suggesting that the politician's comeback after surviving the Novichok attack was "humiliating" for Russia's president.
"If you're leader of the gang, you can't allow anyone to challenge you without being punished and in a way that is a lesson to everyone else," Mr Petrov says.
He sees the stand-off over Navalny's treatment in prison as a dangerous game of brinkmanship.
"They won't allow him to celebrate a victory," Mr Petrov warns. "This can easily end with Navalny's death."
'They don't want him to die'
Ukrainian filmmaker Oleh Sentsov says Navalny will already feel terrible - "constantly tired, weak and sick" with "a spinning head and no strength to stand".
Sentsov spent five months on hunger strike in a Russian prison, the first weeks taking nothing but water like Navalny. He was eventually released after an international campaign by those who saw his prosecution as political.
The filmmaker abandoned his protest when his condition became critical and the prison threatened to force-feed him by inserting a tube through his nose.
"They tried everything from day one to get me to end the hunger strike. Every day there were threats, persuasion," Sentsov tells me by phone from Ukraine.
Alexei Navalny has already reported the same.
"The prison staff feared my death even more than the human rights people. They were as worried for me as my own parents!" Sentsov recalls, saying they treated him "like a crystal vase" they were afraid to break.
"Believe me, they will be worried about Alexei. They don't want him to die. For sure. It would be a scandal."
No hint of Kremlin compromise
But the political calculations this time may be different.
Since Alexei Navalny's arrest sparked mass protests in January, key members of his team are facing criminal charges themselves and some have fled abroad.
The prosecutor has called for his anti-corruption foundation and political offices nationwide to be banned as "extremist", creating major problems for anyone linked to them.
Now the authorities have begun rounding up his allies in the regions ahead of new protests on Wednesday night, hours after President Putin delivers his annual address to the nation.
More on Putin's Russia and his foremost critic
The Kremlin is showing no hint of compromise. And whilst intervention by Western politicians has helped diffuse past crises, including with Oleh Sentsov, relations have nose-dived lately leaving them little leverage.
"The Kremlin doesn't care about its reputation in the world anymore," argues Vladimir Kara-Murza, citing the annexation of Crimea in 2014 as evidence.
Even so, a call from German Chancellor Merkel did get Navalny flown to Berlin last August for urgent treatment after his poisoning.
"It's crucial today that the leaders of Western democracies call Putin directly and tell him this is a line he can't cross," insists Mr Kara Murza, and that he cannot let Navalny die.
In its latest brief statement the prison service says Alexei Navalny is examined each day and his condition is "satisfactory".
His lawyer insists the only treatment he's had is one glucose drip. Nurses failed to find a vein for a second one, leaving his arm covered in bruises.
But Navalny ended his Instagram post by laughing at supporters' worries about the high blood potassium levels in his blood tests.
"You won't get rid of me that easily," he joked. "After Novichok, potassium is nothing to worry about."