Dutch suspend foreign adoptions after abuses found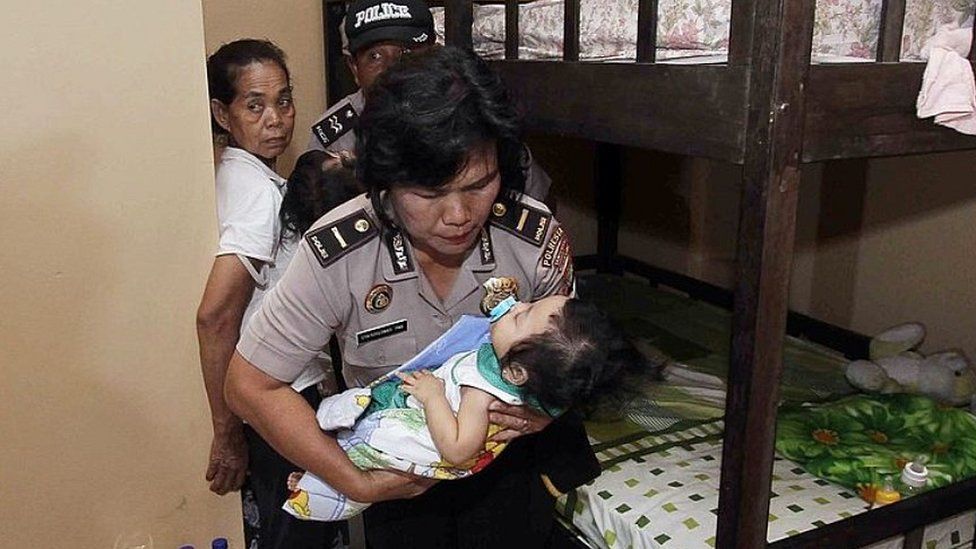 The Netherlands is suspending all adoptions from abroad with immediate effect, after an official inquiry found many abuses.
The investigation focused on the adoption of children from Bangladesh, Brazil, Colombia, Indonesia and Sri Lanka from 1967 to 1998.
Minister for Local Protection Sander Dekker said Dutch governments had failed for years to intervene.
The abuses included coercing or paying birth mothers to give up children.
The investigative committee found that Dutch government officials were aware of wrongdoing and that some were involved in abuses, though it did not find evidence of bribery.
Mr Dekker said officials had failed by "looking away from abuses for years".
"The government has not done what should be expected of it and should have taken a more active role in preventing abuse, and that is a painful observation. There are apologies for this. And I therefore offer these apologies to the adoptees today, on behalf of the cabinet."
One Dutch woman who is searching for her birth parents in Indonesia told the BBC she welcomed the government's decision, saying the current system had encouraged the trafficking of children.
Widya Astuti Boerma, 45, said "Dutch inter-country adoption is still based on a money incentive procedure and this motivates trafficking.
"Today, inter-country adoption is still focused on adoption parents who are looking for a child, and this should actually be the other way around."
Jerome Wirawan of the BBC Indonesian Service reports that more than 3,000 Indonesian children were adopted by Dutch nationals during the decade until 1984, when Indonesia all but banned the practice. Indonesia - formerly the Dutch East Indies - declared independence from the Netherlands in 1945.
The investigative committee led by Tjibbe Joustra, a top civil servant, concluded that things had also gone wrong before and after the period of 1967-1998, on which it had focused.
The system was still susceptible to fraud, and abuses still occurred "up to the present day", the report said.
Minister Dekker said a future cabinet would have to decide how to proceed with overseas adoptions.
Ana van Valen, co-founder of the Mijn Roots Foundation, which helps adopted children find their biological parents, says they have often found the same mother's name on multiple adoption papers.
"We suspect that the baby was switched or the information provided was incorrect," she says.
Mijn Roots data shows that the main countries of origin for children adopted by Dutch couples in 1981-1992 were:
Sri Lanka - 2,972 children
Colombia - 2,132
India - 1,517
South Korea - 1,323
Indonesia - 1,252
In 1971-1980, the top countries were South Korea (2,317); Indonesia (1,788) and India (865).
'Just the first step to right wrongs'
Ayomi Amindoni of BBC Indonesia in Jakarta writes:
Indonesian-Dutch adoptees have welcomed the Dutch government's apology for past failings, but say it's just the first step in order to right the wrongs of the past.
Widya Astuti Boerma, who was adopted at the age of five, has spent decades searching for her parents. It's been a painfully difficult process, because her adoption documents turned out to be fake and two DNA tests with women she hoped were her mum came back negative.
"What I blame the Dutch government for is that my adoptive parents were never told what happened. They were never told that there was a possibility that I could have been a victim of child trafficking or that my documents were fake," she said.
"My adoptive parents feel really guilty because they might have taken a child from a mother in Indonesia, which was never their intention."
Fellow Indonesian-Dutch adoptee Dewi Deijle, a lawyer, believes compensation should be paid. "I think the Dutch government was very negligent in stopping illegal adoptions from Indonesia," she said.
Dewi describes the process of looking for her biological parents as like walking in circles. "It's frustrating, because somewhere there is a woman who gave birth to me."
Both women are holding out hope that one day they will find their parents.
"I'm hoping to spend at least the years that we have left together. That is my ultimate wish," says Widya.