Vladimir Putin: Russian palace in Navalny video not mine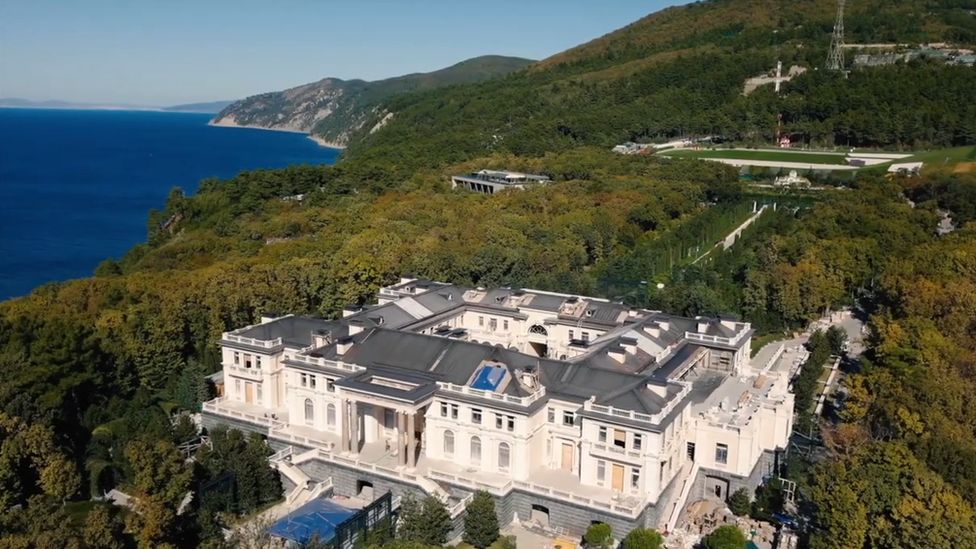 Russian President Vladimir Putin says an opulent palace featured in a video by his arch-critic Alexei Navalny "doesn't belong to me".
The palace, by the Black Sea, was allegedly financed by billionaires close to Mr Putin. It is said to have a casino, skating rink and vineyard.
Thousands of people rallied for Mr Navalny across Russia on Saturday.
The 44-year-old, Russia's most prominent opposition leader, was jailed a week ago for 30 days, accused of parole violations. The survivor of a near-fatal nerve agent attack last August, he was arrested upon his return to Moscow from Berlin on 17 January.
Mr Putin called the palace video a "compilation and montage" and said he found it "boring".
"Nothing that is listed there as my property belongs to me or my close relatives, and never did," Mr Putin told students in a video conference.
He had watched bits of it - he had no time to watch all of it, he added.
Meanwhile, Mr Putin said no underage children should take part in pro-Navalny street protests, and added that the police should also act within the law, according to quotes carried by Reuters news agency. Saturday's rallies - which led to mass arrests - were illegal, he warned.
No one should seek to advance "their ambitious objectives and goals, particularly in politics", through protests, President Putin said, in an apparent reference to Mr Navalny.
What does the video allege?
Mr Navalny's team released the video after he was jailed on his return to Moscow.
The investigation alleges the property cost £1bn ($1.37bn) and was paid for "with the largest bribe in history".
"[They] built a palace for their boss with this money," Mr Navalny says in the video.
For years he has castigated Mr Putin's administration on social media, accusing the Russian leader of "feudal" patronage and running a system riddled with "thieves".
The video also alleges that Russia's Federal Security Service (FSB) owns some 27sq miles (70sq km) of land around the palace, near the resort of Gelendzhik.
What other corruption allegations are there?
In 2017 Mr Navalny's Anti-Corruption Foundation (FBK) also accused ex-Prime Minister Dmitry Medvedev - one of Mr Putin's closest associates - of collecting luxury estates through a secret fortune. Mr Medvedev denied the allegations, dismissing them as "nonsense".
Mr Putin's spokesman denied the allegations at the time, along with other claims about the Russian leader's personal assets.
In 2016 the Panama Papers leaks - the work of a big team of investigative reporters - revealed allegedly suspicious offshore deals involving associates of Mr Putin.
Among the figures named was cellist Sergei Roldugin, a long-time family friend. In that case too Mr Putin denied any corrupt practices, saying his opponents were trying to destabilise Russia.
He has been president since 2000 and many in his elite inner circle are linked to his earlier career in the Russian secret service and St Petersburg mayor's office.
Alexei Navalny - The basics
Mr Navalny is an anti-corruption campaigner and the most prominent face of Russian opposition to President Vladimir Putin
He attempted to stand in the 2018 presidential race, but was barred because of an embezzlement conviction that he says was politically motivated
An outspoken blogger, he has millions of Russian followers on social media and managed to get some supporters elected to local councils in Siberia in 2020