Nord Stream 2: MEPs call for halt to Russian gas pipeline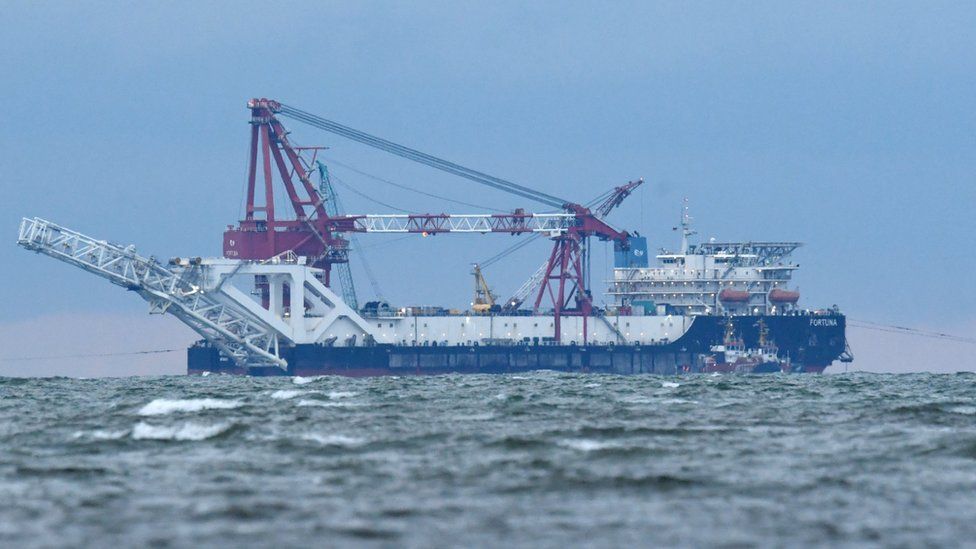 Germany has come under increased pressure to halt a Russian gas pipeline following the detention in Moscow of Kremlin critic Alexei Navalny.
The European Parliament has backed a call for Nord Stream 2 to be scrapped.
MEPs called on EU states to impose sanctions on any Russians involved in jailing Mr Navalny after he returned from Germany where he had been recovering from a nerve agent attack.
The US has imposed sanctions on a Russian ship laying the pipeline.
Washington argues the project will increase Russian influence over Europe.
The US Treasury's action against the ship Fortuna came in the final days of the Trump administration, but President Joe Biden is expected to pursue the same policy, according to his nominee for secretary of state, Antony Blinken. In 2016, Mr Biden said the pipeline was a "bad deal" for Europe.
Asked about the US move on Thursday, German Chancellor Angela Merkel said her "basic attitude" on the €10bn ($11bn) project to double Russian gas exports to Germany had not changed, but she wanted to discuss the issue with the Biden administration.
"We have to talk about which economic relations in the gas sector are acceptable with Russia and which aren't," she said, reminding reporters in Berlin that the US itself traded with Russia in oil.
Around 94% of the 2,460km (1,528-mile) pipeline has already been laid but work was halted for a year at the end of 2019 amid the threat of US sanctions.
Late last year the main pipe-laying company pulled out. But last month the Fortuna completed a 2.6km section in German waters and was due to start operations in Danish waters before work was suspended. The Fortuna was sailing in the Baltic on Thursday, according to most recent data.
Russia's Gazprom, which is behind the construction project, is still working with several Western companies, which have also been threatened with US sanctions. German energy firm Uniper said on Thursday it stood by the project and was convinced it would be completed.
Why is Navalny's case being invoked?
When Alexei Navalny, 44, was poisoned in Russia by a Novichok nerve agent last August he was flown to Germany and recovered in a Berlin hospital.
Germany was at the forefront of European demands for Russia to investigate the attack in Siberia, which has since been blamed by investigative journalists on a team of FSB security service agents. Russia denies any involvement.
German Foreign Minister Heiko Maas even indicated at the time that the future of the pipeline could be at stake. Mr Maas is hoping to travel to Washington to meet Antony Blinken as soon as he is sworn in as secretary of state.
In their non-binding vote, members of the European Parliament called for the EU to "immediately prevent" the completion of Nord Stream 2 and demanded Mr Navalny's immediate release from jail.
German Green MEP Reinhard Butikofer tweeted that it was "in Europe's interest that this pipeline is not built".
Mr Navalny is currently being held in Matrosskaya Tishina prison in Moscow. Russian authorities jailed him for failing to report regularly under the terms of a suspended sentence while he was recovering in Germany. He has also been accused of libelling a World War Two veteran.
His supporters are planning to take to the streets of dozens of Russian cities on Saturday in protest at his imprisonment. Police on Thursday detained Mr Navalny's spokeswoman, Kira Yarmysh. and fellow opposition activist Lyubov Sobol in response to the calls for protest.
A video produced by Mr Navalny's team and released on Tuesday during his detention has been viewed more than 47 million times. Its allegations that President Vladimir Putin spent illicit funds on an extravagant palace have been vehemently denied by the Kremlin.
EU foreign affairs ministers will discuss both Mr Navalny's detention and the pipeline on Monday. But EU foreign affairs chief Josep Borrell has said the 27-member state union cannot prevent Germany from going ahead with Nord Stream 2.
"EU-Russia relations cannot be reduced to the poisoning of Mr Navalny. We will respond swiftly and decisively to this poisoning, but we have other dimensions in our relations with Russia that we need to continue to address," he added.