Gurlitt's last Nazi-looted work returned to owners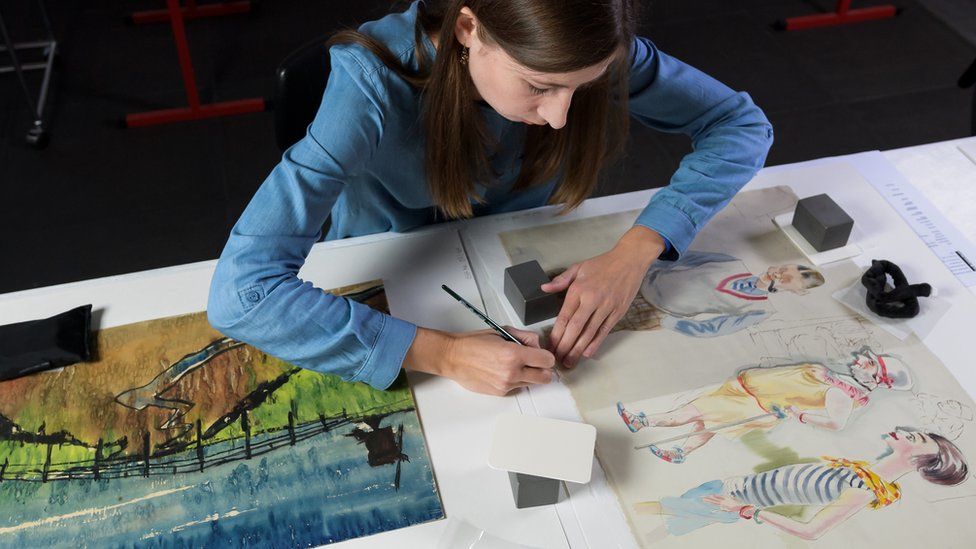 When a trove of 1,500 artworks hoarded by the son of a Nazi-era art dealer was discovered in 2012, an investigation began to find out how many were looted from Jewish owners.
Eventually only 14 were conclusively identified as looted, and now Germany has declared the last of those works has been returned to the owner's heirs.
Das Klavierspiel (Playing the Piano) by Carl Spitzweg was owned by music publisher Henri Hinrichsen.
He was murdered at Auschwitz in 1942.
German Culture Minister Monika Grütters said the return of the work sent an "important signal", and that while it could not make up for the deep suffering, it could "make a contribution to historical justice and fulfil our moral responsibility".
The 19th-Century work by Spitzweg was confiscated by the Nazis in 1939, the same year that Hinrichsen had bought it.
It was bought in 1940 by Hildebrand Gurlitt, a Nazi-era dealer who had been given the task by Adolf Hitler of dealing in art seized from Jewish collectors and of buying up so-called "degenerate art" removed from museums for a planned Führermuseum in the Austrian city of Linz.
The money for the Spitzweg work was paid into a blocked account, so Hinrichsen would never have received it.
In 2015, the piece was identified as looted, and it was handed over to the auctioneers Christie's on Tuesday, according to the wishes of Hinrichsen's heirs.
What happened to Gurlitt collection
Although his collection of 1,500 works, plundered from museums as well as individuals, was initially confiscated after the war by the Allies, Hildebrand Gurlitt eventually managed to get it back.
Gurlitt died in the 1950s and when German authorities approached his widow in 1961 in search of part of his collection, she claimed the works had been destroyed at the end of World War Two by Allied bombing.
It was only when tax investigators searched the Munich flat of his son Cornelius Gurlitt in 2012 that they found more than 1,400 of the works. Another 60 pieces were discovered at his Austrian home in Salzburg the following year.
The son died in 2014 with questions still hanging over the ownership of the collection - as he was protected by a statute of limitations.
A court ruled that the works could be bequeathed to the Museum of Fine Arts in the Swiss capital Bern, as Cornelius Gurlitt had requested.
While some of the works were deemed to belong to the family, the German Lost Art Foundation then tried to find out, with the Swiss museum, who were the rightful owners of the rest.
Fourteen pieces have now conclusively identified as belonging to Jewish owners and returned.